Black Friday is just hours away. The big sales, and the huge discounts are all locked and loaded. But for now, The Official Merchant Services Blog is going to take a moment to pause. The calm before the storm. We would like to wish everyone following our blog a very happy Thanksgiving holiday!
So while you're getting ready to dine on turkey and trimmings, Host Merchant Services is going to offer you up some fun facts about Thanksgiving, its history, and the bird it centers on:
Talking Turkey
According to the National Turkey Foundation the U.S. raised a whopping 244 million turkeys in 2010. Of those birds, approximately 46 million found themselves roasting in ovens across the country last Thanksgiving. That number is on the rise in 2011. An estimated 248 million turkeys will be raised for slaughter in the U.S. this year, up 2 percent from 2010's total, according to the U.S. Department of Agriculture's National Agricultural Statistics Service.
National Geographic states: "Minnesota is the United States' top turkey-producing state, followed by North Carolina, Arkansas, Missouri, Indiana, Virginia, and Indiana. These "big six" states produce two of every three U.S.-raised birds, according to data compiled by the U.S. Census Bureau. U.S. farmers will also produce 750 million pounds (340 million kilograms) of cranberries in 2011, which, like turkeys, are native to the Americas. The top producers are Wisconsin and Massachusetts."
History of the Holiday
Though many competing claims exist, the most familiar story of the first Thanksgiving took place in Plymouth Colony, in present-day Massachusetts, in 1621. More than 200 years later, President Abraham Lincoln declared the final Thursday in November as a national day of thanksgiving. Congress finally made Thanksgiving Day an official national holiday in 1941. Sarah Josepha Hale, the enormously influential magazine editor and author waged a tireless campaign to make Thanksgiving a national holiday in the mid-19th century, and is often cited as having an impact on getting Lincoln to declare it a holiday. Hale was also the author of the classic nursery rhyme "Mary Had a Little Lamb."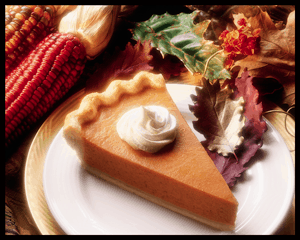 What Was On The Menu?
The traditional foods we tend to associate with Thanksgiving were most likely not part of the menu that day in Plymouth. The feast was organized by Governor William Bradford and attended by some 50 English colonists and about 90 Wampanoag American Indians. It lasted for three days and had some foods that might surprise you. That National Geographic article suggests that the Wampanoag killed five deer for the feast. And that the colonists shot wild fowl –– which could have been geese, ducks, or the turkey we all associate with the feast. And it is regarded that some forms of Indian corn dishes were also served. The article also suggests that the Indians supplemented the venison with fish, lobster, clams, nuts, and vegetable dishes like pumpkin, squash, carrots and peas.
Retconning Turkey Day
The aforementioned National Geographic Article also suggests Plymouth wasn't really the first Thanksgiving. It states that American Indian peoples, Europeans and other cultures around the world often celebrated the harvest season with feasts and gatherings, many of which gave thanks to higher powers for their survival and their sustenance. In 1541 Spaniard Francisco Vásquez de Coronado and his troops celebrated a "Thanksgiving" while searching for New World gold in what is now the Texas Panhandle. After that, a similar feast was held in 1564 by French Huguenot colonists in present-day Jacksonville, FL. English colonists and Abnaki Indians feasted together in Maine's Kennebec River around 1607. And Jamestown, VA colony celebrated the arrival of a food supply ship that ended a brutal famine in 1610.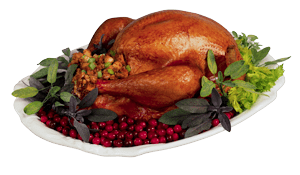 More Facts About the Holiday
Some quick tidbits:
Benjamin Franklin wanted the turkey to be the national bird of the United States.
The annual Macy's Thanksgiving Day Parade tradition began in the 1924.
Congress to passed a law on December 26, 1941, ensuring that all Americans would celebrate a unified Thanksgiving on the fourth Thursday of November every year.
Since 1947, the National Turkey Federation has presented a live turkey and two dressed turkeys to the President. The President does not eat the live turkey. He "pardons" it and allows it to live out its days on a historical farm.
Each year, the average American eats somewhere between 16 – 18 pounds of turkey.
Californians are the largest consumers of turkey in the United States.
Although, Thanksgiving is widely considered an American holiday, it is also celebrated on the second Monday in October in Canada.
The heaviest turkey ever raised was 86 pounds, about the size of a large dog.
Turkeys will have 3,500 feathers at maturity.
Male turkeys gobble. Hens do not. They make a clucking noise.
So there you have it. A completely incomplete rundown on Thanksgiving and turkeys! Enjoy your meal and get ready for the big shopping blitz to begin at midnight. Black Friday is upon us and credit card processing, merchant services and e-commerce business is about to boom.