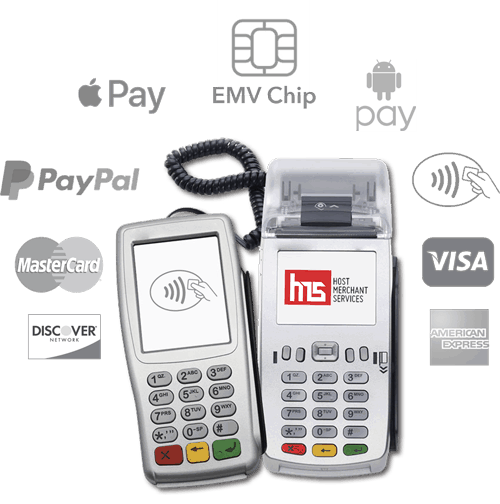 Payment Processing Customized for You
Yes, it is possible to love your payment processor!  We deliver honesty, transparency, and fantastic customer service.  Host Merchant Services will change the way you think about payments and credit card processing.  With our low-rate guarantee, no term commitment, and responsive 24x7x365 live customer service, we earn your business every day.
We supply you with EVERYTHING you need to succeed!
You get the ability to process credit cards, PIN debit cards, EMV chip cards, NFC. And with our credit card machine placement program 98% of businesses qualify for free equipment!
Great Equipment
We use high quality credit card machines that are tuned to your needs. Whether you need a fast EMV chip machine or wireless 3g capabilities or anything in between, we have you covered.
Guaranteed Savings
If we can't quote you a lower price than you have now, we will thank you for your time and give you $100 visa gift card. Either way you make money!
Get connected
Process payments anywhere using 3G and Wifi capabilities. Or use it in your business for a clean wireless setup.
Security
We love security. In fact, we take it upon ourselves to make sure you're business is EMV and PCI compliant. That's our job, not yours – you have enough to worry about. And no, we aren't going to charge you for it.
Or Call us! 877-517-HOST (4678)
Designed for Your Business
Our team will prepare a solution tailored to your business.  We combine the right technology with service and support to ensure you never miss out on an opportunity.  Mobile, e-commerce, online, or in person, we ensure your business has the tools to succeed at a rate you can smile about.
Restaurant

Hospitality Solutions
Fine dining, bar, cafe, QSR, and more

Retail

Storefront Solutions
Terminals, POS, gift/loyalty programs

Non-Profit

Special Rates
Exclusive charity and non-profit pricing
Contractors

Mobile Options
Accept payments at the jobsite

Fitness

Recurring Billing
Gyms, CrossFit, yoga, dance, and more

Web Hosting

Integrated Billing
All major billing software supported

Guaranteed
Lowest Rate

FREE Mobile
Options

Affordable
Point of Sale

FREE
Equipment

FREE
Receipt Paper

Exclusive
Savings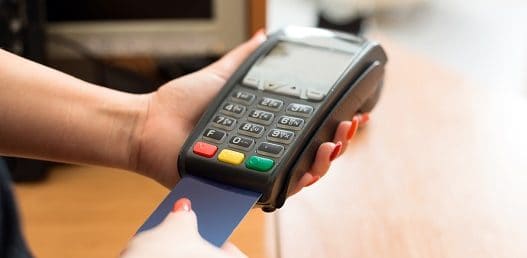 Host Merchant Services provides a free terminal and free receipt paper to our merchants.
Our equipment is Internet enabled and EMV compliant so you can accept the latest chip cards. We also offer wireless terminals, tablet and phone solutions, and affordable point of sale.
Is your equipment in need of an upgrade? Don't PAY for it! Don't lease it!
Mobile Payment Processing
Accept Mobile Payments with your Apple or Android Device
Or Select Our All-In-One Wireless Terminal Solutions.
Turn your iPhone or Android smartphone into a profitable payment processing terminal – for free! Take your business directly to your customers, wherever they are, with HMSPay.
Use your iPad, Android, or Windows Tablet to instantly create a full featured credit card processing terminal with our FREE app, HMSPay.  If you need a tablet, we can provide a solution that includes 4G/LTE wireless.
Our rechargeable wireless terminals do it all, including credit card processing, EMV processing, debit card acceptance, and receipt printing – over 4G/LTE.
E-Commerce Payment Processing Solutions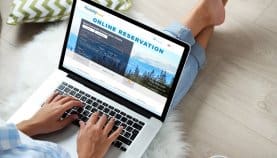 Host Merchant Services knows E-Commerce.
Payment Gateways
We offer multiple Payment Gateway options including Transaction Express and Authorize.NET.  With support for over 100 payment gateways – yours is on the list!

Virtual Terminal
Our TXP web-based centralized payment processing system turns your PC or Mac into a full featured point of sale with recurring billing, tokenization, and PCI Compliance.

Online Shopping Carts
We'll help you find the online shopping cart software that works most efficiently with your payment processing setup. And we'll help keep your shopping cart working smoothly.
We can assist you in implementing a complete e-commerce solution including security and PCI compliance. Our solutions support all major payment gateways and a virtual terminal is included for all e-commerce merchants.
Or Call us! 877-517-HOST (4678)