The Clover® POS ecosystem has everything your business needs in a POS system. Whether you're looking for a complete restaurant point of sale, a retail point of sale system, or mobile functionality for on-the-go payments, Clover POS has what you need and you can add on at any time! We know there are many point of sale system options, so we offer the best customer service and support to help make your Clover point of sale experience a success – call (877) 517-4678 Opt 1 to ask a payment systems specialist about your Clover point of sale options.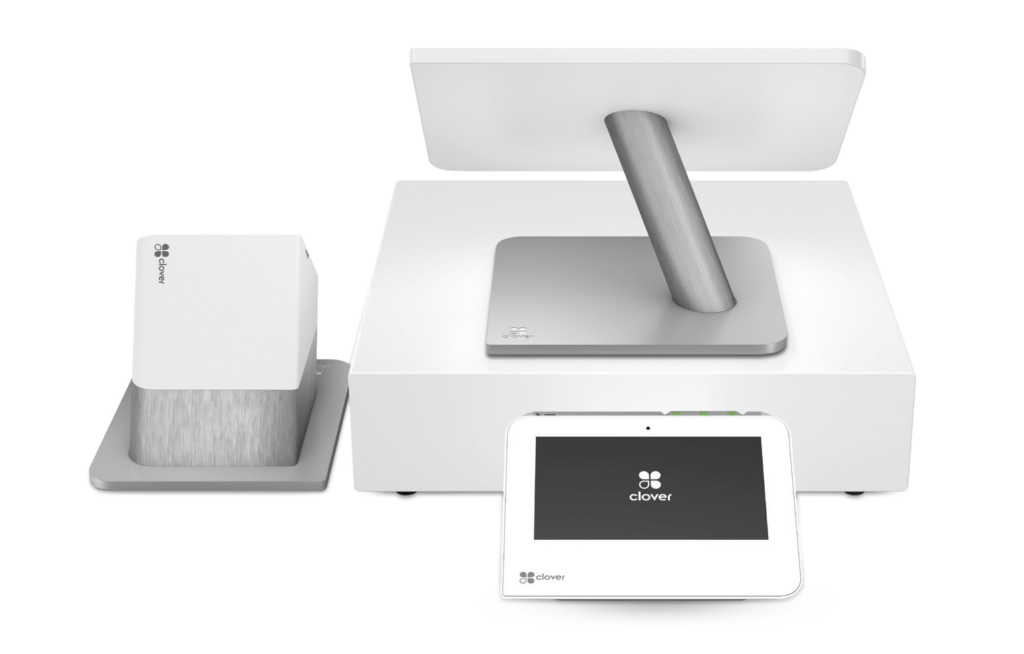 The Clover Station Duo is the latest innovation of one of the greatest desktop POS stations ever created. Besides its ease of use and seamless design and interface, the Clover POS software comes with the Clover App Store. You can add on functionality as needed to expand and enhance the capabilities of the Clover Station Duo. This versatile station comes with a tablet interface and a printer, as well as a customer facing Clover POS Mini. Optionally add register drawers, barcode scanners, kitchen printers, and other powerful accessories. Get what you need, add on later!
Complete Guide to Clover Pricing 2022
Choosing the Right Clover POS Ecosystem
Our payment systems specialists are here to help determine which Clover POS ecosystem is right for you based on your specific needs. Whether you own a restaurant, food truck, farmers market stand, retail store or mobile service business, Clover has a solution for you!
The Clover POS Systems are all sleek, modern and seamless in their design, so no matter which system you choose, your customers will be impressed by the efficiency, speed and sleek appearance. All systems are designed to simplify daily tasks, speed up transactions and help you easily manage your employees.
As you are researching the different systems, there are a few things to consider:
Display Size: Where will you be housing your system? Do you have a large or tight counter space? Do you travel to events and need something you can use while on the go?
Printing Capabilities: Do you need a system that comes with a printer or offers built-in printing capabilities? Are you OK with emailed receipts?
Budget: Will you be purchasing or leasing the system? What does your budget look like?
Add-Ons: Do you need any additional features such as a register drawer, barcode scanner, pin pad, or mobile tablet?
When choosing your system, keep in mind you can always add on features later as you grow and expand your business and your needs change.
Let's Compare Clover Models
Here is a quick guide to help you compare the systems:
Clover Station POS (Duo and Solo):

Display: Single 14" touchscreen with swivel feature for Clover Station Solo 

Display: Additional 7" customer facing display for Clover Station Duo

Network Connectivity: Ethernet, wireless and Bluetooth connectivity

Card Acceptance: credit, debit, EMV chip and NFC contactless payments

Printer: included with the system

Cash Drawer: available

Clover Mini POS:

Display: 7" high resolution touchscreen with front facing camera

Network Connectivity: WIFI or Ethernet (3G/4G available)

Card Acceptance: credit, debit, EMV chip and NFC contactless payments

Printer: internal thermal printer

Sends paperless receipts

Cash drawer: optional

Clover Flex POS:

Display: 5" HD display (1280x720)

Network Connectivity: 3G and WIFI

Card Acceptance: credit, debit, EMV chip and NFC contactless payments

Printer: built-in receipt printer

Scanner: built-in barcode scanner/camera

Cash drawer: none

Clover Go POS:

Display: Per phone capabilities, tabletop stand sold separately

Network Connectivity: Per phone capabilities

Card Acceptance: credit, debit, EMV chip and NFC contactless payments

Printer: none

Cash drawer: none

Seamlessly connects with your mobile device so you can start taking payments anywhere, anytime!
All Clover POS Systems are designed to help you take payments with ease! No matter the size of your business, whether you have a storefront or are on the go, one of the Clover systems will be right for you. 
If you have further questions, call (877) 517-4678 option 1 to speak with one of our qualified payment systems specialists today. We offer complimentary express services and are here to help you choose the system that will help you run your business with more ease!