Let the shopping season begin! Black Friday is here, and the traditional marker for holiday shopping is off to an unusual start for 2011. The Official Merchant Services Blog is taking today's blog entry to give you a bit of a roundup on the event.
It Started Early
The first sign that this year's Black Friday was going to be different than others was that it got started earlier than ever. Crowds lined up for midnight openings at Best Buy, Target, Kohl's and Macy's as retailers angled to get first crack at consumers' tight holiday budgets. Wal-Mart opened even earlier at 10 p.m. and Toys 'R' Us started at 9 p.m. The Holiday Shopping season, as reported by The Official Merchant Services Blog previously, has been adversely affected by online shopping and e-commerce. Statistics show that shoppers — using the convenience of clicks over the late-in-the-year discounts of bricks — had been starting their holiday shopping as early as May and as late as August. The kicker being, Black Friday was potentially going to lose some of its draw. So this year retailers pushed and pushed and pushed, edging the event right into Thanksgving Day — well evening — itself.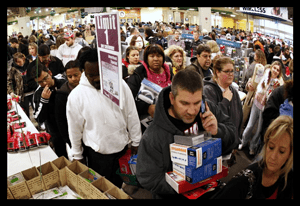 Consumers Are Out in Force
Right now there are contradictory reports coming in about how successful this move was for retailers. One article from CNN suggests moving Black Friday into Thanksgiving was a success. The article quotes Tom Julian, president of Tom Julian Group, a retail consultancy in New York as saying: "Taking Black Friday into Thanksgiving Thursday has proven successful."
The article then goes on to say: "Despite some backlash against such early store openings on Thanksgiving Day, the move seemed to pay off. At some Target stores, lines were more than twice as long as last year, according to the company. Men's Angry Birds pajamas were one of the biggest sellers, along with televisions, game systems and cameras, spokeswoman Kristy Welker said."
The article pointed out that lines at Sears, KMart, Macy's and Toys'R'Us were all longer than previous years and business was ready to boom.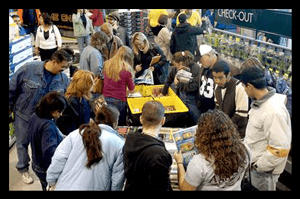 The Impact Might Not Be High
Despite the good numbers and fast start for Black Friday this article from CBSNews and its Early Show says that this year's holiday shopping season could be a "bit of a bust." The article takes a look at the big-picture of the economy and tries to see how even with a fast start, 2011's Holiday Shopping Season could end up being a negative. The article stated: "this year, it might take more than one Black Friday to get retailers – and the U.S. economy – out of the red. Quijano added on 'The Early Show,' that while analysts project a 2.8 percent increase in Black Friday sales this year, that's actually smaller than 2010, which saw a 5.2 percent boost."
The article suggested consumers are wary and though they may be out in force, their shopping habits are more selective than usual: "In a national survey by the National Retail Federation, more than 50 percent of those who plan on shopping said they will wait to see if this weekend's bargains are worth getting out and fighting for."
And the article quoted Marshal Cohen, chief retail analyst of NPD group, a marketing research services firm as saying: "There is no stimulus package, there is no jobs program, there is no tax rebate that the president's put on the table, so it's really up to the consumer to go toe the line themselves."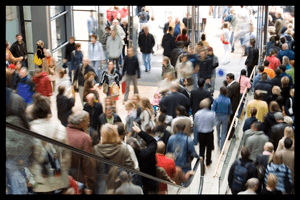 Black Friday: Is It Worth It?
That brings us to this Digital Trends article, which suggests that Cyber Monday — and overall the convenience and growing popularity of e-commerce itself — is going to really cut into retail shopping and Black Friday in a big way this year and in the coming years. The article states: "Not only have brick-and-mortar retailers felt the push of Cyber Monday sales, but some companies like Amazon and eBay are beating in-store retailers to the punch by opening for business Thanksgiving morning. The lure and ease of the Internet has also evolved e-commerce and altered the shopper's frame of mind, which all might be heralding the end of Black Friday as we once knew it."
The article puts it simply that the lines and the hassle of sidewalk and mall shopping on one day of the year doesn't give enough value to consumers when stacked up against the ease of click shopping online. The deals aren't big enough compared to what shoppers find online. And there just isn't any fighting that needs to be done to get to the products. No one shoves you out of the way when you slide your mouse or type in a browser menu bar.
Don't Forget Groupon
Beyond the convenience factor, there's also the fact that the deals on Black Friday are not as compelling as they used to be. And that's because sites like Groupon and Living Social have been consistently blitzing consumers all year long with deep discount savings day in and day out. The Holiday Shopping Season is no exception. And so now consumers have a lot more options than just standing in line at BestBuy at midnight fighting over an item. They can shop around on the web and find something that may save them more and avoid the line entirely.
In Conclusion
It looks like this year's Holiday Shopping Season has gotten off to a strong start. Black Friday is nowhere near being "dead." It's just that the numbers indicate this may be a really good year for shopping overall. Because of that, despite an increase in sales this year Black Friday's impact might still be getting watered down. In other words, yeah, the numbers will be up for Black Friday, but that could just be a byproduct of all numbers being up this quarter. Holiday Shopping booms all over. And Black Friday numbers benefit. But many still feel that e-commerce is going to continue to grow faster and faster, eating into brick-and-mortar retail numbers. The Bricks vs. Clicks battle still seems to favor the clicks.
Host Merchant Services, payment network provider of both retail processing services and an entire lineup of customizable e-commerce solutions tailor made to a merchant's specific needs, is able to help you maximize your potential in both areas. We can help you navigate through the busy bustle of holiday shopping and find the transaction processing services that serve you best.