With the Holiday Shopping Season fast approaching –– Black Friday is 11 days away, Cyber Monday is 14 days away –– the payment processing industry is still getting the last pieces in place for a brisk rush in the use of credit and debit cards. The Official Merchant Services Blog continues its series focusing on the impact the holiday shopping season is going to have on both the e-commerce industry and merchant services in general.
The battlefield is set between Debit cards and Credit cards. Debit cards received a huge boon from the federal government in the form of a cap on interchange fees that went live on October 1, 2011 in the form of the Durbin Amendment. This cap restricts the interchange fees that can be applied to Signature debit card transactions. The cap restricts the charge to between 21 and 24 cents per transaction. This is a huge cut from the previous average of 44 cents per transaction, and presents debit card transactions as an attractive option for merchants to start accepting right as we slip into the big holiday shopping rush.
That has left Credit card issuers scrambling for a response, trying to stay competitive and keep consumers answering "Credit" at the checkout line.
This Reuters article suggests one of the big campaigns that credit card issuers are going to push this year is a significant raise in rewards programs for their customers, tempting them to choose credit as their swipe of choice to get access to those sweet sweet rewards. A focus on cash back and travel rewards push the right buttons for consumers while holiday shopping.
A Look At The Numbers
Here's a small chart detailing the dichotomy between debit card usage and credit card usage from consumers in 2010: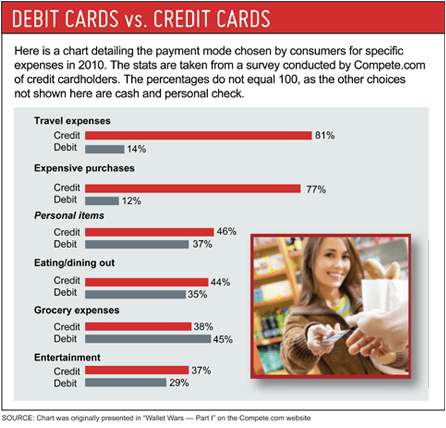 The chart breaks down the chosen method of payment among a survey of credit card owners from 2010. Key numbers to note are the Travel category –– which is dominated by credit card use. It is unlikely that the Durbin Amendment and its changes are going to really affect that sector. But looking at the category listed as "Personal Items" –– which would tend to be the category for holiday gift purchases –– you'll see a much tougher competition between the two transaction choices. This is where the Durbin Amendment changes to debit card swipe fees are going to have a large impact. And this is where the juicier cash back rewards have credit card issuers hoping they can keep things competitives.
According to the Reuters article: "For example, both Chase (CCF.A) and Citibank C.UL have cards that are offering new applicants $200 in cash back after they spend $500 on their cards."
You Have to Dig to Find the Best Deals
Some of the best deals are not always displayed in easy to find places. The Reuters article cites a Citibank deal. On the Citi website it advertises the deal as $150 cash back on your first $500 of purchases. But then if you dig deeper by google searching "Citi Dividend $200" you find the better deal directly.
Making it Work For You
The really effective strategy to maximize these deals is to combine them with other deals you will be hit with during the holiday shopping season. The Reuters article notes: "Some cards (such as the Upromise card) have their own shopping portals that combine their rebates with rebates from merchants. In other cases, you can use your rewards points directly for holiday shopping; American Express (AXP.N) awards can be paid directly to Amazon for purchases, for example."
This type of deal stacking gives consumers a lot of shopping incentive to choose credit as their swipe choice.