An all-in-one point of sale and payments system, the Clover Station POS makes running your business fast and easy. By accepting more payment types, offering a two printer capability, and a 14-inch display with swivel for customer signatures, the Clover® POS enables your business to focus on your customers. 
With the ability to operate via WiFi or offline, Clover POS ensures businesses can still do business under any circumstances, and with built-in encryption-enabled card readers, Clover provides an additional level of security beyond PCI and EMV standards. 
Great for small to medium-sized businesses, Clover is intuitive and flexible. All-in-one hardware, including the card reader makes Clover set up and use of their POS solution easy and fast for business owners. Added bonuses like the ability to print, email, and text receipts enables Clover businesses to support customers in all of their needs. With a range of apps to add as a business grows and evolves, Clover can adjust accordingly and seamlessly.
Adding Functionality
Clover offers businesses a variety of apps to increase functionality as needed. The Promos app allows you to build your customer database, allowing businesses to create a mailing list to leverage for real-time offers by way of text, email, and Facebook. The Feedback app empowers businesses to solicit customer concerns and feedback allowing businesses to build on the good and prevent public feedback for the bad. Business-specific apps like the Reward, Happy Hour, and Dining apps assist in specific business goals.
Clover as Business Partner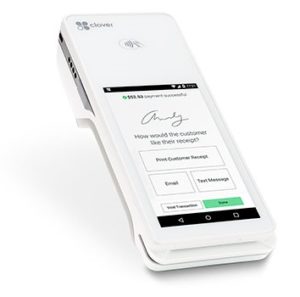 Beyond processing credit cards, Clover POS can also help you run your business. Easy and intuitive, Clover provides functionality that allows business owners to automate payroll, employee schedules, and ordering in addition to tracking sales, creating loyalty programs, stocking inventory, and tracking returns – and beyond. 
Marrying POS and data analysis, Clover allows businesses to generate data in real-time with both a dashboard and detailed sales reports. Displaying readable charts and graphs, Clover empowers business owners to quickly and easily track metrics. 
Measuring product performance, Clover helps businesses market goods and services by identifying those that sell well and vice versa. Helping businesses discover loyal customers, Clover enables business owners to customize offers and to provide loyalty programs to repeat customers, creating a VIP strategy.
Not only can Clover help businesses schedule employees, it can also clock employees in and out. Businesses can use Clover to measure employee performance and help employers incentivize employees with top worker rewards. Customized user permissions allow employers to control employee access to Clover functions.
Clover can also help businesses track their cash flow, nipping financial issues in the bud. And beyond the scope of the business's performance, Clover can measure area competitors and leverage local trends to increase foot traffic. 
Host Merchant Services and Clover
Host Merchant Services can customize your Clover Point of Sale System to fit your business needs. Whether your business requires a robust station including a tablet interface and printer with the option to add functionality or whether your business only needs a mobile app, turning your phone into your POS, Host Merchant Services offers these and everything in between, including the Mini POS and the handheld POS perfect for a farmers market stand or an intimate restaurant. 
Offering complimentary express service, Host Merchant Services provides free quotes. Our payment specialists can provide Clover POS pricing that fits your business.
The Clover® name and logo are trademarks owned by Clover Network, Inc., an affiliate of First Data Merchant Services LLC, and registered or used in the U.S. and many foreign countries.