Today is Cyber Monday. And The Official Merchant Services Blog has been running a series on the Holiday Shopping Season that has basically been building up to today. Previous blog posts predicted that Online Shopping was beginning to really bit into Black Friday sales and that a general shift in consumer shopping habits was taking place. We had discussed that holiday shopping was beginning earlier and earlier each year due to the convenience of online shopping and the prevalence of deals to be had before Black Friday. We also pointed out that Cyber Monday had entrenched itself as a follow-up to Black Friday.
And judging by my own e-mail box today, Cyber Monday is taking no prisoners this year. I found deals from Amazon, LivingSocial and Newegg all waiting for me when I woke up. Each of these were targeted to my own buying habits too. So they got my attention.
Clicks Take it to the Bricks
Another thing that got my attention: The numbers coming in for Black Friday itself. As this article from Bloomberg stated quite clearly: "Online shoppers didn't wait around until Cyber Monday to start their holiday shopping."
The article references statistics from an IBM research unit called Coremetrics, and states that 20% more consumers shopped online this Black Friday than did last year. The data collected also states that 39% more online shopping happened on Thanksgiving Day itself. The ease of online shopping is infiltrating the traditional brick-and-mortar retail event and Host Merchant Services' analysis of this year is holding true –– sales numbers across the board rose from 2010, so overall Black Friday had a boost for retail, but clicks from e-commerce continue to grow and cut into the sales from bricks.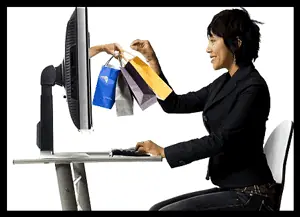 Black Friday Was Still a Boom for Retailers
In fact, this article from Internet Retailer details some of the strong sales numbers from Black Friday: "Sales were also strong at bricks-and-mortar stores, reports ShopperTrak, which monitors traffic and sales at major malls and retail chains. Total Black Friday retail sales rose 6.6% year over year to $11.40 billion, while foot traffic increased 5.1%."
Looking Toward the Future
The Black Friday business blitz also revealed some healthy news for another topic Host Merchant Services has been covering this year: Mobile Payments. According to this article from Seeking Alpha, mobile payments business increased 500% from 2010 on Black Friday. According to the article, PayPal mobile reported the huge increase, coming in at 511% to be exact. PayPal Mobile also noted that there was a 350% increase in mobile shopping on Thanksgiving 2011 when compared to 2010.
According to numbers from the aforementioned IBM research, 17.37% of all consumers used a mobile device on Black Friday to visit a retailer's site. And 9.73% used a mobile device to make a purchase. The Seeking Alpha article quoted Amanda Pires from PayPal. Pires suggested that this year's holiday is proving to be the largest mobile holiday shopping season PayPal and eBay has ever seen, and then quoted Pires directly as stating: "The retailers that are taking advantage of mobile shopping are going to win. We expect mobile shopping to continue to be strong throughout the holiday season."
This is good news for Mobile Payments, as Host Merchant Services research has shown in the past that there have been some bold predictions for growth in Mobile Payments, but that the services were slow in taking hold this year in the U.S. Growth like the numbers cited from Black Friday 2011 should fuel more positive momentum for that consumer payment option.
What is Cyber Monday?
Cyber Monday is the Monday immediately following Black Friday. This day was created by companies who wanted to recommend people to shop online. What started off as a promotional strategy has quickly become one of the biggest online shopping days of the year. It is also the easiest way for analysts to break down the "clicks vs. bricks" battle of online shopping strength compared to retail store shopping strength.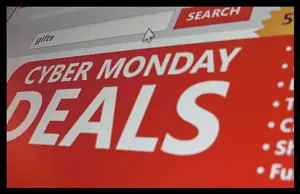 What are the benefits of Cyber Monday?
Extremely last minute deals, since you're online and can go right up to the very last second of the deal.
Online only deals, as e-commerce sites specifically target your business they offer deals online that you can't find in brick and mortar stores.
Shop anytime you want, which is extremely attractive to consumers as they get to work shopping into their schedule.
Convenience of shipping, which is the ultimate thing that online will always have over retail. Just a couple of clicks and none of the hassles.
Greater range of shopping, which means consumers aren't limited to places they can reach in their local area. Online shopping is worldwide.
Compare prices. As an online shopper you can pretty much just tab right over to the competition to directly compare prices.
Coupon or promo codes. Just like retail stores, coupons and promo codes fuel even bigger savings online.
No waiting in line. Back to the convenience, it can't be stressed enough how much easier it is to shop online because of simple things like not having to stand in line.
E-Commerce is Thriving
All of the benefits of Cyber Monday play right into the bustling e-commerce industry. E-commerce continues to grow as it becomes a more and more accepted and convenient method of holiday shopping. Cyber Monday is today. The deals are most likely sitting in your email box as well. Click your way around and see what's available. Holiday shopping is shifting rapidly and the power of e-commerce and online shopping solutions need to be embraced by merchants since consumers are embracing them so readily.