In a $21.5 billion all-stock deal, Global Payments Inc., a global provider of payment processing technology and software solutions, merged with TSYS (Total System Services) to form a pure-play payments company using the name Global Payments, the largest merger of payment technology companies to date. Working with 1,300 financial institutions and 3.5 million merchant locations in more than 100 countries, facilitating credit card processing for more than 600 million cardholders, the merger positions the company to be a leader in owned software, integrated payments, and omnichannel solutions.
TSYS can leverage Global Payments 32-country global reach to access the global markets during a time when e-commerce transnational transactions are on the rise. By focusing on merchant services and payments-related business, the merged company hopes to differentiate itself from the other fintech mergers, according to TSYS CEO Troy Woods. For example, the TSYS Netspend business offers reloadable payment products while the merged company will also engage in consumer solutions and merchant acquiring.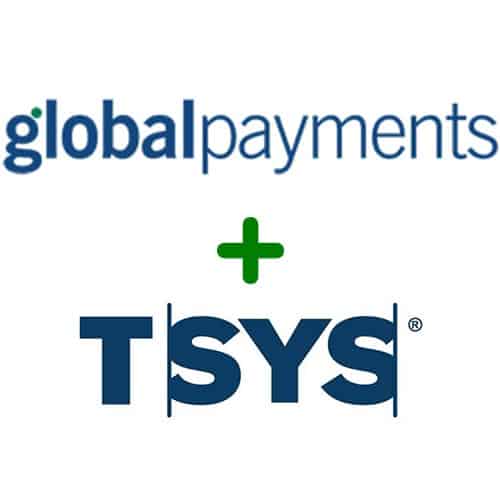 A pure-play payments technology firm, Global Payments' headquarters is located in Atlanta, Georgia with more than 24,000 employees around the globe, serving countries in North America, Europe, Asia Pacific, and Latin America. Offering global solutions and advanced software, Global Payments offers a technology-enabled strategy to merchant services. 
Following the $35 billion FIS acquisition of Worldpay and Fiserv's $22 billion acquisition of First Data, Global Payments' acquisition of TSYS is another big fintech merger for 2019. TSYS shareholders will receive 0.8101 of Global Payments shares for each of their own. Global Payments investors will own 52 percent of the new company, leaving the remaining 48% percent to TSYS shareholders. Traded on the New York Stock Exchange (NYSE: GPN), Global Payments is a member of the S&P 500. Global Payments gained 1.0% in premarket trading. 
TSYS holds a presence with smaller retail merchants, and Global Payments has a strong hold with restaurants with each providing point of sale (POS) solutions tailored to those industries. Combining TSYS's strength as a U.S. payment provider with Global Payments' strength as an international payment provider makes for a stronger whole. 
Jeff Sloan will serve as CEO of the merged Global Payments company, Cameron Bready as president and chief operating officer, Paul Todd as senior executive vice president and chief financial officer, and David Green will serve as the senior executive vice president, general counsel, and corporate secretary. Josh Whipple will serve as chief strategy and risk officer while Gaylon Jowers oversees issuer solutions, and Kelly Knutson oversees NetSpend. 
"We share a common value of putting people first and will leverage the best of our cultures to preserve and enhance our commitment to all of our stakeholders," said Jeff Sloan in the press release announcing the merger.