I'm back to once again speak about Mobile Payments and their presence in Delaware. In case you missed my last blog, it's here. It's really finally here. Barclaycard Mobile Wallet is an active program that participating merchants at the waterfront in Wilmington, DE, and along Main Street in Newark, are using. Right now you can use your phone to buy stuff!
So that's exactly what I did. I set out to visit some shops and buy some stuff. To give this test run some authenticity, I decided to try and buy things I actually needed. Let's see how the process works and how useful it is for real-time shopping!
But first, I needed to update my settings. After downloading the application, and adding a credit card to my account, I had noticed I wasn't seeing any offers. Kara from Barclaycard saw my blog and reached out to help me.
So I needed to add another step in our process for getting the technology up and running. It may seem like a bit much at first, but trust me, it's fast and easy to initialize.
Kara noted that I needed to add locations to my account to get the offers to show up. ZIP codes are the easiest way to do that. Wilmington's ZIP is 19801, and Newark's is 19711.
The Revised Set of Steps
So now, our updated steps to bring the power of mobile purchases right to your hot hands look like this:
Step 1: Visit this site and register for an account. This is key. You can't just download the app and go. You need to register online first. Since you're here online reading this blog, you can take a moment to click that link and get that out of the way.
Step 2: You go through the process of setting up an account. Choose a username, password, give your information.
Step 3: You add the card you want the wallet to charge.
Step 4: You can then download the app from the app store or google play store.
Step 5: Activate the app on your phone, and go through the log in process. You'll be asked for your passcode, and to log in with your username and password, and even one of the additional security questions.
Step 6: Go to settings — the gear icon — and go to offer locations. Add locations. Use the ZIP code that works best for you (I used both). Then you go to …
Step 7: BOOM! Start buying stuff!
The Buying Stuff Part
Thanks to Kara's timely advice, I had offers streaming through my phone immediately. Armed with mobile purchasing power and enthusiastic curiosity, I leapt from my centralized blogging and news update headquarters — taking this story live and direct to the macadam of Main Street Newark.
My first target was National 5 and 10, located on 66 E. Main Street. Boasting the world's largest selection and lowest prices for University of Delaware merchandise, I decided to zero in on … art supplies. I needed a sketch book and a new pencil and eraser set to continue to design and draw projects like this more than I needed a new Blue Hens ball cap.
So I went to work racking up an impressive spree of supplies:
Mechanical Pencil with lead refills, 0.5 mm fine point lead size. For the nitty gritty line work.
Hi-Polymer Pentel white plastic art eraser. Because they take the pencil marks away but leave the ink behind.
5.5 x 8.5″ sketchbook, to help me rough out all my creative ideas.
And to get my purchase up over $10, four 5 x 9″ bubble mailer envelopes, so I can send slick prints of my best portfolio pieces to people interested.
Total: $11.24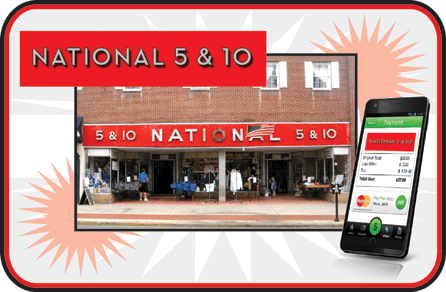 I took this stash of artistic loot to the one counter that was open. When it was my turn I happily stepped up and asked if I could purchase these with the Barclaycard app, and flashed my phone at the cashier. This caused quite a stir, as it seems I was the very first customer to utilize this technology. Excitement buzzed in the air. We moved this transaction over to the other side of the area where the Barclaycard Mobile Wallet Terminal was kept. Another cashier took over the transaction, but a crowd began to form. The owner came over to see this landmark purchase of a pencil, eraser, sketchbook and some envelopes take place. Customers took notice. And then it happened.
The cashier rang up the items. I had my phone out and the app open. I was prompted to scan the QR Code on the terminal. The app took over and in a flash my payment was recorded. I approved it with the click of a button. The cashier printed out my receipt and just like that it was over. Payment made. Stuff bought. Once the wow factor wears off, the process will turn out to be very easy. As fast as swiping a credit card, with none of the hassle of keeping a card on you in your wallet. Mobile wallet finally lives up to the hype. I take my phone everywhere, as do most people. I need it for emergencies — but also to keep up with work and friends while on the go. So tucking this payment power into it just consolidates everything, making shopping a seamless part of the package.
But Wait, There's More
I made the effort to obtain a purchase of $10 or more to take advantage of the offer I saw on my screen. But it didn't seem to take. Later in the day I found out the offer might not be live yet. So I moved on to my next stop: Switch Skateboarding, located on 54 E. Main Street. No worries here about finding an item over $10 in price, but there were no visible offers for Switch anyways, so I put that out of my mind and focused on finding something I actually needed — wrist guards.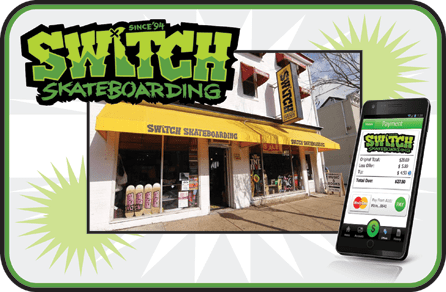 I haven't been on a skateboard since I was 15 years old. But I've needed items that Switch sells almost regularly for the past four years because I'm a roller derby referee.  I picked up a pair of Destroyer wrist guards. I chose them primarily because I already have a pair of 187 wrist guards and an old pair of pro-tec, so wanted to see if these fit any more comfortably. They cost $17.
Once again I stepped up to the counter and announced my intention to purchase this item with the Barclaycard app. There was decidedly less of a fuss about it as the staff at Switch seemed to be both more chilled out in general and ready to handle the unusual request. However, just like at National 5 and 10, there was a swapping of cashiers in terms of who handled the transaction. Switch uses a different setup than 5 and 10. The skateboard shop is working a completely virtual system, running transactions through a computer. The payment seemed even more seamless than at 5 and 10. All that was involved was opening up their gateway in their browser, inputting the details of the transaction, scanning the item's barcode and then it was up to me. Switch has a static, standing QR Code on a card atop its counter. I had my app open and ready. When prompted I clicked the button and my phone scanned the barcode. Once again it was lightning fast. And after clicking my approval of the sale, the transaction ended.
Success. I was now armed with a fully operational mobile payment telephone, a pair of brand new wrist guards and some art supplies that I needed. This took the idea of buying things with a wave of my phone from concept to cold, hard reality. I found myself wanting to do this everywhere.
The Only Downside
As far as I was concerned I came away from this excursion with only one negative — there just wasn't enough visible presence to let consumers know this existed. At 5 and 10, I created a crowd, but I knew going into the store I could buy things this way. The terminal itself stands out as it is different from other terminals. But I wonder if it's all that visible since it's not exactly a place where consumers actually look. I'm reminded of the time I spend standing in line at places like Wawa or 7-11, where I'd really like to just swipe my phone and go. I don't even look at the terminal until I have to. How do you let people know they can do this now? Do you start to ask them, "Credit, Debit or Mobile?"
Or do you just get the word out there with more and more buzz, like this blog or a demonstration in the store at key high traffic times? Do I just keep telling my friends, "Hey, check out what I can do?"
It's probably a mixture of all of those ideas. The technology is now here. It works. And it's very easy to use. The ball is rolling. It just needs to pick up speed and add more snowy mass as it rolls along.