Today the Official Merchant Services Blog, along with the rest of the world, will take a look at the new iPhone 5 being debuted in California today.  Specifically, we will look at one of the new iOS 6 features called Passbook.
Passbook is a new app, exclusive to iOS 6, the feature lets users store and quickly retrieve electronic versions of tickets, boarding passes and merchant cards all in one place according to executives at the WWDC 2012 today.
The app aims to replace almost all paper tickets, coupons and plastic gift cards that might be taking up space in a user's wallet.  Apple already has partnerships with a number of airlines, retailers and venues including Virgin Air, Delta, and Starwood Hotels.
In a demo, senior Vice President of iPhone software Scott Forstall showed how to use the app with a San Francisco Giants baseball ticket.  The feature will also work with Starbucks and Apple Store gift cards.  Adding to its already intriguing features, the app is dynamic, so users will be notified of any flight delays or gate changes. Users can also be alerted when near a movie theater that they have tickets to or rewards points that can be redeemed.
The app uses a special QR code that can be scanned by the participating retailer to redeem that ticket or coupon. Done with a particular card in Passbook? A virtual shredder "shreds" it on screen.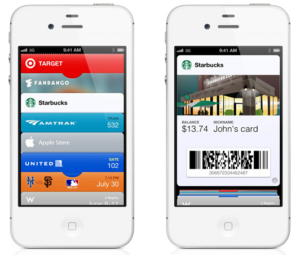 Is it a mobile wallet?
Well no, Apple hasn't announced any kind of payment feature yet for the Passbook app, but don't rule that out just yet.  With the migration towards digitizing all of this info, as well as the time and location based triggers that give you what you need, when you need it this app is the one to watch in the festival of new software coming out of Cupertino, CA.
Passbook will roll out along side iOS 6 on September 19th, and the iPhone 5 will be begin shipping September 21st. As usual, we here at Host Merchant Services will keep you updated with all of the breaking news in the mobile payments world.