Today The Official Merchant Services Blog takes a close look today at card association juggernaut and industry titan MasterCard. A card association is a network of issuing banks and acquiring banks that process payment cards of a specific brand, and along with Visa, MasterCard is one of the big wigs in the industry — Card associations Visa and MasterCard each comprise over 20,000 card issuing banks.. They help set the standard for the payment processing industry. Other payment card association brands include Discover, Diner's Club, American Express and JCB. Among United States consumers alone, over 600,000,000 payment cards are in circulation. Visa, MasterCard and American Express issuers co-brand with the individual card association, for example, "WellsFargo-Visa" or "Citi-MasterCard."
Making Moves
It was reported here in our May 4, 2012 Blog Entry, that MasterCard was gaining ground in the Swipe Debit sector of revenue, potentially crowding in on Visa's dominance.  Speculation suggested that the hard cap on Debit Card Swipe fees imposed by the Durbin Amendment from October 2011 may have helped MasterCard take some of that market share away from Visa.
MasterCard has been winning deals to handle processing of debit transactions according to the company's Chief Financial Officer Martina Hund-Mejean. Bloomberg quotes Hund Mejean as saying in a conference call to analysts: "In every quarter we're going after business very surgically and opportunistically. You can see those results in our numbers."
And according to Tien-tsin Huang, a JP Morgan Chase & Co. analyst in a May 1 research note, Bank of America Corp. — the biggest debit-card issuer and catalyst of post-Durbin media frenzy — switched to MasterCard.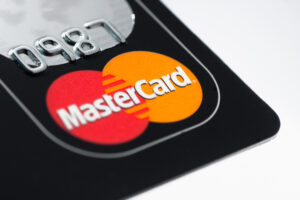 Collaboration on Chip Cards
On May 21, MasterCard proposed the formation of a cross-industry group to foster collaboration and alignment between networks, issuers, merchants, acquirers, processors, terminal manufacturers, card manufacturers and other groups for the implementation of EMV technology in the United States. This proposal comes from MasterCard's January Roadmap for the transition to EMV, something the entire credit card industry is moving toward including Visa and which we discussed in our February 7, 2012 Blog Entry. MasterCard emphasized this need for a payments ecosystem to be fully aligned across the board, citing the upcoming implementation of EMV standards in the U.S. as the catalyst for that need.
You can read more about MasterCard's take on EMV at their Website Here.
MasterCard's Web Site Tools
Speaking of their Website … MasterCard has a very useful resource available to its visitors.
It's Demos Page, FOUND HERE, has a flash demo that goes through the anatomy of a credit card. This helps people understand the process of using them for payments by breaking the entire item down visually. As it says in the demo, a card is more than just a piece of plastic.
Here's a screenshot of the demo in action: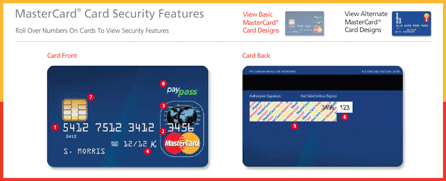 CLICK HERE to view it.
More interesting to us in the Merchant Services industry, is the next demo, the anatomy of a transaction demo. It's a flash graphic that walks you through, step by step, a transaction. It gives you an nice journey through each step your payment takes from the moment of purchase.
Here's a screenshot of the demo in action: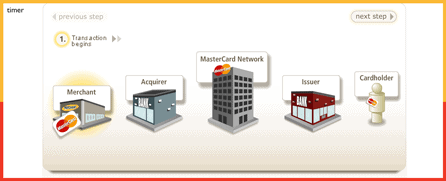 CLICK HERE to view it.
The demo page is a useful resource for any readers at all interested in how payment processing or credit cards work and should at least be thought of as an addition to one's "favorites" tab.