2012 is heating up and the payment processing industry is getting things moving. Today The Official Merchant Services Blog reports on a major event that just happened, and brings you all the details on a major event that is coming up in the credit card processing industry.
What You May Have Missed
The GSMA Mobile World Congress just took place in Barcelona, Spain. The event is the combination of the world's largest exhibition for the mobile industry and a conference featuring prominent Chief Executives representing mobile operators, device manufacturers, technology providers, vendors and content owners from across the world. It ran from February 27 to March 1 and featured a lot of push from Android devices — including the latest and greatest gadgets and apps from the Samsung Galaxy brand. But VeriFone, the credit card transaction terminal making company that Host Merchant Services provides free equipment for its customers from, also dropped a major announcement at the event.
This press release, carrying a byline directly from their event booth at the Mobile World Congress, states VeriFone announced: "The PAYMEDIA Universal Acceptance Platform (UAP), a complete suite of services and software that enables Mobile Network Operators (MNOs) to manage mobile wallet acceptance at merchant systems."

This is VeriFone's mobile payment system. The UAP is designed for mobile-network operators to offer merchants to accept digitall walled applications. Customers with Near Field Communications (NFC)smartphones with digital wallets will pay for items by tapping their phone near an NFC-enabled terminal. VeriFone offers the MX800 and MX900 series terminals to their Tier 1 retailers (merchants with annual sales exceeding $1 billion). These terminals were already usable with the NFC App Manager VeriFone created for the Google Wallet Trial. So UAP is one step forward for VeriFone giving them the ability to run mobile payments through their own branded applications and their own customers.
This is an interesting devleopment in light of the NFC problems Google and Google Wallet were facing recently. This shows that the allure of Mobile Payments is still very strong for companies. The predictions still center around billions and billions of dollars worth of growth in the next few years. So companies are still making major moves to tap into mobile payment solutions such as NFC.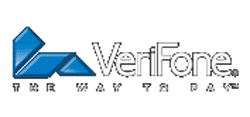 The testing of NFC, however, still continues to be limited. As VeriFone demonstrates, it's still not ready for the majority of merchants. Tier 1 merchants give a good testbed based on the volume of transactions, but the technology still isn't being tested heavily in the rest of the marketplace. So the standard knock against NFC still exists: The majority of consumers are still hesitant to accept the payment method due to security concerns. Analysts continue to predict Mobile Payments will explode and the sector will boom, but consumer acceptance still remains an obstacle.
VeriFone states in their press release that they have a plan to address consumer acceptance. "The missing element in MNO's mobile wallet plans has been the lack of focus on how to provision, integrate and manage wallet and value-added acceptance apps at merchants' systems," said Paul Rasori, VeriFone senior vice president of marketing. "VeriFone's PAYMEDIA UAP bridges that gap in the NFC ecosystem by managing the complexities of mobile commerce acceptance and ensuring a seamless buying experience no matter what wallet, app or program consumers bring to stores."
For more information about VeriFone's UAP, click here.
For more information about the rest of the Mobile World Congress, this blog gives a decent recap.

What Is Coming Up
While you may have missed the Mobile World Congress in Barcelona, fear not — The ETA Annual Meeting and Expo is coming up. From April 17 to 19 the most diverse and comprehensive conference in the payments industry will rock Mandalay Bay Las Vegas. This year's show brings together more than 3,500 payments professionals and suppliers to the industry for three days annually to provide peer-led education, networking, and one-of-a-kind partnership opportunities. Whether you want to learn more about the payments industry, showcase a new product, or are in the market for a new partner or channel opportunity, you will find everyone and everything at the 2012 ETA Annual Meeting & Expo, from merchant acquirers, financial institutions, payments processors, and alternative payment providers to value-added resellers, prepaid companies, and merchant sales teams. Some of the highlights for this year's extravaganza include:
Opening General Session Keynote Speaker: Guy Kawasaki: Tech industry legend and the original Mac evangelist, Kawasaki will share his irreverent approaches to innovation. Learn how to create your own successful innovations, and. . . generate revenue.
2012 Political Analysis: Charles E. Cook, Jr.: Cook, widely regarded as one of the nation's leading authorities on US elections and political trends, will provide insight into the upcoming US elections. As an authority on policy-making and politics in Washington, Cook's perspective on the 2012 political and legislative environment promises to be especially insightful as it relates to the unique challenges and concerns of our industry.
Educational SUPER Sessions: If you want to move from ordinary to extraordinary you need the latest and most complete information. Take a deep dive into these four fundamental industry topics at this year's meeting: Sales, Technology / Products, Regulatory Issues and Social Commerce.
For more information about the expo visit this link.