As seen in this infographic linked by Host Merchant Services in July, there are bold predictions being made for the future of Mobile Payments Processing. Many of the stories and articles currently coming out in the payment processing industry are focused on Mobile Payments – everything from these bold market predictions to the various gimmicks and devices that make the processing work.
Three top research firms released studies in July that keep getting referenced in the various news articles. Host Merchant Services provides you with a quick and visual breakdown of what those research firms had to say.
Juniper Research
Juniper Research, a company that specializes in the identification and appraisal of high growth opportunities in various mobile telecommunications and applications sectors, put out a publication on July 5, 2011, titled "Mobile Payment Strategies." In this article, Juniper predicted worldwide mobile spending would see a significant increase between 2011 and 2015.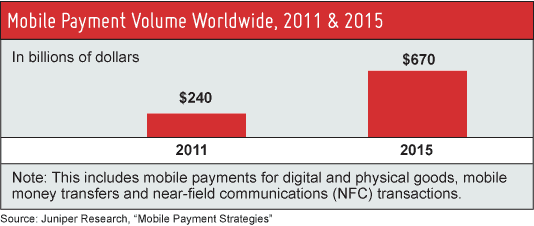 Gartner
Gartner, Inc., a leading information technology research and advisory firm, had slightly lower projections than Juniper for 2011. But are still predicting a robust 76% increase from 2010 to 2011. It's also worth noting that Gartner used slightly different variables for its definition of Mobile Payments Industry and suggests that one of the most successful aspects of mobile payments in developed markets are online purchases of physical goods.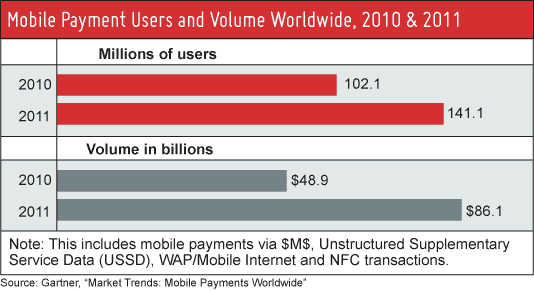 Yankee Group
Yankee Group, a research and advisory firm equipping enterprises to profit in the mobile world, posted an estimate of mobile payment transaction value in a July blog. Their figures are close to Juniper's figures, but Yankee group broke the numbers down into geographical zones.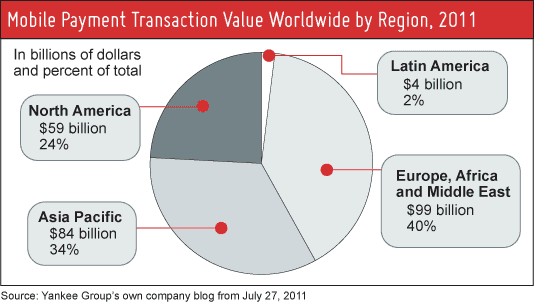 Information for this article is based on this report from www.emarketer.com