Host Merchant Services is stepping up its game in terms of E-Commerce, and The Official Merchant Services Blog has the scoop.
HMS, the premier provider of payment processing and e-commerce services for small and medium businesses has an edge in terms of E-Commerce. The company was founded by CEO Lou Honick, who previously spent 11 years running a web hosting company. Honick's experience has translated into Host Merchant Services becoming E-Commerce specialists capable of combining service and savings to a variety of online merchants with customized packages and partnership programs.
Wisdom and Experience
The partnership program has been the anchor of Host Merchant Services' E-Commerce initiative since the beginning.
"We don't write a business off as high risk just because it sells its products or services online," added Honick. "HMS understands the needs of e-commerce merchants and works tirelessly to provide them with the right services at the best possible rate."
E-Commerce Industry Buzz
E-Commerce has been growing rapidly in the past few years, and HMS is positioned to offer its valuable services and customized partnership plans to the most profitable business sector in the country currently. Here's an infographic detailing how much growth J.P. Morgan Bank has seen in E-Commerce through its surveys: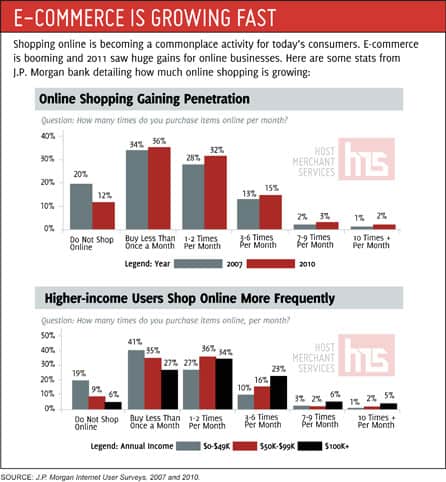 The Latest Initative
The latest from Host Merchant Services is a bold promotional offer — found here. The program, offered by internet services wholesaler OpenSRS specifically to their customers, gives those merchants an edge. The white label initiative lets resellers offer their online merchants a $75 promotional credit to customers who sign up for payment processing from HMS. This credit can be applied towards merchant services fees with HMS, and will be credited to their first full month's statement. Any unused balance on this credit can be carried forward until the full value is exhausted, or the account has been open for six (6) months. The resellers receive a revenue share from processing fees generated by that customer.
For More Information
To review the E-Commerce Customization available to you through Host Merchant Services, you can visit this page.
To get more information on how Host Merchant Services structures its partnership programs for different tiers of online merchants, you can visit this page.