ALDI is a German family-owned supermarket chain. It is a popular grocery store in the US and UK, with over 750 store locations in the UK alone. As one of the most affordable grocery stores with loads of rewards and cashback offers at almost every purchase, you might be on your way to ticking in your list of groceries.
In the past, the payment methods at ALDI were limited to cash-only payments, which was quite an inconvenience for the customers. However, as time has changed, ALDI has become more flexible when it comes to payment options. If you are looking for the current payment options available at ALDI, you're in the right place. In this article, we will take a closer look at shopping at ALDI and all the payment methods accepted at ALDI stores.
Shopping At ALDI – Traditional Payment Methods
A. Cash
Cash is accepted everywhere, and so is the case with ALDI. Using cash to make your purchases at ALDI is a pretty straightforward and convenient option. It's the quickest way to pay for your groceries. However, it's important to note that when you're shopping at ALDI online or ALDI's brick-and-mortar stores with self-checkout option only, you'll need to use digital payment methods like credit cards, debit cards, Apple Pay, or Google Pay.
B. Debit Cards
You'll be pleased to know that using a debit card is a viable payment option at ALDI. In fact, ALDI has been accepting debit cards for quite a long time, even before they started accepting credit cards. You can use your debit card at both regular checkout counters and self-checkout stations, where, commonly, cash isn't accepted.
Debit cards are also accepted on their online store.
Here's a simple way on how to use your debit card at ALDI:
Swipe your debit card through the POS reader for the transaction to begin. If your debit card has a one-sided chip, you'll need to insert the chip into the bottom slot of the POS machine.
Take a moment to verify that the amount displayed on the POS matches the total you expect to be charged for your purchase.
The POS machine will prompt you to enter your four-digit PIN. Once you've entered your PIN, the transaction will be processed securely.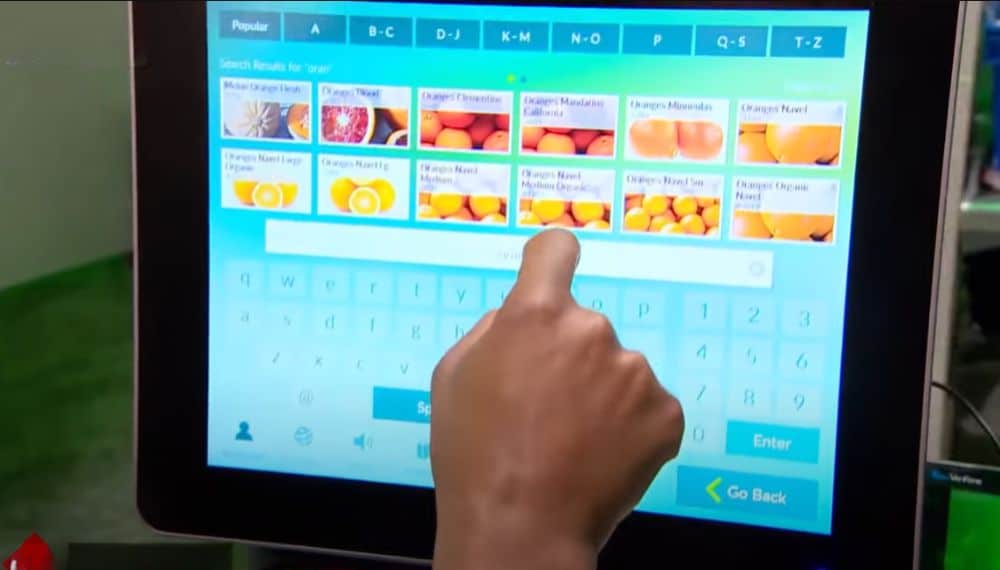 Self checkout at ALDI
Using your debit card at ALDI is a convenient and secure way to make your purchases. It's especially handy at self-checkout stations. However, if you have a Paywave debit card, you can avoid all these steps by just tapping on the POS system to complete the transaction.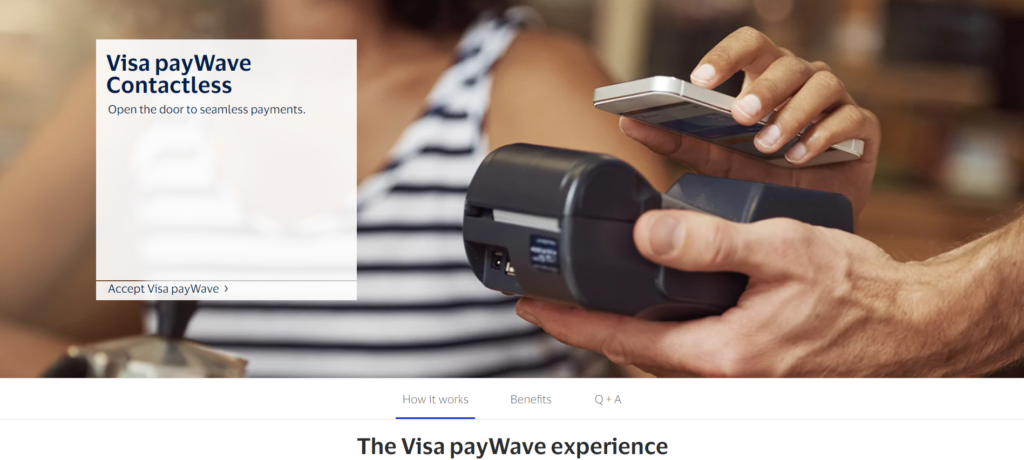 Image source
Credit Cards
Credit cards are accepted at most ALDI stores. ALDI accepts credit card on their online store as well.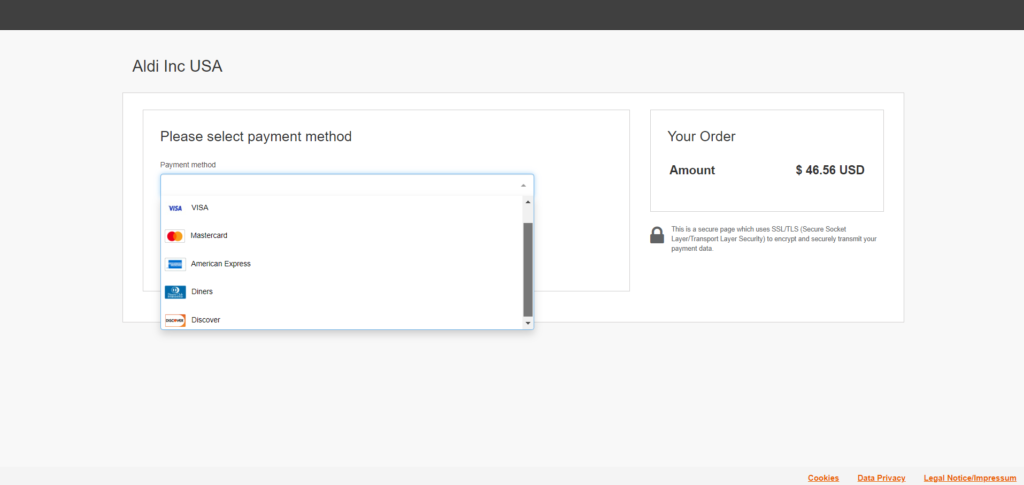 Credit / Debit cards that are accepted on ALDI
However, there's a slight difference in the process compared to using a debit card. When using a credit card at any ALDI store, you'll need to swipe it through one of their card scanners, and an employee must approve the transaction before you can proceed with your purchase. It's worth noting that you may incur an additional charge of 0.5% as a credit card fee.
While this process may seem a tad inconvenient, several benefits to this system offset the minor inconvenience. All major credit cards like VISA, MasterCard, Discover, and American Express are accepted in ALDI.
ALDI also offers cashback promotions on specific credit cards at various times. These promotions provide an added incentive for using credit cards at their stores.
Contactless and Mobile Payments
A. Google Pay
Google Pay, a convenient contactless card payment method, is widely accepted at most ALDI stores as a checkout option. What's great is that there is no spending limit when using Google Pay at these locations.
To make a payment with Google Pay at ALDI, here are the steps you'll need to follow:
Ensure that you have the latest version of the Google Pay app installed on your Android or iOS device, and it should be linked to your debit card or checking account.
When you're at the checkout, choose "No wallet" as your payment option on the terminal.
Hold the back of your phone near the reader, which is typically located below the terminal's barcode scanner.
You will now be able to see the option to enter the PIN on your phone. You can enter your 6 or 4-digit PIN to complete the transaction.
Once the transaction is done, you will get a receipt. You should also receive a confirmation message of a successful transaction.
Using Google Pay at ALDI stores is not only convenient but also provides a secure and efficient way to make payments without any spending limitations.
B. Apple Pay
Just like Google Pay, Apple Pay is also a convenient and contactless method to transfer funds. If you have already set up an Apple Pay account, you can easily pay for the bill through your iPhone, Apple Watch, or iPad.
This convenient payment method allows customers to make purchases in physical stores, within apps, and online. To use Apple Pay at ALDI, all customers need to do is link their debit or credit card to their Apple Wallet, which is available on the majority of Apple devices.
Here are three ways to use Apple Pay at Aldi stores for a convenient and secure shopping experience:
Touch ID with Your iPhone:
Take out your iPhone at the counter.
Let the staff scan your groceries.
When your iPhone senses the NFC reader, the Apple Wallet screen will appear.
Pick your payment card and unlock it with your fingerprint on the Touch ID pad.
Your screen will show "Done" when the transaction is complete.
Face ID With Your iPhone:
Double-press your iPhone's side button.
Hold your phone above the card reader.
The reader's screen will display "Done" when the transaction is successful.
Apple Watch:
Place your Apple Watch near the reader.
Double-click the watch's side button.
Choose your payment card.
Keep your watch close to the reader until you hear a tap or beep, confirming a successful transaction.
Special Payment Programs and Coupons
SNAP EBT Cards
ALDI is one of the retailers that accept EBT cards, enabling you to use your benefits for purchasing groceries at all of their stores. ALDI provides a diverse selection of eligible grocery items that you can buy using your SNAP EBT benefits. For instance, you can also buy plants and seeds for different fruits and vegetables that you can grow in your backyard.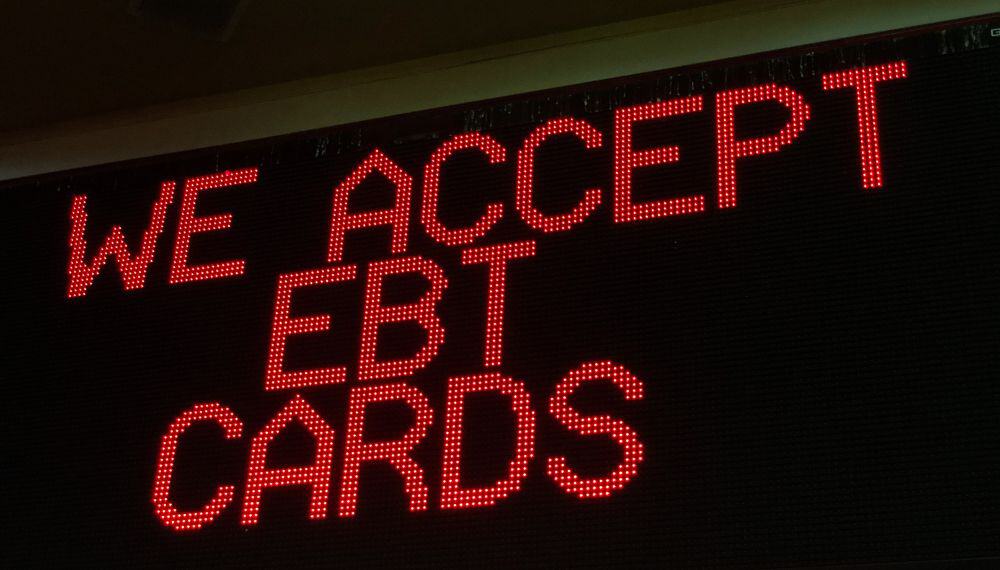 You should also keep in mind that you cannot use this benefit for all the items in the store. This includes non-essential items like:
Alcohol
Tobacco
Vitamins
Medications
Hot foods
This ensures that your benefits are specifically directed towards essential food items for your well-being.
WIC Cash Value Voucher
You could take benefit of WIC Cash Value Vouchers (CVV) as part of your benefits package in some stores. These vouchers are for purchasing fresh fruits and vegetables only and can be used in big ALDI.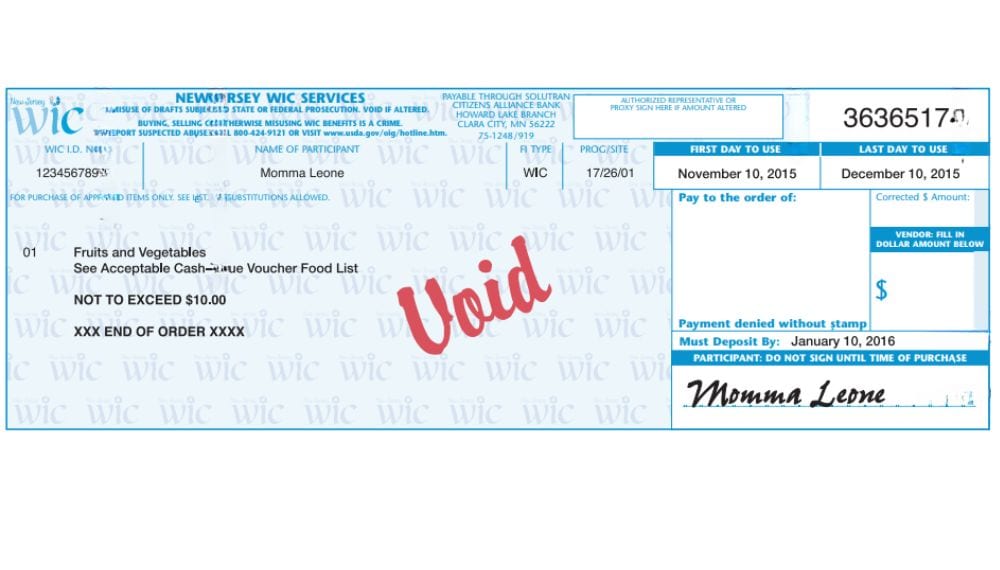 When you decide to use your WIC CVV at ALDI, it's crucial to understand that these vouchers are valid exclusively for specific items, like fresh fruits and vegetables. They cannot be utilized for any other products or non-food items.
To make use of your WIC CVV at ALDI, follow these simple steps –
Select the eligible fresh fruits and vegetables you wish to purchase and present both your WIC EBT card and CVV to the cashier during checkout.
The cashier will then deduct the amount from your total bill, ensuring you can take full advantage of the WIC program's benefits while shopping at ALDI.
This way, you can prioritize nutritious choices for yourself and your family.
Conclusion
ALDI now accepts various payment options, making shopping easier for you. You can use Visa, MasterCard, Discover, and American Express, as well as contactless methods like Apple Pay and Google Pay at all ALDI stores. This means you have more choices beyond cash and debit cards, giving you extra convenience when you shop at ALDI.