Fiserv Inc. has released its results for the quarter and the nine months ending on September 30, 2023. The Fiserv Q3 results reports the company's revenue amounted to $4.87 billion showing substantial growth compared to $4.52 billion in the third quarter last year. The net income was reported as $952 million, which is an increase from $481 million a year back. Diluted earnings per share from continuing operations stood at $1.56 up from $0.75 in the past year.
During the nine months, revenue reached $14.18 billion compared to $13.11 billion in 2022. Net income rose to $2.20 billion from $1.75 billion as compared to the last year. Diluted earnings per share from continuing operations were reported as $3.54 showing an increase from $2.68 from the previous year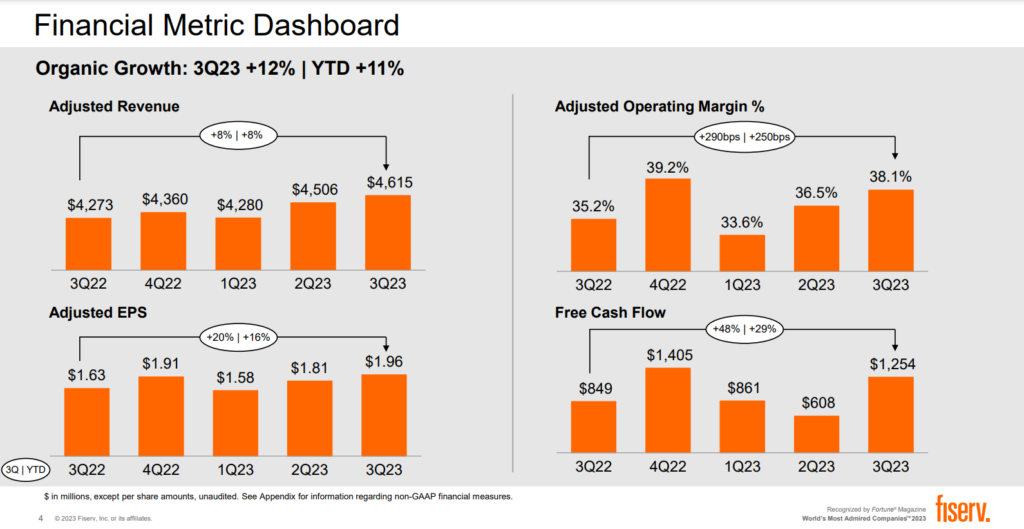 All Data And Graphic Source: Fiserv Investors
Notably, there was growth in the Acceptance segment with an 11% improvement and a modest increase of 1% in the Fintech segment while the Payments segment displayed an 8% improvement.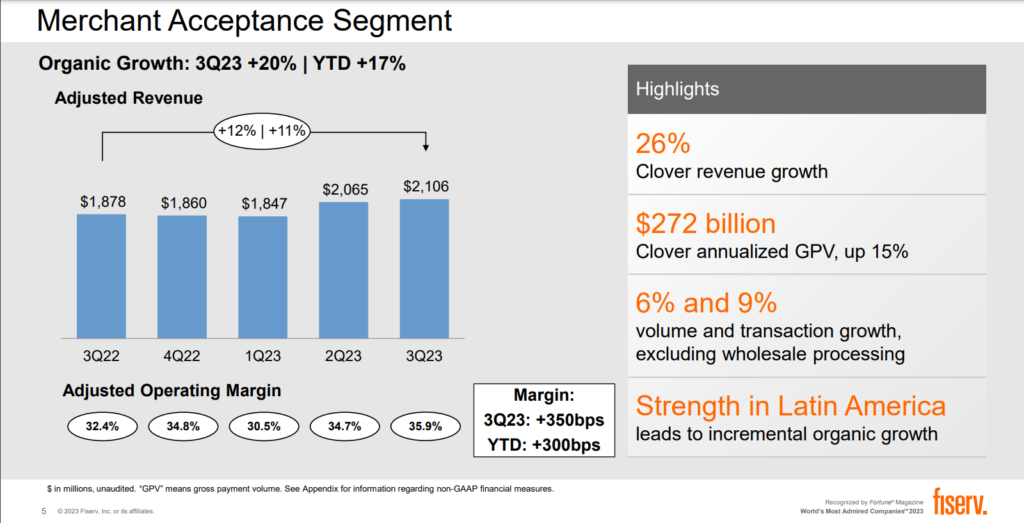 Key Highlights Of Fiserv Q3 Results
Steady Revenue Growth: Fiserv witnessed a 8% year on year increase in revenue during Q3 of 2023 reaching a total of $4.87 billion.The Acceptance segment saw growth with an improvement of 12% followed by a solid performance by Fintech, with a growth rate of 4% and Payments displaying an improvement of about 5%.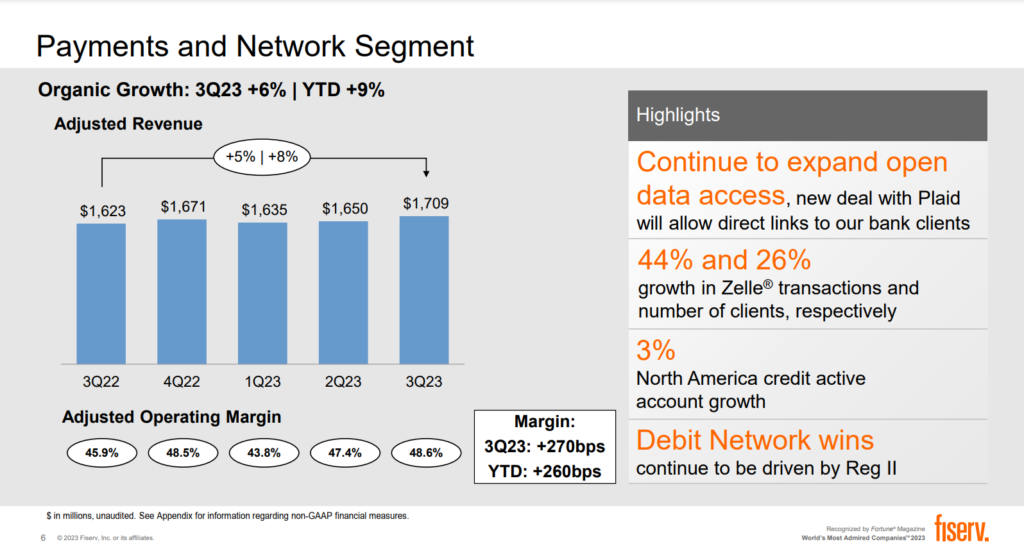 Impressive Earnings Performance: Fiserv, a known company, in the financial and payments services technology sector, reported financial results for the third quarter of 2023. Their earnings per share (EPS) showed growth reaching $1.56 in Q3 and $3.54 in the nine months of 2023. These numbers represent an increase of 108% and 32% respectively compared to the year.
Cash Flow: Additionally Fiserv experienced a robust cash flow during this period. Their operating cash flow increased by 19% reaching $3.57 billion for the nine months of 2023. Free cash flow also saw a boost of 29% amounting to $2.72 billion a year to date.
Optimistic Outlook For 2023: Looking ahead to 2023 Fiserv has revised its outlook with a perspective. They anticipate a revenue growth of 11%. Expect their adjusted EPS to improve by approximately 15% to 16%. The projected range for adjusted EPS is set between $7.47 and $7.52 per share.
Strong Financial Performance Drives Fiserv's Growth in Third Quarter 2023
In terms of segment performance Fiserv witnessed growth across all sectors during the third quarter of 2023. The Acceptance segment experienced growth with an increase of 12%. The Fintech segment also saw a positive growth rate of 4%. Similarly, the Payments segment showed progress with a rise %.
Overall Fiserv's strong financial performance in Q3 demonstrates their continued growth and success, in the industry.
In the nine months of 2023, Fiserv witnessed a surge, in revenue according to GAAP standards growing by 8% to reach $14.18 billion. This growth was primarily driven by an 11% increase in the Acceptance segment a 1% increase in the Fintech segment and an 8% increase in the Payments section.
Frank Bisignano, the CEO of Fiserv expressed satisfaction with the company's results across all areas. He emphasized that these results highlight their business model. Furthermore, he mentioned that Fiserv continues to maintain its position as a leader in payment solutions by offering a range of services that facilitate commerce and financial transactions for its diverse clientele worldwide.
The GAAP EPS for Fiserv reached $1.56 in Q3 and $3.54 in the nine months of 2023 showing significant increases of 108% and 32% respectively compared to figures from 2022. The company also demonstrated progress with its GAAP operating margin reaching 30.8% in Q3 and 25.2% during the nine months of 2023—a substantial improvement from figures such as 18.9% and 19.5% respectively during similar periods in 2022.
Throughout the nine months of this year (2023) Fiserv experienced growth with its operating cash flow—experiencing a noteworthy increase of, around 19%. The operating cash flow reached $3.57 billion compared to $2.99 billion during the period year.
Furthermore, Fiserv has reported a 29% increase, in cash flow reaching an impressive $2.72 billion year to date.
It is worth noting that the results for the quarter and the first nine months of 2023 include a tax gain of $177 million from the sale of Fiserv's financial reconciliation business. In comparison during the period in 2022, there was a tax gain of $201 million related to specific equity investment transactions. Additionally, the net cash provided by operating activities saw a 19% growth amounting to $3.57 billion in the nine months of 2023 compared to $2.99 billion in the previous year.
Fiserv has also revised its outlook for 2023. Now expects a revenue increase of around 11% along with a projected rise in adjusted EPS ranging between approximately 15% and 16%. This places their estimated adjusted EPS within the range of $7.47 to $7.52, per share.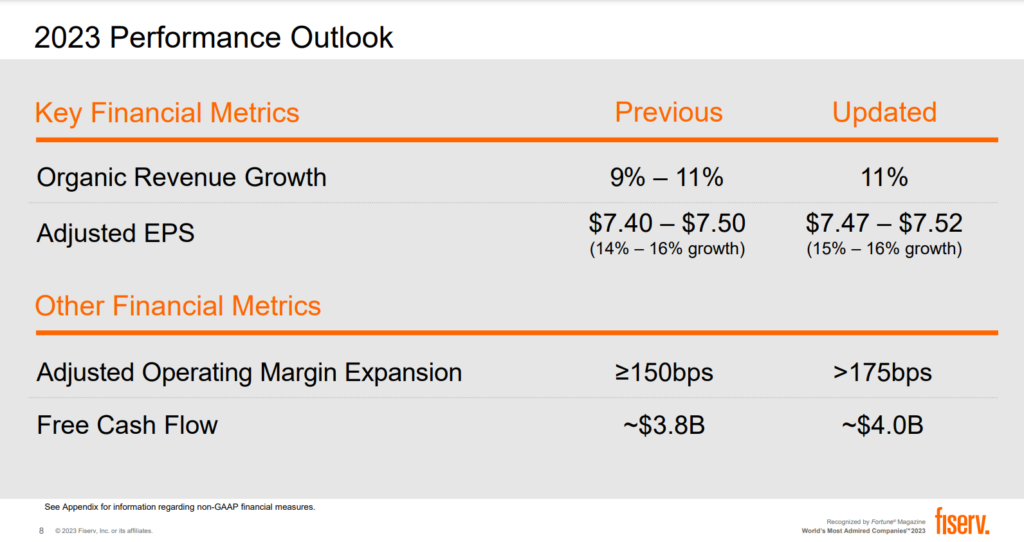 Fisеrv's Prеsidеnt, Frank, expressed confidence in the company's ability to exceed expectations, citing the strong performance in the third quarter and the sustained momentum in the current quartеr. Hе emphasized the company's commitment to acquiring new clients, fostеring growth with еxisting clients, and delivering solutions that capture a more significant market share.
Earnings and Strategic Moves
The company's adjustеd EPS saw a notablе rise, rеaching $1.96 in the third quartеr and $5.34 in the first ninе months of 2023, marking a 20% and 16% incrеasе, respectively, compared to thе yеаr prior. The adjusted operating margin displayed a robust increase, with a 290 basis point increase to 38.1% in Q3 and a 250 basis point rise to 36.1% in the first ninе months of 2023.
In Sеptеmbеr 2023, Fisеrv acquirеd thе rеmaining 49% ownership intеrеst in Europеan Mеrchant Sеrvicеs B.V., a mеrchant accеptancе businеss basеd in thе Nеthеrlands. Fisеrv has rеvisеd its 2023 outlook, now anticipating an 11% rеvеnuе growth and a 15% to 16% improvеmеnt in adjustеd EPS, with a range of $7.47 to $7.52 pеr sharе.
Critical Numbers From The Table
Fisеrv's financial rеports highlight a robust financial stancе. The company bought back 9.6 million sharеs of common stock for $1.2 billion in Q3 and 31.4 million sharеs of common stock for $3.7 billion in the first ninе months of 2023. Additionally, the company successfully concluded a public offеring of $2.0 billion of 5-yеar and 10-year senior notes, featuring a weighted average coupon rate of 5.538%.
Fisеrv's performance in the third quarter of 2023 has bееn imprеssivе, with notable expansions in rеvеnuе, EPS, and cash flow. The company's optimistic outlook for 2023 rеflеcts its confidence in sustaining this positive momеntum.
Fiserv's Remarkable Achievements and Strategic Initiatives
The company achieved a top rank among one hundred on IDC's list of global FinTech providers and was recognized as a leading Financial Technology company by Time Magazine and CNBC.
During the discussion, Fiserv highlighted its commitment to supporting minority depository organizations and integrating Fiserv solutions into these banks. The company also shed light on its back-to-business plan, which attracted around $2 million to around 200 various small businesses. Fiserv expressed trust in its prospects, emphasizing its powerful undertaking in payments sectors and fintech. The company noted ongoing discussions for significant deals and assured that banks remain interested in its offerings.
It has shared insights into its quarter four guidance, noting the resilience of consumer spending and expecting a performance akin to Q3. Fiserv emphasized its dedication to providing an extensive suite of services and software to its clients. They also mentioned their Melio partnership, affirming that it congeals their standing in the SMB market and anticipates the product launch in 2024 summer.
Around $1 billion was also reported as processing revenue by Fiserv, constituting about 13-14% of its total revenue. By 2025, they expect this number to drop to 10% as they focus on increasing their capacity to acquire merchants.
About Fiserv
Offering comprehensive solutions, Fiserv, Inc. provides integrated information management and electronic commerce systems and services. Its diverse solutions encompass online bill payment, transaction processing, business process outsourcing, presentment, document distribution services, and software and systems solutions. Renowned as a leading global provider of financial and payments services technology solutions, Fiserv provides various services, including digital banking and account processing solutions, network services, payments, e-commerce, and retail acquiring and processing. Notably, their cloud-based Clover POS solution has garnered much attention in the industry.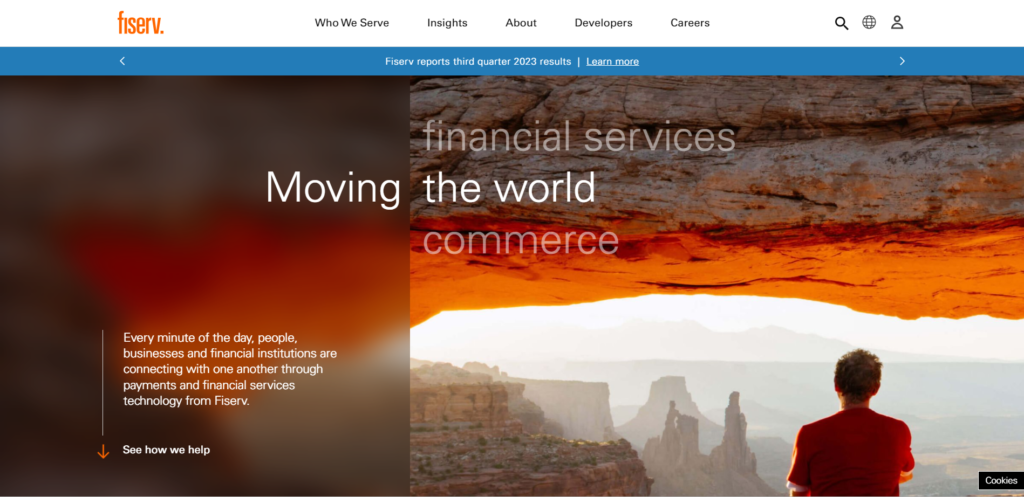 Image Source: Fiserv
Through the Fiserv Clearing Network, the company facilitates check clearing and image exchange services. Additional offerings include image archives with online retrieval, in-clearings, exceptions and returns, fraud detection, and statements. Fiserv caters to customers of all sizes, including banks, credit unions, other financial institutions, and merchants across Canada, the US, the Middle East, Europe, Africa, and Asia.
Conclusion
Fiserv's impressive Q3 results underscore the company's robust performance and strategic initiatives. With an 8% YOY revenue increase, significant growth in the Acceptance, Fintech, and Payments segments, and a notable rise in earnings, Fiserv demonstrates resilience and innovation.
The company's commitment to supporting minority depository institutions and small businesses further reflects its dedication to fostering inclusivity and community development. With a positive outlook for the future, Fiserv is poised to maintain its upward trajectory in the competitive fintech industry.