What Virtual Reality Means for Merchants and Retailers
The video game industry has already made the most out of augmented reality and virtual reality, two advanced technologies that were originally developed for military applications; has the time arrived for the retail and e-commerce sectors to embrace them?
Augmented and virtual reality technologies, respectively known as AR and VR, are indeed making inroads in the retail sector, and their future is very promising. Long before the wildly popular AR mobile game Pokemon Go made its debut, footwear brand Converse was already using The Sampler, an interesting AR app that allowed shoppers to use their smartphone cameras for the purpose of seeing how a pair of sneakers would fit them before heading to the store. In the case of VR, IKEA and Lowe's have both introduced virtual experiences for shoppers who can don headsets for the purpose of decorating their home interiors; this is a classic example of VR being used to drive store traffic and add excitement to the retail shopping experience.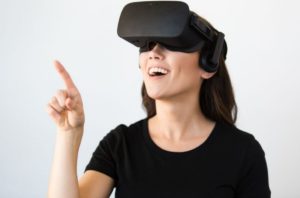 E-commerce seems to be an even better fit for virtual reality, and this was confirmed last year on Cyber Monday, the online version of Black Friday. Established department stores such as Macy's are extending deals to Cyber Monday shoppers, but this is a chain that thrives on the opportunity of dazzling customers at their stores. In 2016, thousands of Chinese online shoppers were able to take virtual tours of the legendary Macy's store in Manhattan; they were able to do so through a smartphone app and a cardboard VR headset pioneered by Google.
With VR, online shoppers can experience e-commerce like never before. On one hand, shoppers want to avoid the Black Friday crowds and still get nice discounts on Cyber Monday; on the other hand, they would like to feel a more meaningful connection to retailers during e-commerce sessions.
Developers of online shopping experiences are very optimistic about the future; in fact, they are already working with providers of host merchant services for the purpose of making electronic payments part of the VR experience.
Online retail giant AliBaba.com has already developed a payment method that involves checking out with head gestures. Japanese merchants have more sophisticated methods in mind: they would like to develop a full VR recreation of a point-of-sale checkout experience, complete with antique registers and charismatic cashiers who tell jokes and engage shoppers in conversation as they pay with their virtual credit or debit cards.