The Retail Industry is Far from Dead
For all the talk about how e-commerce has advanced to the point that online shopping has obliterated the brick-and-mortar experience, the evidence cited in this regard is tenuous at best. Those who believe that e-commerce will make shopping mall disappear will often mention the meteoric rise of Amazon and the fact that Cyber Monday creates more revenue than Black Friday; the problem with these assumptions is that they do not take into account what is really taking place at the retail level.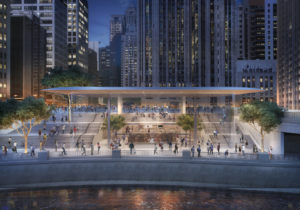 In recent weeks, tech giant Apple has unveiled some very interesting expansion plans for its Apple Stores, which have been crucial for the company's massive success since 2010. Apple wants to offer more than just gadgets and repairs at its stores; the company plans to hold town hall meetings, give programming classes and even partner with café brands, perhaps Starbucks. Apple's new location will have a large aesthetically pleasing courtyard with trees that shade you from the interior lighting. The goal is to become a location where people want to gather. The products and services will be viewed a secondary reason for being there.
Speaking of Starbucks, the company is once again considering expanding its menu with craft beers, select wines and gourmet foods. Again, becoming a location for not just coffee drinkers to hang out at. Even Nordstrom is talking about opening locations on the west coast that won't sell clothes – instead they'll focus on spa and beauty services in a, you guessed it, fun environment to hang out with the girls.
Urban Outfitters, the trendy clothing store for the Millennial generation, recently acquired a gourmet pizza chain. It is clear that Urban Outfitters intends to provide a shopping experience that may include offering pizza and Italian delicacies to customers. It is also important to note that the clothing chain's young customers are less likely to pay with cash; which is why they are expanding to accept EMV and NFC so they can pay with everything from Apple Pay to debit cards. The Millennial generation leverages electronic payments more than any other market segment, and thus it makes sense for Urban Outfitters to upgrade its merchant services.
It is clear that the American retail industry is in a transitional period that is shifting to meet the desires of the Millennial generation. Companies are creating concept locations that are supposed to be a fun hangout spot rather than the place to buy a smart phone or a cup of coffee. This business model seems logical. Give the younger adults a place where they can congregate, and they will inevitably spend money on whatever is around. The top 10 retailers in the U.S. are department and discount store chains; Amazon is the only e-commerce giant in this club, and even Amazon is getting into the brick-and-mortar world with its recent purchase of Whole Foods.
Retail is here to stay. It definitely won't be the same retail that we grew up with, it will be better. It's possible that the old retail shopping was, on a whole, so un-enjoyable and non-aesthetically pleasing that it pushed people to e-commerce. If retail does evolve to give the shopper an exceptional experience, e-commerce might just take a hit. The fact that giants like Apple and Amazon focusing on physical locations means retail has huge opportunities that merchants can capitalize on. I for one am excited. So, here's to the future of retail. A new retail that will pull you away from your computer and make you want to shop in reality again.