The Official Merchant Services Blog has been covering the basics of payment processing, offering insight and tips on the general topics of the credit card and debit card transaction industry for merchants. Today we're going to go a little deeper, and delve into a nuts and bolts topic: payment terminals. This kicks off the first two-part series where we shine a spotlight on specific terminals that are available to merchants. After the first two-parter, we'll occasionally revisit the topic of terminals and look at offerings from other terminal manufacturers.
Keep in mind that Host Merchant Services offers free terminals to its merchants, so reviewing what's available and finding the terminal that fits you best can create a lot of savings on your processing bottom line in the long run. Our first spotlight shines on terminal manufacturer VeriFone, specifically the Vx series.
The Vx Evolution
VeriFone offers a series of terminals on its Vx Platform that have been slightly rebranded as the Vx Evolution. The terminals are being marketed under this evolution tag as being proven, advanced and evolved. What that boils down to is a new look with some upgrades to a line of terminals that have a history of working and working well.
VeriFone lauds the Nine Advantages of the Proven Vx Platform:
The Verix system that the terminals use has a decade of proven use.
The terminals maximize communication, speed and flexibility, support value-added transactions and deliver multi-app capability that essentially enables applications to securely co-exist on the same device.
A seamless transition for the next generation of the line, letting you continue to run the hundreds of existing applications that work on Verix.
The worldwide use and support for the popular Vx platform.
The lack of obstacles for platform switching, making it quick and easy to get started on a Vx platform terminal if you switch from another brand.
The Vx series of devices is idea for virtually any vertical market or end-use scenario.
The enhanced toolkit, clear guidelines and helpful documentation let users quickly build solutions based on Vx Evolution's core technologies and capabilities.
The intuitive user interface helps the Vx platform get deployed quickly.
The ARM RealView Developer Suite (RVDS) 4.0 Complier helps you compile your applications with the Verix eVo Toolkit.

You can review those advantages in a downloadable PDF found here.
The Other Two Benefits of Vx
VeriFone also is lauding two other advantages for its Vx Evolution of terminals: speed and security.
The Need for Speed
According to VeriFone, the Vx Evolution delivers secure payment processing eight times faster than its competition. It claims it can do this with a superior single processor that outperforms dual processors that competitors use. Using the metric of MIPS –– Million Instructions Per Second –– this graphic shows how VeriFone's 500 MIPS ARM 11 processor works: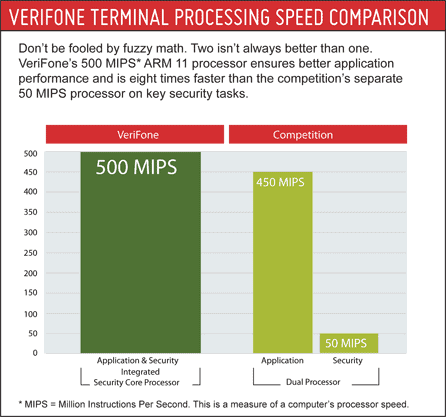 Essentially what VeriFone is saying is that competitors use a 450 MIPS processor to run applications and a second 50 MIPS processor to handle critical security tasks. They claim this slows down secure transactions to 50 MIPS. But VeriFone, with its Vx Evolution brand, utilizes a built-in, integrated security processor. It's running at 500 MIPS for everything –– applications and security.
You can fully review VeriFone's documentation on speed by downloading a PDF about it here.
Staying up to Date on Security
The next advantage VeriFone is lauding its Vx Evolution brand with is security. This is of particular interest to The Official Merchant Services Blog because we've written in the past about PCI Security Standards. In fact, we took a close look at a study by Verizon that showed 79% of merchants surveyed were not fully compliant with PCI DSS standards.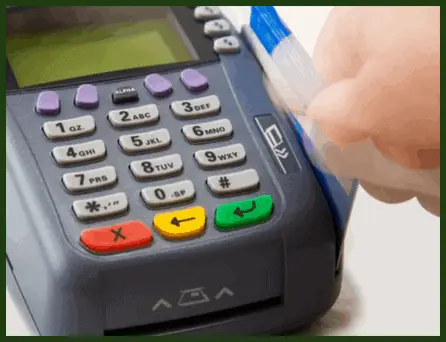 Host Merchant Services offers a free PCI analysis for merchants and makes PCI Compliance a priority for its merchants. Which is why the Vx Evolution brand is noteworthy.
According to VeriFone their Full Spectrum Security package –– which is standard with all of its Vx terminals in the platform –– gets their terminals up to PCI PED 2.0 standards. So Host Merchant Services, in its push to keep all of its merchants compliant year in and year out, embraces the Vx platform of terminals that are stamped with the PCI PED 2.0 Approved seal.
At a time when many merchants are having issues maintaining the old PCI security standards, the VeriFone terminals are stepping up their game and making it easier for merchants to maintain the new PCI compliance standards. This lets Host Merchant Services merchants stay compliant moving forward and gives HMS a leg up in its initiative for quick, easy, and worry-free PCI Compliance.
You can read more about the security benefits of Vx Evolution by downloading a PDF here.
To Be Continued …
In the next part of this series, we're going to look at the terminals themselves and see how they apply those Nine Advantages VeriFone has lauded.
In the meantime, what do you think of this branding? Have you used any Vx terminals? In the past? In the present? Let us know.