The Official Merchant Services Blog continues it's two-part epic delving into the details of what VeriFone Terminals –– specifically the Vx series –– can do. Our previous blog dealt primarily with the features of the Evolution branding and what that has done to enchance and change Vx terminals. Today, we see how that branding has worked by looking at the specific terminals themselves.
The Terminals
Host Merchant Services is able to offer a series of Vx terminals with the Evolution brand to its merchants. Keep in mind that Host Merchant Services offers free terminals to its merchants –– along with free terminal paper –– so reviewing what's available and finding the terminal that fits you best can create a lot of savings on your processing bottom line in the long run. We begin our analysis with the Vx series, but we will be touching on the other brands and options that Host Merchant Services offers in future blogs. The list of Vx terminals that HMS can provide includes: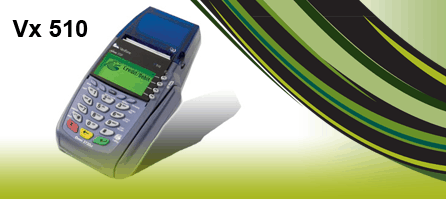 The Vx 510
The Vx 510 is a PCI PED and EMV approved entry-point, countertop solution that offers big things in a small package. It provides efficient performance in a sleek, compact design. Host Merchant Services is able to offer a couple of options for the Vx 510, including a DualComm specializing in retail and restaurant services and a terminal specifically designated to handle Cash Advances only.
The PCI PED approved Vx 510's backlit display, easy-to-read menu prompts and intuitive, ATM-style interface reduce the chance of entry errors. In addition, its integrated high-speed thermal printer and internal PIN pad keep countertops clutter-free. The Vx 510 includes Ethernet and 12 MB of memory.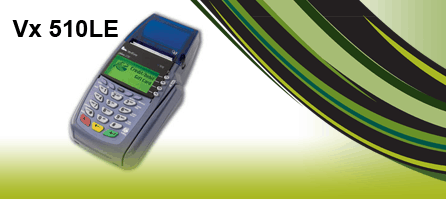 The Vx 510 LE
The Vx 510LE is just what merchants want, and everything they need! This hard-working, reliable payment device efficiently processes debit and credit transactions. Plus, as a part of Vx Solutions, it is an extension of what you already know. Its ATM-style interface is instantly intuitive, requiring virtually no training. The PCI PED approved Vx 510LE is a lightweight, ergonomic device with integrated thermal printer and a built-in PIN pad can be easily handed to customers for PIN entry.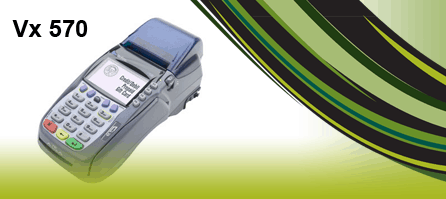 The Vx 570
The Vx 570 countertop solution takes performance to the next tier by combining superior speed and power for quick and reliable payment processing with increased memory to support multiple applications –– including EMV smart card transactions.
The PCI PED approved Vx 570 provides merchants with future-proof connectivity. It has built-in support for dial, and an option of combining dial and Ethernet. Dial can be used today, then switched to Ethernet at any time without added cost or inconvenience. Or merchants with broadband service already installed can immediately process payments through the always-on connection.
Smart and stylish, the Vx 570 has an intuitive, ATM-style interface and bold menu prompts to reduce help desk training time, support and costs. And its anti-glare, white backlit display provides exceptional readability. Plus, a USB memory drive allows for instant software downloads.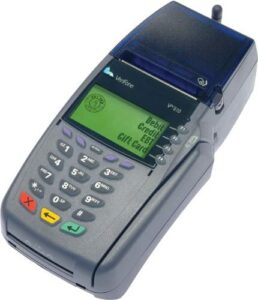 The Vx 610 Wireless
The Vx 610 is a portable powerhouse, a battery-powered payment device with exceptional performance and high-end functionality. It uses the latest wireless technologies –– CDMA and GPRS –– and has advanced security with PCI PED approval.
VeriFone's PCI PED approved Vx 610 is a wireless solution that delivers blazing performance, high-end functionality, and exceptional ease of use, without tying customers to a fixed location. It brings the point of sale to the point of service. For example, merchants can instantly open an extra lane or support an outdoor market.
The Vx 610 is powered by a 32-bit processor, so it swiftly handles even the most complex mag-stripe or smart card transactions. And its modular design provides true investment protection, allowing modules to be easily swapped should new versions of a technology emerge.
Conclusion
That's pretty much what Host Merchant Services currently has to offer from VeriFone. Looking at the Evolution brand, it seems like the flexibility provided by the various options gives merchants an option for pretty much any type of business venture they are involved with. Future installments of this series of product reviews will take a look at offerings from other terminal manufacturers. Eventually the entire product guide will be fleshed out and we can even compare and contrast the terminals.