Vantiv first started offering merchant account services in 1991 as Midwest Payment Solutions. In 2003, the company's name was changed to Fifth Third Processing Solutions. In 2011, the company underwent another rebranding, this time as Vantiv. Six years later, in 2017, the company acquired WorldPay and assumed that name.
Over the past 30 years, Vantiv has chased size and scale by rolling up businesses and haphazardly stitching together different products, visions, and cultures. Finally, Fidelity National Information Services (FIS), wanting to enter the payment processing industry, noticing the heavy profit margins large companies were making from their customers, bet its money on Vantiv/WorldPay and acquired the company in 2019 for $48 billion, the most ever paid for a merchant acquirer.
The company has rebranded itself once again and now wants to be called Vantiv Worldpay Merchant Services by FIS.
The Cincinnati, Ohio-based Vantiv WorldPay has several diverse product offerings ranging from merchant accounts, international payment processing, payment gateways, virtual terminals, and leasing point of sale (POS) equipment.
Vantiv WorldPay offers 24/7 customer support. The company fills staff vacancies for its customer support roles in India, the Philippines, and the U.S. Although customer support and client focus are emphasized in the company's sales pitches, numerous online reviews and testimonials have been negative about Vantiv WorldPay due to the low level of client support and difficulty getting a hold of an account rep.
Vantiv WorldPay also prices its products at above-average tiered pricing rates, and many of the company's ISO justify this by citing the company's brand and scale of reach. Other costs are insufficiently disclosed, such as PCI compliance fees, batch fees, charges for a payment gateway, and a virtual terminal.
Plus, Vantiv WorldPay looks to lock in customers into three-year contracts that include an auto-renewal clause of one year. In the event that merchants realize that the company's large size and global footprint simply translates into higher fees and poor customer service and decide to take their business elsewhere, they can be assessed an early termination fee of as high as $295.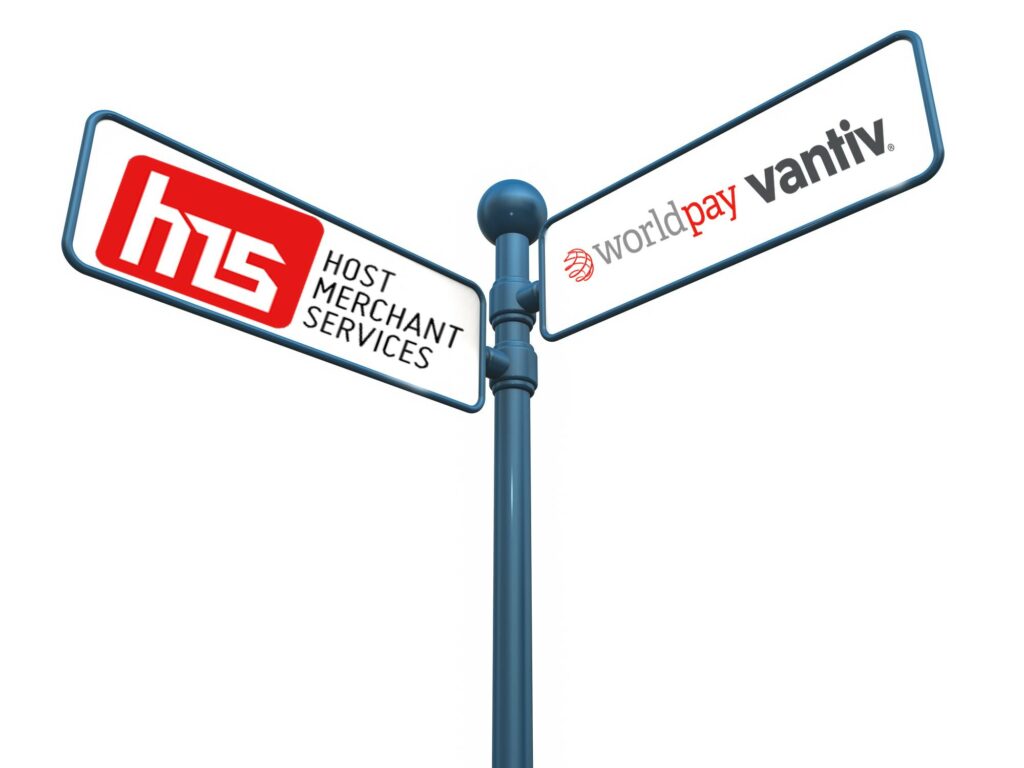 By contrast, Host Merchant Services (HMS) has been much nimbler in catering to client needs and has always been keeping a finger on the pulse of the customer's voice.
Serial entrepreneur Lou Honick founded HMS in 2009. In just over a decade, the company has honed and iterated its product offering to include omnichannel payment processing, including mobile and internet payment gateways and virtual terminals. The company also offers traditional and wireless POS equipment, merchant cash advances, and gift card and loyalty programs.
HMS continues to innovate with product offerings based on client feedback. Furthermore, the company caters to all types of clients, small businesses, large enterprises, and high-risk merchants.
Regardless of what stage they are at, well-established or a new startup, businesses always look to rein in high costs. Of course, merchants don't want the low cost to come at the expense of good service, reliability, breadth of capabilities, or innovative solutions. From that perspective, Host Merchant Services offers the best value for money.
The company sets up restaurants with the latest technology to process touch-less transactions via NFC, Apple Pay, and Google Pay. The company offers eCommerce businesses easy-to-integrate virtual terminals and payment gateways. Merchants can also have HMS register and host a website for no additional cost.
HMS is very transparent in fee disclosures to a fault. The company offers interchange pass-through pricing for merchants. The retail industry is offered interchange pass through 0.25% + $0.10, while restaurants get an interchange pass-through rate of 0.20% + $0.09. Finally, eCommerce merchants get interchange pass through 0.35% + $0.10.
Additional costs are explicitly disclosed for all merchants so that there are no surprises of any hidden or undisclosed fees. HMS charges a monthly fee ($14.99), a batch fee ($0.20), a monthly payment gateway fee of $5, and an annual fee of $24 for reporting and documentation. There are no additional costs for PCI compliance.
HMS offers month-to-month billing and does not bind clients into long-term contracts. As a result, no early termination fees apply.
Customer focus has been a significant part of the HMS culture since the company's founding. There is US-based customer support available 24/7/365. There is a tremendous emphasis on client education with resources devoted to the company's blog page regarding standard industry practices to be aware of, the types of pricing prevalent among merchant acquirers and their pitfalls and benefits, and the changing technological landscape in payment processing.
Another benefit of HMS is that the company caters to the high-risk merchant. The merchant acquirer industry has been notorious for denying service to high-risk merchants, often classifying merchants as high-risk for business activity that is now commonplace, i.e., eCommerce and online shopping. Even when high-risk merchants are approved for a merchant account, they are often subject to excessive fees and stringent terms. HMS offers the same set of services to all merchants, regardless of risk profile.
A significant component for merchants is trust. HMS believes that a trustworthy merchant acquirer does not lock merchants into long-term contracts, does not impose onerous fees, and is transparent on costs and pricing offered. HMS has spent over a decade and continuously strives to gain and retain customers' trust and constantly provide innovative solutions demanded by clients at a very competitive value.
As a result of the company's customer-centric philosophy, HMS has almost no complaints online on major rating platforms and review boards. The company's business practices continue to serve as an example for the payment processing industry.