Every donation counts for non-profit organizations. Grants can be a very effective tool for them to generate funds and grow. But the way any non-profit organization takes the grants is equally important.
If your non-profit is stuck to old ways of getting donations in cash or checks you are confined to a limited amount. But what if you can take the donations with credit cards? You can then easily take bigger amounts and grow faster. It is here that credit card processing for non-profits comes into play. With the credit card processor, you can easily take money via a debit card or a credit card.
With credit card processing non-profit options, you can easily take recurring funds from the donor every month, quarter, or year. And this will widen the scope of the amount of donation you get without much effort.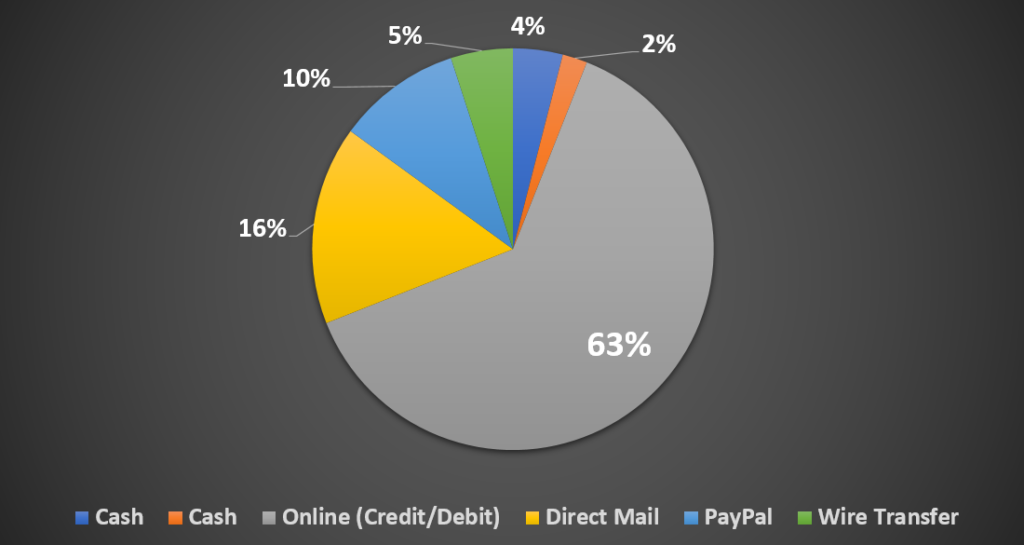 Different ways how people in the US donate
Furthermore, as a non-profit or a church, you can get good discounts from most of the credit card processors. Some processors specifically give the options that are designed for non-profits. This makes accepting donations easy.
Types Of Credit Card Processing for Non-profit Organizations
Okay! now you are ready to move ahead. Let us guide you through simple steps that you can take to set a credit card processing for your non-profit organization. Be it a recurring payment or just a one-time payment, credit card processing for non-profits can do it easily.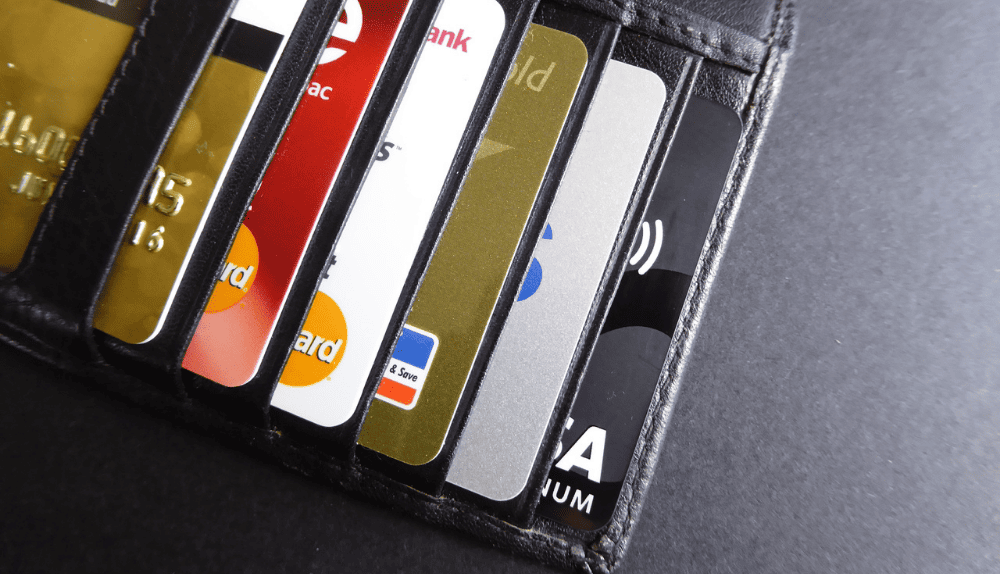 In-person: When you buy something from a shop or buy a movie ticket you use a machine to pay through credit or debit card. Similarly, for your nonprofit, a donor can swap a machine and donate easily. This is made possible with a credit card reader. It can be a handheld credit card machine or a mobile device.
Online Donation: When everything is going online then why not the non-profits? Yes, you can take donations online with a credit or debit card. A simple donation form connected to the credit card processing for non-profit can easily process the donation for you. The user has to just click the donate button, enter the amount, and enter the card details and that's it. Furthermore, you can also give the donor an option for monthly or annual donations. The processor will automatically deduct the donation amount from the donor's account.
Mobile Donation: Imagine if you had a credit card processor for non-profit that can work on a mobile device. You can then accept donations anywhere and everywhere. The good news is that this is possible. Many credit card processors give the option of a mobile app to accept donations. Or you can get your own mobile app developed with the credit card processor working at the backend. The payment is simple. You enter the donor's details along with their credit/debit card details and accept payment.
Credit card processing for non-profit gives the flexibility to accept donations from different modes. It also enhances the user experience. Especially with options like recurrent payments the donor doesn't have to remember the date or the month they need to pay again. Everything is automatic.
You also get comprehensive data on the donors over a period of time. For any emergencies, you can easily contact the donors from the databases.
Key Factors To Chose A Credit Card Processing For Non-Profit:
Third-party payment processor: If you are a first-timer nonprofit looking for credit card payment processing then a third-party option will be the best. Especially if you know that your volumes will be low and there won't be many transactions every month. These third-party payment processors can give you all the facilities that are required to get donations seamlessly from the donors. But, remember, third-party processors charge you more.
Merchant account: If you get large amounts of donations and the number of payments is high, then we would recommend a dedicated merchant account. The processing is faster as compared to a third-party payment processor. It is secure and safe. When a transaction is made it is first verified and then approved. Once approved the amount is deposited in your bank account.
Processing rates: The most important factor to look for is the processing rates. Some merchant accounts charge less and some charge more. As a non-profit, you should look for a processor that gives you good discounts and also has cheaper processing rates.
Transaction security:  While choosing a processor you should also consider how much emphasis they give on security. You should always check if they comply with PCI requirements and security checks for their credit card processor.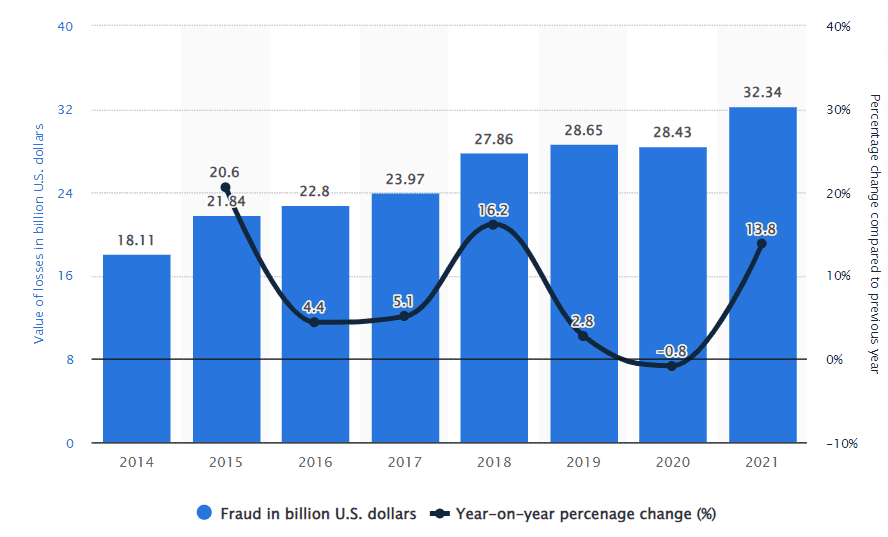 Customer care services: Any credit card processing for non-profit cannot serve you better if they do not have a strong customer care and support team. You might frequently require their support. Especially when a transaction is declined and there are chargebacks that you want to dispute. So check for their online rating and you will get to know their capabilities.
Different Types Of Processors Explained
Third Party Payment Processor
The usual fee is around 2.9% of the donated amount. It is always better to use a well-known third party payment processor for non-profit. Because the customer will rely on these processors.
Usually, with a third party processor it is difficult to use your own branding. So a secure and popular system is important as it can be easily recognized.
If your nonprofit organization anticipates a volume of transactions (less than one hundred) selecting a third party payment processor could be a viable choice.
Setting up a third party payment system is typically quick. It can be done within minutes without any technical knowledge. However keep in mind that transaction fees tend to be higher as you are utilizing another entity's merchant account for processing transactions than having your own.
Additionally, if you opt for a third-party solution as an option to accept credit card payments then in-person donation might not be possible. Although there are options like Dipjar for collecting donations during events or stick to cash transactions.
Merchant Account
When you opt for a merchant account the fees is low. It is usually around 2.15%. It might also charge some minimal account for ever transaction you make. Then there can be a setup fee and a monthly/annual fee.
A merchant account is necessary to streamline the donation process when the amount and frequency of donation is high. The best part is with merchant account you can do your branding so that your donors, who trust you, can donate without any doubts in mind.
Credit Card Terminals, Credit Card Swipers And Virtual Terminals
Now lets discuss credit card terminals, credit card swipers and virtual terminals. If you intend to accept credit card payments at events, you will need to consider acquiring hardware such as a credit card terminal or swiper. A merchant account will help in this.
Once your merchant account is set up you can collaborate with the payment processing company to obtain hardware for processing in person credit card payments.
The three options mentioned above are commonly used because they minimize your efforts and help you in accepting donations without any problem.
Credit card terminals: A credit card terminal is similar to the technology you usually see at stores. It's a device that allows customers to insert, swipe or tap their cards for payment. You have the option to purchase wireless models. The advantage of a terminal is that it remains connected during internet outages while a wireless terminal is lighter and more portable.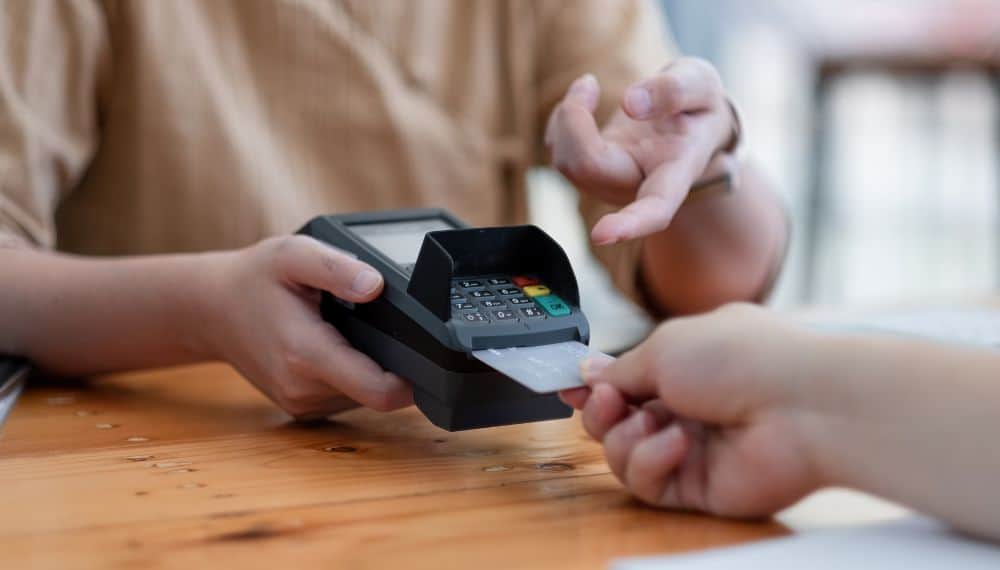 However both types may present challenges when connecting to software providers like fundraising platforms. They tend to be more expensive than a card swiper.
Card Swiper: Considering the cost of a terminal and the associated complications, you can think about using a credit card swiper. These lightweight devices are becoming increasingly popular as they can be easily attached to your phone or tablet. Just download the app from your payment processor buy a card swiper from them. And you can start accepting donation anywhere.
Many known nonprofit payment providers like Square offer options for using these swipers. Although, swipers are easy but they take time. You have to manually enter the credit card details.
Software / Virtual Terminal: Another option is to use software that provides solutions and not just payment processing. These tools often include features like donor management and peer to peer fundraising for fundraising purposes. Additionally there are all in one solutions available that offer tools such as website building, online store setup and event registration for profit organizations.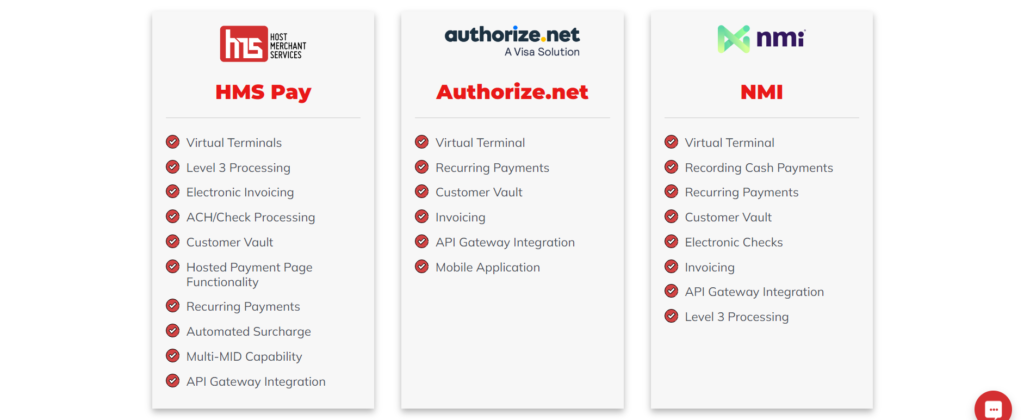 See more virtual terminals
The fees for these software solutions will vary depending on your selection. Payment processing fees should be comparable, to those associated with a merchant account. If you choose to utilize a software tool, for payment processing it is probable that you will need to establish a merchant account and to get the best out of it.
Best Credit Card Processors For Non-Profit
We have compiled a list of some of the well-known credit card processors for you. Each of them have some pros as well as cons and you should know that before making any decision.
Helcim
Benefits
Provides portal tools to customers for donation
In person donation is available via mobile phones
Invoicing and recurring billing tools are available..
Disadvantages
It lacks important fundraising tools
Third party integrations is limited
Limited discount offers to card network fees
IATS
Benefits
It provides donation friendly software and organizations.
Does not charge back on early termination
Capable of international donation facilities.
Disadvantages
Ach transactions can be deposited only once a week
It may requires a one year contract.
PayPal
Benefits
It provides discounted rates for nonprofits fundraisers
Options available for in person and online payment processing
Disadvantages
Limited tools for customer database
Collects chargeback fees and monthly fees.
Stripe
Benefits
It provides 24/7 support for customer care services
Handles recurring donations and invoicing.
Disadvantages
Does not provides specific tools for nonprofits
Complex pricing
No discount for nonprofits.
Square
Benefits
Free software and e-commerce tools for fundraisers
No chargeback fees
Disadvantages
No discount for nonprofits
Limited customer support – Only during working hours
CharityEngine
Benefits
All in one solution for fundraising
Processes ACH and credit cards
GoFundMe Charity
Benefits
Highest crowdfunding platform for fundraisers
Socially popular
Provides registration, emails and tickets facilities
Provides platform for individuals, communities
Disadvantages
No card reader capability
Limited integration facilities.
Dharma Merchant Services
Benefits
No contracts required for long term
Provides credit card processing facilities at low fees.
Disadvantages
Charges monthly fees
Charges extra for recurring bills and invoicing
Doesn't supports international donations.
Conclusion
Now you know everything about credit card processing for non-profit you can make an informed decision. You should always have a clear plan about how you want to proceed. The plan should be based on your organization's needs.