You'd be mistaken if you think pizza places can use any traditional POS system for retail. Pizza restaurants have a few unique characteristics that translate into needing specific features from their POS systems, such as their need to create different configurations based on toppings.
Since pizza restaurants require special features, you can't simply choose a POS system that works for other restaurants; it needs to be tailored specifically for pizza orders or at least acknowledges their peculiarities.
To that end, this article compiles a list of the best point of sale systems for pizza restaurants, including their features, pricing, and the factors you need to consider when selecting a POS system for your pizza place.
Top Point of Sale Systems for Pizza Restaurants: Judgment Criteria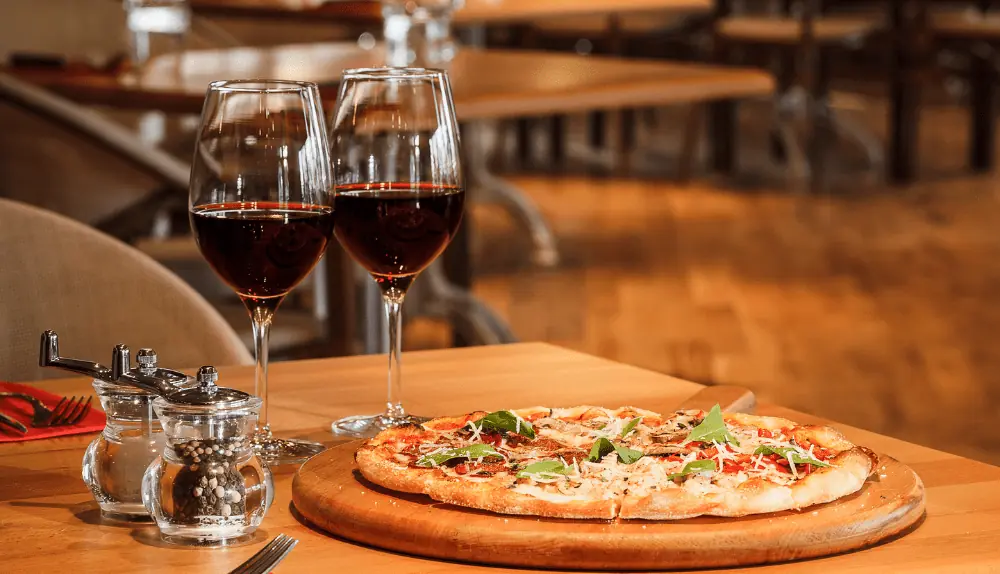 When choosing the best pizza POS system, several different factors need to be considered:
Ease of use: A POS system must be easy to use, but this is especially important for pizza shops. The personnel accepting orders will most likely be handling multiple tasks simultaneously. You will find that the best pizza POS systems are intuitive and do not require extensive training.
Order tracking: The right pizza POS system will allow you to keep track of all orders from beginning to end. For example, you can track delivery times and ensure that purchases are delivered on time.
Ability to customize toppings and orders: Pizza is incredibly adaptable. It is uncommon in a pizza shop to make multiple pies, in the same way, every day, from the crust to the sauce to the toppings to the cheese. Usually, customers can choose how much of a certain topping they want, the size of the pizza, and even if they want a whole pizza, half, or just a couple of slices. This means Pizza places need POS systems that allow them to modify their offerings as necessary.
Online ordering and takeout: Online ordering is also an important component of a pizza POS system. A robust POS system makes tracking and taking online orders easy since many customers prefer to shop online. Takeout accounts for over half of all pizza orders, according to FranchiseHelp.com. To be successful, your pizza shop must be able to handle both eat-in and take-out orders.
There is a difference between the needs and expectations of dine-in and takeout customers. Many takeaway clients will likely order online, so you'll need an online menu that is constantly updated and the ability to track delivery progress.
Payment processing: A good pizza POS system will process payments quickly and efficiently. You should also consider what kind of payment methods it accepts, and whether it's mobile or not.
Loyalty programs: Large chains dominate the industry. If you're a small, independent business, competing with these large, worldwide corporations is difficult. According to a Small Biz Trends survey, increasing return customers by just 5% can increase profitability by up to 95%. Providing incentives or implementing a loyalty program is therefore imperative. A loyalty program's incentives must be processed efficiently at the point of sale for it to be successful.
5 Best Point of Sale Systems for Pizza Restaurants
Following the criteria outlined above, the following systems were selected as the best for Pizza restaurants:
Clover Pos: The Best Plug-And-Play Positioning
A full-service restaurant POS system, Clover offers many useful features for counter-service and table-service establishments. It offers modules for tracking ingredients, online ordering, and delivery. While Clover's Counter Service plan includes online ordering, bar tabs, tips, shifts, promotions, and other features, Clover's Table Service plan includes floor layouts and table management.
Clover is an all-in-one solution that integrates hardware, software, and payment processing, so it's incredibly easy to set up and use right out of the box.
Many Clover POS apps are available from the Clover App Market, including pizzeria-specific apps like Slice (free) and Swift Pizza ($19.95/month).
Features
Clover Dining plans include online ordering.
Third-party delivery apps can also be used. These are some of the Clover features that make it one of the best POS systems for pizza restaurants:
POS hardware that's sleek and long-lasting
There are separate plans for counter-service and full-service restaurants.
Systems for placing orders on a tablet
There are several pizza restaurant applications
Easy-to-use loyalty program
Scan to Order and Scan to Pay for contactless ordering and payments
Pricing
Clover offers counter-service packages for $39.95 per month and table-service packages for $69.95 per month for one terminal. Each additional device costs $9.95 per month. Apps that increase Clover's functionality (like those for pizzerias) may increase the monthly fee.
Pros
Easy to set up
Numerous apps and integrations
An all-in-one device
Cons
Your Clover provider will determine the rates and quality of service.
Clover hardware cannot be resold or used on another system.
Zuza
Zuza's cloud-based POS and business management software has become a great new option for industries. They have built an ecosystem suitable for any size business, bringing together all your operations in one place. You no longer have to juggle many apps on cumbersome hardware. Zuza lets you eliminate third-party apps, eliminate feature fees, and streamline your operations from a single dashboard.
While Zuza isn't exclusively for Pizza places, they have several great features such as default combos, topping ordering, inventory management, and loyalty programs.
They also offer a free 60-day trial.
Features
Zuza provides the following pizza POS options:
Specialty toppings feature
Combinations and Modifiers by Default
Delivery Tracking and Administration
Administration of gift cards
Keeping track of inventory
Loyalty Program
Online mobile access
Online ordering
Management of Orders
Reporting/Analysis
Separate checks
Divided checks
Table management
Tips Management
Pricing
Zuza only offers pricing by quotes, but they offer a 60-day free trial.
Pros
Specialty toppings and default modifiers allow for flexible menus
A robust list of features and support
Cons
No pricing information is available.
No third-party integrations.
Revel Systems
Revel Systems is an iPad POS with a very comprehensive feature set. It might be your go-to POS if you need a super-customizable POS system with tableside ordering, delivery management, kitchen display systems, online pizza ordering, and multi-location support. Revel, which is very scalable, can also work for large food service companies, and its customers include Popeyes Chicken and Arby's.
Revel's software can be adapted to both full-service and quick-service pizzerias, but it is most suited to quick-service in general. It also features powerful menu-building capabilities and customizable ordering options, such as adding toppings, making half-and-half pizzas, and inputting specific requests. Even your in-house delivery drivers can be tracked, and you can send SMS updates to your delivery customers, just like Uber drivers.
Features
Revel offers the following pizza POS features:
In-house delivery management
An integrated online ordering system
Ingredient inventory control
Monitoring of employees
Table orders
Reports detailing POS transactions
Create your own pizza using the menu builder
Quick Service Restaurant (QSR) hardware options include KDS, digital menu boards, kiosks, and caller ID boxes
Pricing
Revel Systems costs $99 per terminal per month with two terminals and a contract with Revel Advantage for three years. Implementation and onboarding costs begin at $674.
Pros
Ordering and delivery online within the company
Easily adaptable
It's a favorite of QSR franchises.
Cons
A three-year contract is required to get the best rate.
Small businesses may find it cost-prohibitive.
Lightspeed
iPad-based POS Lightspeed Restaurant is a great solution for any pizza restaurant, whether a sit-down or quick-serve location. It effortlessly balances functionality and price. Lightspeed regularly updates its features and integrations. Lightspeed is always up-to-date with all the latest features and is compatible with all leading business applications.
One example is a recent improvement to Lightspeed's online ordering and delivery suite. With Lightspeed, you can track in-house and third-party deliveries using the same dashboard to view and manage them. Last but not least, Lightspeed provides world-class customer service every day.
Features
Pizza parlors can take advantage of the following POS features provided by Lightspeed Restaurant:
Raw material management
Lightspeed Delivery In-House at Deliverrect
You can receive orders from UberEats, Skip The Dishes, and DoorDash directly to your POS system.
You can take orders and payments quickly using Direct Order Mode.
Create your own delivery-only menu.
Reservations can be made through OpenTable.
Contactless dining options, such as QR code ordering and payment
Pricing
Payments processing for Lightspeed is $39/month, payable annually, with a one-year agreement. Subscribing to the $119/month Plus subscription will grant you access to additional features like loyalty and gift cards.
Pros
An affordable base price
Advanced options for online ordering and delivery
Numerous integrations
Cons
Speedline
You should consider SpeedLine POS if you run a pizza shop that offers delivery and takeout options to your clients. This is a good option for smaller independent businesses and can be modified to work with multiple outlets. However, it can be scaled up if your organization grows in response to demand.
Even though SpeedLine POS is not a cloud-based system, its specialized approach designed just for the pizza industry makes it extremely appealing. Although there are some higher beginning charges to consider, the SpeedLine POS sales team is more than willing to assist with any questions, and the package features and functionalities will be much appreciated by users who wish to manage their pizza orders in a more organized and efficient manner.
Customers love the all-in-one pizza POS software from SpeedLine. Unlike the other options on this list, it uses a closed internal network to store all of your pizza shop's data at your location. This configuration is often called a "classic" or "legacy" POS.
SpeedLine is an ideal technology for pizzerias with no reliable internet connection since it does not rely on the internet to function. There is, however, the implication that certain POS functionalities can only be accessed from the shop location. You can access some reports through SpeedLine's cloud, but if you want to manage your POS from anywhere, you should consider a cloud-based system like Revel.
Features
Some of the features SpeedLine offers include:
Pay-at-the-door capabilities
Order pizza screens
Reports based on heatmaps
Kitchen tickets
Integration of Caller ID
Supervision of drivers
Inventories management
Online shopping
Pricing
Pricing for Speedline is quoted individually, including the software subscription, hardware, installation, and processing fees.
Pros
The dynamic order panels display ingredients and modifiers at a glance.
Credit card payments can be made in the field with long-range integrated card readers, saving processing fees.
Massive mapping technologies are used for driver dispatch and targeted marketing.
Cons
Cloud-based services are not available.
SpeedLine support is the only way to get some updates.
For pricing, a custom quote is required.
Features You Should Look for in a Point of Sale Systems for Pizza Restaurants
Due to the unique characteristics of the pizza business, your point of sale systems for pizza restaurants' priorities may differ significantly from those of other restaurants. When selecting a POS system, consider the following:
Millennials want to order pizza online without speaking to a live person. Either through your website or an app, customers should be able to order takeout or delivery pizza online.
Many pizzerias offer dine-in, online, and phone-in ordering options. By using a point of sale systems for pizza restaurants with powerful order management, these orders are integrated into one convenient system.
With raw ingredient management, you can update your inventory based on the ingredients used for each order. Reordering items is possible in some apps.
Consider an in-house delivery system if you have the resources for in-house deliveries or already provide them. Be aware of any additional charges related to this option. Certain point of sale systems for pizza restaurants assign orders to customers based on their geographical location. You can also send instructions and directions to drivers to make deliveries more efficient.
If you intend to outsource your deliveries to third parties, look for point of sale systems for pizza restaurants that integrate with third-party delivery companies and keep an eye out for any additional fees associated with this option. Many restaurants outsource their food deliveries to save time and money.
With point of sale systems for pizza restaurants that include pizza builder modules for pizzerias, you can make customized pizzas, including unique topping combinations and half-and-half pizzas. Even if your system doesn't have an app specifically for pizza places, you should be able to create unique orders quickly and easily.
Check whether your point-of-sale system has a robust customer management system. Consider purchasing a system that allows you to input extra information, such as consumer preferences and dislikes, and store contact information such as names, phone numbers, and addresses.
Manually entering custom orders can be tedious, especially if you make hundreds of them daily. As a result, choosing a point of sale systems for pizza restaurants that can handle as much customization as possible is extremely important. You should see if adding modifiers or swapping ingredients is possible in your system. Rather than having to create a new order from scratch each time, you can create and save templates that you can update on the fly.
Integrating your loyalty program and gift cards into your point of sale systems for pizza restaurants can be a lucrative niche for several reasons. As a result, you won't have to sign up for a separate loyalty program, which will save you money. In addition, buyers appreciate not having to carry around loyalty cards. The benefits are linked directly to their credit card accounts. Finally, you can collect crucial sales data, such as the most popular products and who your best clients are.
Other features may be desirable depending on your unique requirements. An easy-to-learn POS system is valuable in a restaurant with high staff turnover since it reduces training time. point of sale systems for pizza restaurants like sit-down restaurants will likely include table management, pre-auth for bar tabs, and tableside ordering. Some quick-service restaurant situations could benefit from a self-order kiosk.
Conclusion
Pizza restaurants need specialized POS systems due to their particular ordering and menu structure needs. When choosing a POS system for your pizza place, make sure that it includes inventory and delivery tracking, online ordering, and a way to create loyalty programs so your business can keep up with the needs of the industry.
A POS system that is mobile or in the cloud will also give your business flexibility. Whether you choose from one of the options on this list or continue searching for another, ensure it comes with all the features covered here.