Imagine you are a lawyer, dedicated to assisting individuals with their legal matters. Your law firm is doing great. You have plans for the future expansions. However, to bring those plans to reality you require resources and funds. This is where a business law firm loans becomes invaluable.
With numerous law firm loans options available how can you determine which one suits your law firm best? This article will help you decide that. We have listed some of the best lenders for law firm loans. The process to acquire loans from these companies as a law firm is easy. Also, these companies have built a strong reputation over the years as a provider of loans for lawyers and law firms.
What Are The Best Law Firm Loans?
The best law firm loans are tailored to meet the unique financial needs of legal professionals and their practices. Typically, these loans offer easy and favourable terms, competitive interest rates and flexible repayment options.
Among the loan choices for law firms the best you can choose is the Small Business Administration (SBA) loan. It is a highly attractive option due to its low interest rates and extended repayment periods. This makes it an excellent choice, for financing various expenses within a law firm.
Another popular choice, for law firms is a business line of credit. This allows the law firms to access funds as and when needed. I also gives them a complete control over their cash flow. Moreover, invoice financing can be advantageous for law firms with outstanding invoices as it enables them to receive payment for their services thereby improving their liquidity.
Lawyers also find equipment financing useful as it helps them acquire tools and technology leading to increased efficiency and productivity. Ultimately the selection of the best law firm loan depends on needs, financial goals and specific circumstances of the firm.
Top 5 Best Law Firm Loans
Here are the top 5 loans for law firms in 2023
1. SmartBiz:  
SmartBiz is a lending platform that aims to simplify the application process for Small Business Administration (SBA) loans making it more convenient for law firms and lawyers alike. With reduced fees, faster processing times and access to bank loans, SmartBiz presents itself as an option for law firms seeking support to expand their businesses.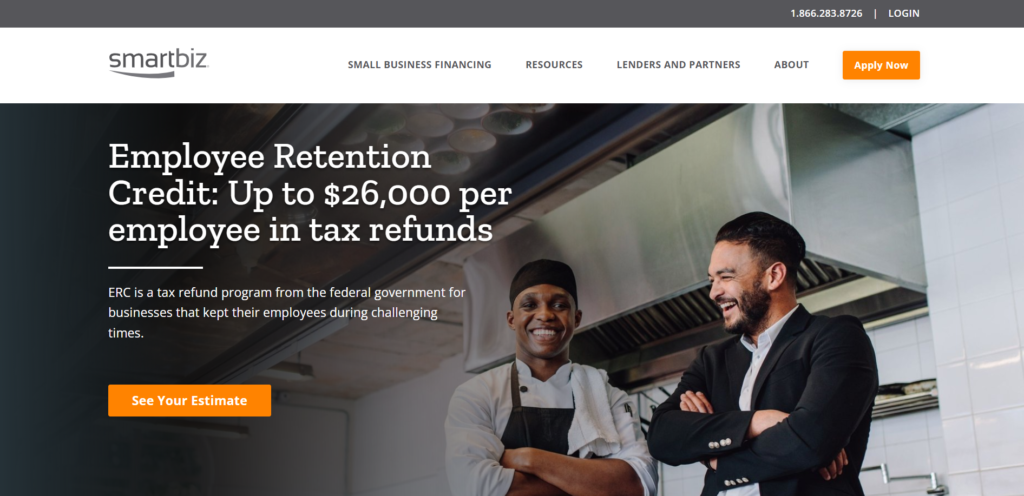 Image source
Simplified Application Process for SBA Loans
One of the standout features of SmartBiz is its ability to simplify the application process involved in securing SBA loans.
When it comes to applying for an SBA loan for law firm the traditional methods can be quite time consuming and burdensome. However, SmartBiz simplifies the process, by leveraging technology and offering a user-friendly interface.
They guide applicants through all the steps for the law firm loan process. This helps to minimize paperwork, which ultimately saves valuable time and energy. This allows law firms to focus on what really matters to them and not the complicated maze of loan process.
Lower Fees than Other Online SBA Loans
One advantage of choosing SmartBiz is their fee structure. Unlike lenders that offer SBA loans SmartBiz stands out by offering lowest fees. For law firms looking for cost financing options this can play a role in their decision-making process. Lower fees mean that most part of the loan amount is used for the requirements of the law firm. This directly benefits the law firm.
Faster Processing Times
For a lawyer or a law firm time is money. Any time spent on no-productive works is a loss. SmartBiz tops the list as a prefer choice in this case. They have a faster processing time as compared to most of their competitors. They utilize technology and efficient internal processes and accelerate loan approval and disbursement processes.
SmartBiz also facilitates bank loans up to $500K.
Apart, from providing SBA loans SmartBiz also serves as a facilitator for bank loans up to $500,000. SmartBiz can also assist you in financing your real estate purchases and refinancing through the Small Business Administration (SBA). They offer loans ranging from $500,000 to $5 million.
This widens the opportunities for businesses that may not qualify for an SBA loan or are exploring alternative financing options. By granting access to bank loans SmartBiz expands its range of products catering to a range of businesses, including law firms, with different needs.
Interest Rates and Financing Products

Interest rates, for the majority of SBA loans typically fall between 4.75% and 7% and the repayment period ranges from 10 to 25 years. However, it's important to note that these rates can vary based on a variety of factors.
2. BusinessLoans.com
BusinessLoans.com is a well-known company platform that addresses the financing requirements of businesses across multiple industries including law firms. They offer a wide range of funding options. With the convenience of applying for multiple loans through a single application and the absence of matchmaking fees, BusinessLoans.com aims to simplify the borrowing process for entrepreneurs.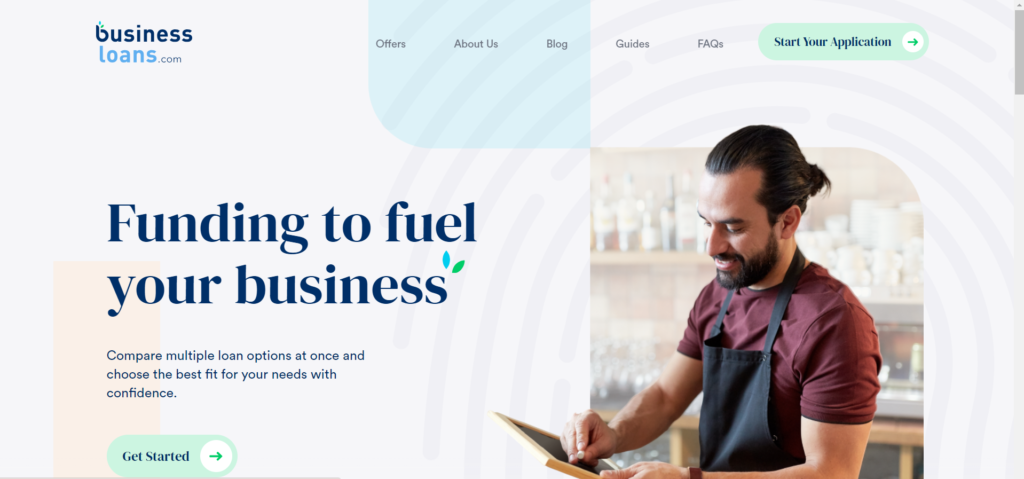 Image source
Diverse Financing Options
One notable aspect of BusinessLoans.com is its diverse range of financing options for law firms and businesses. Whether you are a stablished business looking for expansion or planning to establish a new business, BusinessLoans.com is there to help you.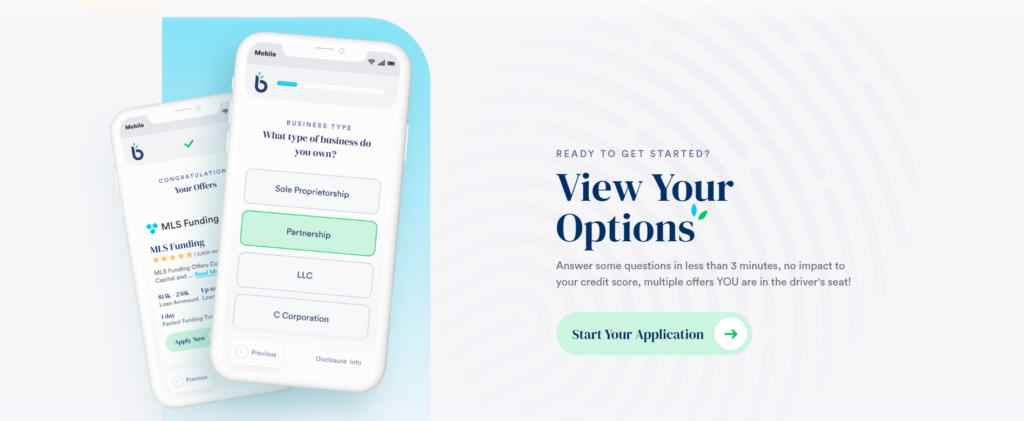 They offer a range of financing options, including term loans, lines of credit equipment financing, invoice factoring and more. This diverse selection ensures that every unique business situation is well catered for.
Streamlined Application Process
One of the pain points in the loan application process is its time consuming and tedious nature. However, BusinessLoans.com addresses this concern by simplifying the application process. Applicants can apply for law firm loans by using a single and easy straightforward application form. This saves time and resource as the applicant does not have to fill multiple forms.
No Matchmaking Fee
Another aspect that sets BusinessLoans.com apart is their commitment to transparency and fairness. Unlike other law firm loan providing platforms in the industry BusinessLoans.com do not charge any matchmaking fee. This means that businesses can explore financing options without any burden upfront.
This also helps to build trust and reputation with the lawyers as they can focus on the suitable option without worrying about the matchmaking fee.
Accessible to All Credit Scores
BusinessLoans.com believes in inclusivity when it comes to lending opportunities. They welcome businesses with all types of credit profiles. Law firms that have less-than-perfect credit histories get opportunity to access financing
There are no credit score requirements imposed on applicants ensuring access, to financing options through the platform. This can be a lifeline for law firms who may have faced challenges in obtaining loans from traditional lenders in the past.
This could be an opportunity, for entrepreneurs who have encountered difficulties in obtaining loans from lenders.
Varied Terms and Fees
Since BusinessLoans.com works with lenders that offer different types of financing it's important to note that the terms and fees can vary significantly. Interest rates, repayment periods and other financial considerations may differ based on the chosen financing option and the specific terms set by each lender. Therefore, borrowers should carefully compare the terms to choose the suitable option for their business needs.
3. OnDeck
OnDeck is a known lender that specializes in providing quick and accessible financing solutions for small and medium sized law firms and businesses. With a reputation for speedy fund disbursement and the potential to establish business credit OnDeck has become a choice among entrepreneurs looking for financial support.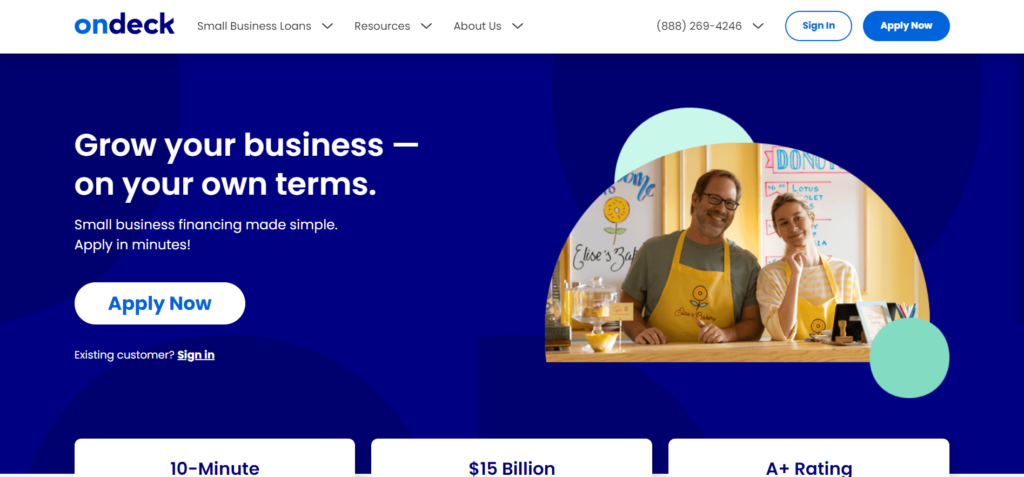 Image source
Rapid Fund Disbursement
One of the advantages of selecting OnDeck is its ability to quickly disburse funds. It is the best choice for lawyers looking for an urgent law firm loan.  OnDeck's simplified application process and streamlined internal procedures ensure that eligible law firms can receive the funds promptly within just a few days.

Building Business Credit
Establishing and improving your business credit is important, for a long-term well-being of your company. With OnDeck you have the opportunity to build your business credit by having your repayment activity reported to credit bureaus. This improves your business credit in a long run. Thus, you get better finance options and improved terms in future law firm loans that you avail.
Cost Benefits for Repeat Borrowers
One of the benefits that OnDeck offers to customers is a cost benefit for subsequent borrowing. If you're a repeat borrower you may be eligible for reduced interest rates making OnDeck an option for law firms in need of loans.
This incentive encourages law firms to establish a long-lasting relationship with OnDeck creating a beneficial situation for both the lender and the borrower.
OnDeck Short-Term Loans
OnDeck specializes in short term loans with APRs starting at 35%. These loans typically come with term lengths of up to 24 months and payments are usually required on a weekly basis. While these loans provide access to funds it's crucial for borrowers to carefully consider the cost implications associated with short term loans that come with APRs.
OnDeck Lines of Credit
For businesses seeking more flexibility, OnDeck provides lines of credit (LOC) with APRs starting at 35.9%. The average APR for OnDeck lines of credit is 48.9%.
These credit lines have a term length of 12 months per draw. Although there is no draw fees. However, there is a maintenance fee of $20/month. The ability to access funds quickly as needed can be beneficial for managing cash flow fluctuations or unexpected expenses.
4. Live Oak Bank
When it comes to financing and loan options for law firms, Live Oak Bank has built a reputation as a customer centric lender. They are recognized as an SBA Preferred Lending Partner, which means they are dedicated to helping businesses grow and succeed.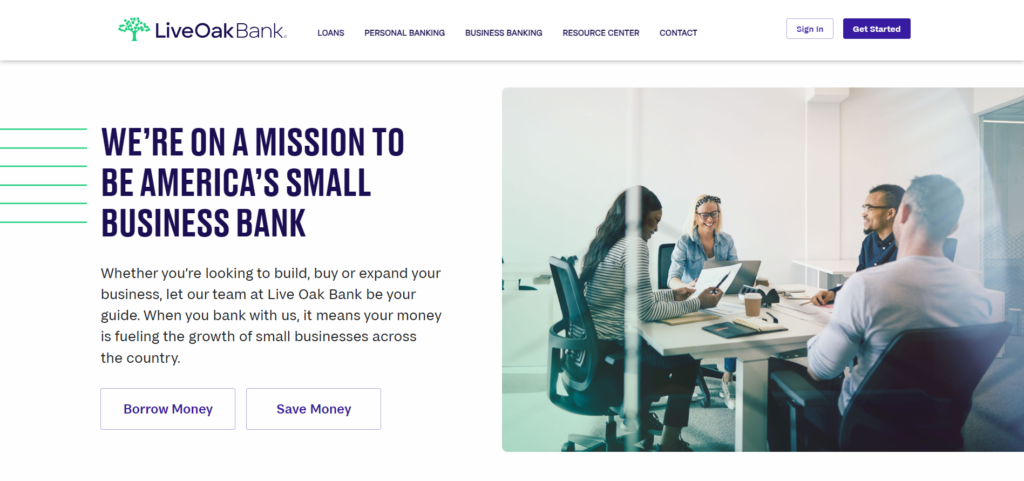 Image source
With higher borrowing amounts, long term lengths and a willingness to work with applicants with fair credit Live Oak Bank offers various options to meet diverse business needs.
SBA Preferred Lending Partner
Being an SBA Preferred Lending Partner is an advantage, for both Live Oak Bank and its customers. This designation indicates that the bank has successfully processed SBA loans in the past and possesses an understanding of the SBAs loan programs.
If small law firms are looking for SBA loans then partnering with Live Oak Bank can be beneficial. It is a Preferred Lending Partner of SBA that can help speed up the loan application process and improve the chances of approval.
Large Loan Amounts
Live Oak Bank is well prepared to meet the financing needs of law firms and businesses of all sizes. They can offer large borrowing amounts making them a suitable choice for businesses seeking capital for expansion, purchasing equipment or other growth initiatives. This ability to provide funding can be a game changer for law firm with plans for growth.
Extended Repayment Periods Up to 25 Years
For businesses that prefer long repayment periods, Live Oak Bank offers loan terms of up to 25 years. This allows borrowers to structure their repayments in a way that aligns with their capacity and business goals. Longer terms result in easily manageable monthly payments giving businesses some financial breathing room as they work towards achieving their objectives.
Openness to Fair Credit Applicants
One standout feature of Live Oak Bank is its willingness to work with applicants who have fair credit scores. While having strong credit is always preferred, law firms with fair credit still have access to financing options through the bank.

This inclusivity allows a broader range of businesses to pursue funding opportunities even if they have encountered difficulties with credit in the past.
Interest Rates and Fees
At Live Oak Bank, the rates and fees vary based on the type and amount of loan. The bank provides both fixed and variable rate options. Generally Live Oak Bank offers better rates compared to other lenders, which makes it an attractive choice for businesses looking for competitive financing terms.
However, borrowers should be aware that Live Oak Bank loans may include an origination fee also. This fee can be up to 2% for term loans or 1.5 to 2.8% for SBA loans depending on the loan details.
The bank provides a percentage rate (APR) that starts from low as 5.50% encompassing all loan fees. If you opt for an SBA loan above $50,000 with a repayment period of 10 years the APR will be the rate plus an additional spread of up to 2.75% which totals to 8.25%.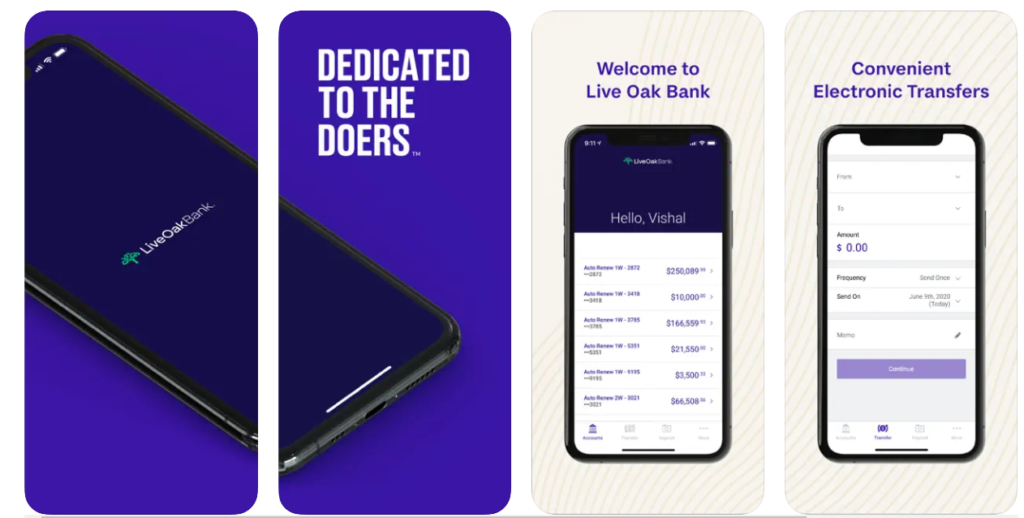 Image source
5. Fundbox Law Firm Loans
Fundbox has established itself as a leading player in the lending industry by offering hassle-free and accessible financing solutions tailored to law firms of all sizes. With its user-friendly app, transparent pricing structure and speedy access to funds, Fundbox provides a convenient option for businesses in need of quick capital.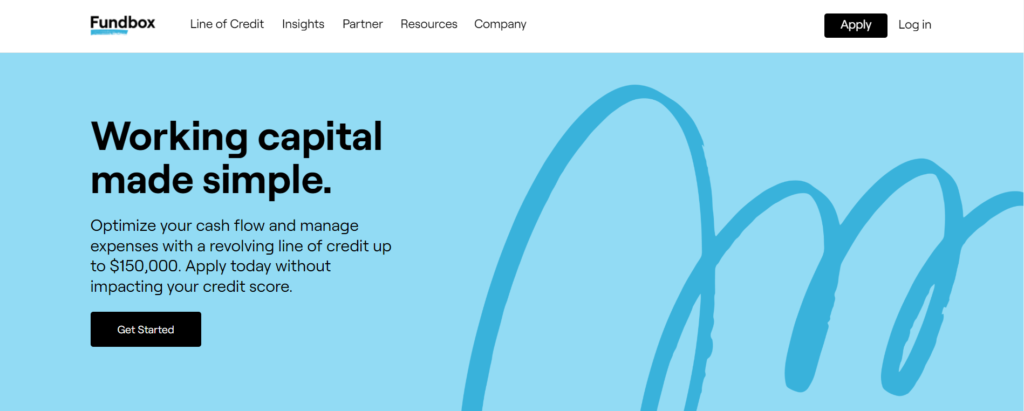 Image source
Streamlined Application Process and Easy Access to Funds via Mobile App
One standout feature offered by Fundbox is its app that simplifies the loan application process for law firm loans. Law firms have the convenience of applying for funding and accessing funds through the app making the borrowing process more streamlined. This convenience is particularly beneficial for time-sensitive situations or businesses that require fast access to capital.
Transparent Pricing Structure
A key aspect that Fundbox takes pride in is its transparent pricing structure. This ensures that borrowers have an understanding of the costs associated with their loans upfront. By providing information about borrowing fees and terms businesses a law firm can make informed decisions regarding their loan.
Fast Funding
One significant advantage offered by Fundbox is the availability of funds quickly in one business day. This rapid funding turnaround can be a lifeline for businesses dealing with unannounced expenses.
Free Business Cash Flow Predictions
In addition to these benefits Fundbox goes above and beyond by offering cash flow predictions to businesses with bank accounts. This valuable feature allows businesses to gain insights into their cash flow patterns and effectively manage their resources. By understanding these trends businesses can make choices, about their borrowing and spending activities.
Fundbox Revolving Lines of Credit
Fundbox's revolving lines of credit come with flexible term lengths of 12 or 24 weeks. The borrowing fee starts at 4.66% for 12-week terms and 8.99% for 24-week terms, with the latter having a higher fee.

Before making a draw, borrowers have the advantage of choosing their preferred term length and previewing the weekly payment amount, including all associated fees. This feature allows businesses to plan and budget effectively, ensuring the financing aligns with their financial capabilities.
How to Choose the Right Business Loan for Your Law Firm
If you are looking for the best law firm loans that are suitable for your requirements as a lawyer then follow the below given tips. These tips will save you time and money.
1. Assess Your Needs: Start by evaluating the financial requirements of your law firm. Are you aiming to expand your practice, hire more attorneys, invest in technology or manage cash flow gaps? Understanding these needs will help narrow down the type of loan that suits you best.
2. Consider Loan Types: Take some time to explore types of loans available for law firms. Common options include Small Business Administration (SBA) loans, business lines of credit equipment financing and traditional term loans.
3. Compare Interest Rates and Terms: Review the interest rates and repayment terms offered by different lenders. Some loans may have fixed interest rates, while others might be variable.
Longer repayment terms can result in lower monthly payments but you might have to pay more interest in the long run. Assess the trade-offs and choose a loan with favourable rates and terms that match your financial capacity.
4- Eligibility Requirements: Make sure you understand the eligibility requirements for each loan option. Lenders often consider factors such as credit score, time in business, revenue and collateral. If your law firm has less than perfect credit look for lenders who're more flexible with their credit requirements.
5. Research Lender Reputation: Doing some research on lender reputation is essential. Look for lenders who have a track record of providing transparent financing solutions. Read reviews, check customer feedback. Seek recommendations from law firms or business owners to get a sense of the lender's credibility for law firm loans.
6. Evaluate Fees and Additional Costs: In addition to considering interest rates, it's important to evaluate any fees associated with the law firm loan. It can origination fees or maintenance fees. Take into account all costs involved in borrowing to get the exact idea of the expenses.
7. Read the Fine Print: Make sure to read and understand all the terms and conditions mentioned in the loan agreement. Pay attention to details, like the repayment schedule penalties for early payment and any other important clauses.
If you have any doubts or questions, you can ask for clarification from the lender before applying for the law firm loans.
8. Consult with Financial Advisors: Consider seeking advice from advisors or accountants if you're unsure about which loan option would be most suitable for your law firm. They can offer valuable insights that can help you make an informed decision.
9. Repayment Plans: It's crucial to create a repayment plan before finalizing the loan. Make sure that your law firms cash flow is sufficient to handle loan obligations without causing financial strain.
Conclusion
When deciding on the law firm loans it's important to consider factors like the types of loans interest rates, repayment terms, eligibility requirements and the reputation of the lender. It's also important to assess your law firms exact needs and plans for repayment in order to make an informed decision.
By conducting research and seeking guidance from advisors, law firms can confidently choose the best law firm loan that fits their growth and success in the legal industry.
Frequently Asked Questions (FAQs)
What are some types of business loans that law firms can access?

Law firms have access to a wide range of business loans including Small Business Administration (SBA) loans, business lines of credit equipment financing options traditional term loans and invoice financing.

Are there any options for law firms with fair credit scores?

Yes. Lenders like OnDeck are open to working with law firms with fair credit scores.

How much time it takes to receive funds from SmartBiz?

If the amount is below $100,000 you can get the funds same day.

Why should I use Fundbox's mobile app for loan applications?

If you want a quick law firm loan you can use Fundbox's app for loan application.

Is there a minimum credit score required to apply for a loan with BusinessLoans.com?

All credit profiles can apply for a loan with BusinessLoans.com. Anyhow the chances of loan approval is better for good and fair credit scores.