The Clover® point of sale system is made for restaurants with the Clover Dining feature built into the system. A robust POS, the Clover restaurant point of sale empowers restaurateurs to manage all aspects of the business from one system. Plus, there's an abundance of clover apps that liberate restaurant management to pick and choose the capabilities they need from a POS.
Whether your restaurant runs a happy hour, provides takeout service, needs notification of low stock, and everything in between, there's a Clover app covering your every need. Here are the best Clover point of sale apps for restaurants:
Thrive
Keeping track of your restaurant's up-to-the-minute social media posts and online reviews, the Thrive app can help you manage – and even drive –  your online presence. Even if you're notified of a negative comment, the Thrive app empowers your restaurant to address the challenge in a timely fashion. As a bonus, the Thrive app also provides current sales data, as well as sales trends and refund and discount data. The Thrive app is developed and offered for free by Thrive.
Shifts
Providing a timeclock, tip declaration, sales reports, and beyond, the Clover-developed app Shifts enables restaurant management and staff alike to multi-task the record-keeping aspects of running a business. The app is free of charge provided by Clover.
Menufy
Allowing restaurants to offer a takeout menu without the 30% charge often associated with outside delivery services, the Menufy app creates a website exclusively for online orders. And if you already have a website, Menufy will generate a module that can integrate with your site. Charging $1.50 per order for high-volume takeout operations, Menufy is less costly than most takeout services. Offered free from Menufy, the app has high reviews from Clover users.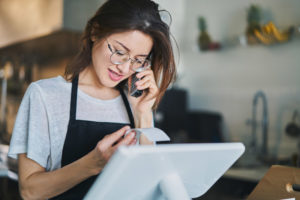 Happy Hour
By placing menu items or categories of items in a time range, the Happy Hour app streamlines the Happy Hour pricing process and eliminates user error at the point of sale. Free of charge, the Happy Hour app developed by Clover helps restaurants run a smooth Happy Hour.
Ping Me If
The manager's little helper, the Ping Me If app gives managers a heads up when a specific event occurs, be it a refund, the cash drawer exceeding a specified amount, a discount exceeding a specified amount, and more events that require a manager's approval or notice. With the Stock app, Ping Me If also alerts managers when an item in stock is running low. Developed by Seven Spaces, the Ping Me If app is $4.99 per month or $.99 per month with the Stock App.
Host Merchant Services and Clover
Host Merchant Services can customize your Clover Point of Sale System to fit your restaurant's needs. Whether your business requires a robust station including a tablet interface and printer with the option to add functionality or your business only needs a mobile app, turning your phone into your POS, Host Merchant Services offers these and everything in between, including the Mini POS and the handheld POS perfect for a farmers market stand or an intimate restaurant. Along with a variety of Clover apps, Clover provides the flexibility required in the restaurant business.
Offering complimentary express service, Host Merchant Services provides free quotes. Our payment specialists can provide Clover POS pricing that fits your business.
The Clover® name and logo are trademarks owned by Clover Network, Inc., an affiliate of First Data Merchant Services LLC, and registered or used in the U.S. and many foreign countries.