As part of an ongoing series covering the basics of payment processing, The Official Merchant Services Blog is going to discuss Batch Processing today. You may have seen the term come up before –– possibly in reference to your statement or when your merchant account representative first met you.
What is Batch Processing?
Providing quick and efficient service is key to a successful enterprise. This is also applicable to the process of accepting credit card payments as processing your transactions quickly will also ensure prompt and timely receipt of payments for your products. And that's where Batch Processing comes in.
Batch processing is the mass processing of dozens of credit card transactions. It tends to be much more convenient to batch process hundred of orders at a certain time during the day, instead of each and every time they are received. A lot of merchants process their batch at the end of business. E-commerce businesses have batch processing built into their payment gateways. In fact, Step Five of our "How Payment Gateways Work" graphic details the daily "batch." In fact, using a payment gateway will help simplify your batch credit card processing as it will help you coordinate the many functions that are necessary to process your payments. This form of card processing also has the benefit of being secure and this will certainly be a value added to your customer service.
How does Batch Processing Work?
Here's an infographic that explains the batch process as it happens: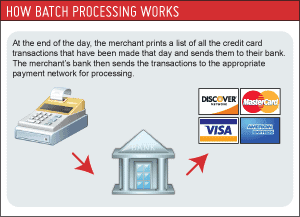 Batch credit card processing works well with small businesses where several credit card transactions are processed simultaneously, in the batch. With this, there is a definite lower risk of credit card fraud and you will be able to offer your customer and your business the assurance of transaction security.
The one con to Batch Processing
On occasions where there is a problem with the credit card payment, the seller may not know till the next day. Batches get processed with a lag. Host Merchant Services has 2 day processing. So there can be some issues with payments due to that lag. But the company has a qualified representative available 24 hours a day, 7 days a week, to help you with any issues you encounter in processing your transactions.