A Complete Guide to SNAP
It is an unfortunate truth that many people in the US are just one major emergency away from severe financial distress. While some of us may have close family, friends, and community members to rely on should such difficult times hit, not everyone is so lucky. This can leave people without the basic necessities they need to survive, including nutritious food. Luckily, SNAP and SNAP authorized stores can help these families stay afloat and work towards getting back on their feet.
What is SNAP?
SNAP, also known as the Supplemental Nutrition Assistance Program, is a US federal program that is meant to help struggling families access the food they desperately need and deserve. This helps these families stay healthy and nourished while stretching their budget while also strengthening communities and benefitting participating stores and farmer's markets. It's a win-win for everyone involved and it is a crucial step in ensuring no one in our country goes hungry. So far, it has already fed countless families and has helped over 4 million people break the cycle of poverty. 
Who Can Receive SNAP Benefits?
SNAP is meant for low-income families who don't have enough money to afford the basic groceries they need on a daily basis. Predominantly, these families covered under SNAP have family members who are children, disabled adults, or elderly. In order to qualify and receive benefits, gross incomes must be at or below 130 percent of the poverty line, although this number may change depending on ability level, number of family members, etcetera. There are also additional net income and asset requirements that apply.
For businesses who wish to accept SNAP payments and EBT cards, they have to meet certain requirements as well, which can be found here.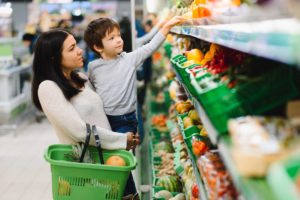 Applying for SNAP
For individuals and families who are wanting to apply for SNAP benefits, you'll need to fill out a form online to determine whether you're eligible and how much you're eligible for. This application can be rather confusing and tricky to fill out, making reaching out to your local SNAP office a great first step. They can help you navigate the forms and assist in filling everything out. You can also reach out to your local food bank as many also offer application assistance. If nothing else, they can certainly point you in the right direction. Once this is done, it's just a waiting game to see if you're approved.
For businesses who are interested in accepting SNAP payments, you'll need to fill out your own application. Just ensure you meet all the requirements first! If you're a grocery store or food market, you should be covered but it never hurts to triple check. Once you've been accepted, you'll need to acquire the correct POS system and a PIN pad before you can go forward.
Host Merchant Services
Host Merchant Services is the industry leading specialist in EBT payment processing. Your business can start accepting SNAP and EBT payments right away with help from the EBT experts at Host Merchant Services. Our service team is four times larger than our sales team! We know it's better to keep our customers happy than it is to find new customers. HMS provides US-based support 24 hours a day, 365 days per year.