Today The Official Merchant Services Blog gets extra visual with a step by step breakdown of how Credit Card Processing works.
This is the latest installment in The Official Merchant Services Blog's Knowledge Base effort. We want to make the payment processing industry's terms and buzzwords clear. We want to remove any and all confusion merchants might have about how the industry works. Host Merchant Services promises: the company delivers personal service and clarity. So we're going to take some time to explain how everything works. This ongoing series is where we define industry related terms and slowly build up a knowledge base and as we get more and more of these completed, we'll collect them in our resource archive for quick and easy access. Today we build off of our previous knowledge base entry on just credit cards. We noticed that we've been adding to this database for months now and kind of skipped over some of the most basic elements of the industry. So now that we've defined credit cards, we want to take you on a journey through credit card processing, detailing exactly how it happens.
CREDIT CARD PROCESSING
Host Merchant Services is able to guarantee its customers savings and the lowest rates possible. By understanding how credit card processing works, where the money gets made off of the transactions themselves and where those hidden fees actually are, you can gain some valuable insight into how Host Merchant Services is able to make its guarantee. Here's a step-by-step breakdown that sheds light on where the fees from each transaction come from:
How Does Credit Card Processing Work?
The way credit card processing companies make money for themselves can sometimes be a confusing labyrinth where fees are hidden, percentages are tied to things not listed on statements and the deal you think you are getting isn't the best deal you can actually get. Host Merchant Services is dedicated to giving its merchants the lowest price guaranteed, and the company strives to maintain transparency with no hidden fees. So take a walk with us and see behind the curtain as you learn exactly where the money is being made when you swipe a customer's credit card.

Step One: A customer visits a store.
Step Two: Customer purchases $10 worth of merchandise.

Step Three: The customer swipes his credit card through a payment processing terminal such as a Hypercom T4205 from Equinox Payments to pay for the merchandise.

Step Four: The card reader recognizes who the customer is and contacts the bank that issued the credit card.

Step Five: The customer's bank sends $10 to the merchant's bank.
Step Six: Then the merchant's bank deposits $9.80 to the merchant's bank account.

Step Seven: That remaining 20 cents, a 2% fee, is taken from the $10 and given to the customer's bank.
Step Eight: The customer's bank then splits the 20 cents with the credit card company.*
* Depending on the specific company, country and merchant, the percentage can range from 1% to 6%. The amount the bank gets and the amount Visa gets is a negotiated deal. Also, Visa and MasterCard charge the banks an annual fee to be a part of their network in the first place.
Where The Money Gets Made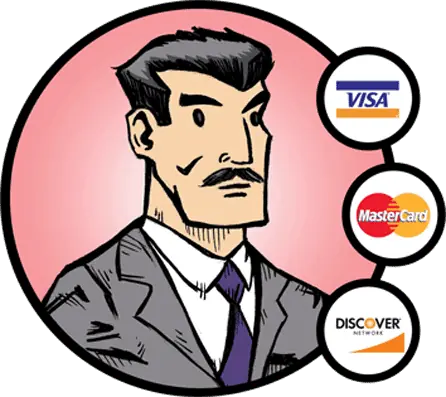 Credit Card Companies make money in a variety of ways. Here are the four most common:
One: The most common way credit card companies make money is through fees, such as the annual fee, overlimit fee and past due fees.
Two: Another way credit card companies make money is through interest on revolving loans if the card balance is not paid in full each month.
Three: As explained above, the card issuer (the bank that issued the card and/or the issuer network, be it Visa, MasterCard, Discover) makes a percentage of each item you purchase from a merchant who accepts your credit card. The rates range from 1% to 6% for each purchase.
Four: The card issuer can also make money through ancillary avenues, such as selling your name to a mailing list or selling advertisements along with your monthly billing statement.
SOURCE: Information for this article was gathered from www.creditscore.net, the movie Superman III, Wikipedia and Authorize.net.
Continue Next – How Payment Gateways Work >