Today The Official Merchant Services Blog keeps on rolling along with the topic of E-Commerce. We've recently been looking at some of the interesting individual aspects of the sector, such as our blog about E-Commerce and Video Games the other day and our blog about Social Media Commerce yesterday. We've consistently reported how pervasive and commonplace online shopping has become over the past decade. Gone is the shiny newness of using a mouse to do all of your Christmas shopping. It's now something mundane that we see most consumers in U.S. households doing when they need either the convenience of going online, or the power they have to find exactly what they want when local brick and mortar venues may not have the service or product desired.
A huge fuss has been made repeatedly over the past two years that Mobile Payment Processing, or M-Payments, are going to reap billions of dollars of profit worldwide and online shopping will shift and embrace shopping anywhere with one's smartphone.
The King is Dead
This article from Jasper Bell at Econsultancy goes so far as to suggest that E-Commerce is dead and that a new hybrid concept, called Distributed Commerce. Bell calls it a "shift from this direct model, to an indirect, more agile way of selling."
Bell cites the growth of social media and mobile phone usage. Bell discusses the power of what he calls "peer-influenced content" — essentially word of mouth advertising on social networks, or more simply put, you get turned on to a good or service because your Facebook friends tell you it's cool or your twitter feed blows up — as a key factor in the paradigm shift.
He also demonstrates that the fluid ability to move from the virtual space on your mobile device to the physical realm of the area you are in and then back into the virtual realm of another device or a channel makes marketing and eventually commerce much more flexible and agile, keeping up with the consumer no matter where they go or how they get there. The International Data Corporation backs up that assertion with its findings that indicated 45% to 60% of smartphone users conducted due diligence on store prices and inventory from their devices. IDC also falls into line with companies like Garnter and Juniper about the healthy future of m-payments, predicting that by 2014 more than $50 billon will be spent on merchandise globally by consumers using their smartphones.
This agility for consumers to shop wherever using their phones as both assistants and payment option is something we have delved into with our look at the variety of Mobile Payments options. And Bell makes a really compelling point that people flip quickly between a product search on their phone's internet access to a purchase ready state in mere clicks. Distributed Commerce is what Bell calls the evolution of E-Commerce. And it is probably the strongest reason why all of our coverage of mobile payments is still listed under the category flag of E-Commerce. We at The Official Merchant Services Blog already acknowledged this natural connection and kept them together in the larger picture of E-Commerce.
As Bell says in his article, "Commerce today is less about 'selling in' a channel but selling 'through' a channel, reaching out to consumers wherever they are and selling in that context."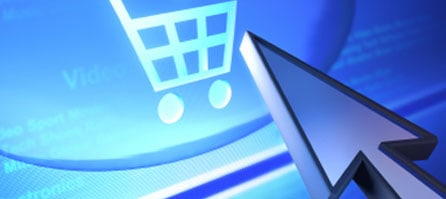 The Other Shoe
Bell's compelling evidence for the rise of M-Payments sets his article on a course to then predict a downfall in E-Commerce. We think this is mainly due to his definition of E-Commerce referring primarily to shopping online through a PC or Mac desktop computer — ye old visit to amazon.com from your home computer. We of course lump M-Payments into the overall umbrella of E-Commerce. We also don't feel the juggernaut that is E-Commerce is so easily deconstructed by the baby steps of M-Payments just yet.
Twenty Five Percenters
Juggernaut is too timid a term to describe E-Commerce. This infographic from Big Commerce asks the question "Will M-Commerce Overtake E-Commerce?" If you skip right down to the bottom of the graphic, the sub section titled "Brace Yourself" you find this stunning and overpowering fact: E-Commerce is expected to generate $1 trillion in revenue by 2014. The graphic also states that 54% of all retail purchases will be made online by 2014. Comparatively, M-Commerce is predicted to hit $119 billion worldwide by 2015. Mobile Payments are not going to be the death of E-Commerce just yet.
And this article by Media Post News says pretty much just that — estimating that even by 2017 m-commerce will match about 24.4% of the overall e-commerce pie. All of these projections point to staggering growth for mobile payments, but moving right along with that is the firmly established e-commerce sector that will continue to take more and more of the standard retail pie as it nom-nom-noms its way to massive revenue generation.
Big Time Processing Opportunities
What this means in terms of the payment processing industry and all the companies like Host Merchant Services that facilitate credit card transactions for merchants is simple: Our economy is going cashless. We are driving full steam ahead into a realm where we buy things with phones that will function like credit cards, or we just hop on a device/tablet/computer and click-touch-click our way to purchases. This means more and more of the purchases people make will carry the processing fees that credit card processors make their margin of profit from. As the economy becomes completely tied in to credit transactions through E-Commerce, payment processing becomes a standard. It's something Merchants need to know about and that's why The Official Merchant Services Blog exists.