Payment Processing Customized for Your Business
Yes, it is possible to love your payment processor!  We deliver honesty, transparency, and fantastic customer service.  Host Merchant Services will change the way you think about payments and credit card processing.  With our low-rate guarantee, no term commitment, and responsive 24x7x365 live customer service, we earn your business every day.
Credit card processing with EVERYTHING you need to succeed!
You get the ability to process credit cards, PIN debit cards, EMV chip cards, NFC. And with our credit card machine placement program 98% of businesses qualify for free equipment!
Great Equipment
We use high quality credit card machines that are tuned to your needs. Whether you need a fast EMV chip machine or wireless 3g capabilities or anything in between, we have you covered.
Guaranteed Savings
If we can't quote you a lower price than you have now, we will thank you for your time and give you $100 visa gift card. Either way you make money!
Get connected
Process payments anywhere using 3G and Wifi capabilities. Or use it in your business for a clean wireless setup.
Security
We love security. In fact, we take it upon ourselves to make sure you're business is EMV and PCI compliant. That's our job, not yours – you have enough to worry about. And no, we aren't going to charge you for it.
Designed for Your Business
Our team will prepare a solution tailored to your business.  We combine the right technology with service and support to ensure you never miss out on an opportunity.  Mobile, e-commerce, online, or in person, we ensure your business has the tools to succeed at a rate you can smile about.

Guaranteed
Lowest Rate

FREE Mobile
Options

Affordable
Point of Sale

FREE
Equipment for Qualified Accounts

Transparent, Easy to Understand Statements

Exclusive
Savings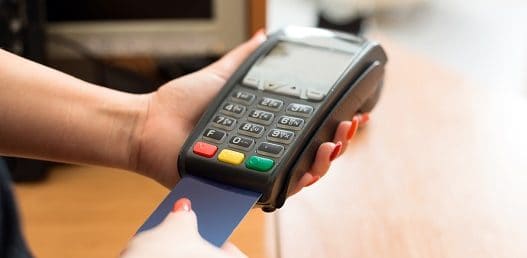 Host Merchant Services has a free equipment for qualified merchants. Everyone gets wholesale prices for receipt paper, so stop ordering cases from ebay!
Our equipment is Internet enabled and EMV compliant so you can accept the latest chip cards. We also offer wireless terminals, tablet and phone solutions, and affordable point of sale.
Is your equipment in need of an upgrade? Don't PAY for it! Don't lease it!
Mobile Payment Processing
Accept Mobile Payments with your Apple or Android Device
Or Select Our All-In-One Wireless Terminal Solutions.
Turn your iPhone or Android smartphone into a profitable payment processing terminal – for free! Take your business directly to your customers, wherever they are, with HMSPay.
Use your iPad, Android, or Windows Tablet to instantly create a full featured credit card processing terminal with our FREE app, HMSPay.  If you need a tablet, we can provide a solution that includes 4G/LTE wireless.
Our rechargeable wireless terminals do it all, including credit card processing, EMV processing, debit card acceptance, and receipt printing – over 4G/LTE.
E-Commerce Payment Processing Solutions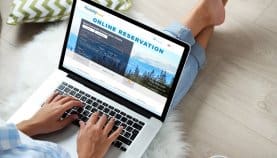 Host Merchant Services knows E-Commerce.
Payment Gateways
We offer multiple Payment Gateway options including Transaction Express and Authorize.NET.  With support for over 100 payment gateways – yours is on the list!

Virtual Terminal
Our TXP web-based centralized payment processing system turns your PC or Mac into a full featured point of sale with recurring billing, tokenization, and PCI Compliance.

Online Shopping Carts
We'll help you find the online shopping cart software that works most efficiently with your payment processing setup. And we'll help keep your shopping cart working smoothly.
We can assist you in implementing a complete e-commerce solution including security and PCI compliance. Our solutions support all major payment gateways and a virtual terminal is included for all e-commerce merchants.
Or Call us! 877-517-HOST (4678)
Everything you need to know about credit card processing
Credit card processing can be a confusing subject when you don't understand the terms and processes involved. The following information is meant to help you understand so you can make informed decisions and make sure you get the correct services at a great price.
Key Merchant Account Terms
Let's start with the basic terms that you will encounter when applying for a merchant account.
Merchant – The business owner who accepts credit and debit card payments in their business.
Cardholder – The customer who is paying for a product or service from the merchant
Card association – Visa, MasterCard, Discover, American Express. These are the actual credit card companies that set the base transaction rates (interchange rates) and run the processing networks.
Interchange rates – The base rate card associations charge per transaction for each of their cards.
Acquiring Bank – The merchants bank. The acquiring bank receives funds for the merchant's sales and deposits them in the merchants bank account.
Issuing Bank – The cardholders bank. They issue credit and debit cards and are thus part of the card association. The issuing bank sends funds from the cardholders bank account to the acquiring bank to fund the card holders transaction.
Payment Processor – Handles the processing and batching of purchases made at the merchant. The payment processor transfers the transaction information from debit card, credit card, or gift card payments. The payment processor will also supply the merchant the required equipment and customer support as well as act as the merchant's representative when dealing with card associations and banks.
Pricing Models
There are several pricing models that payment processors offer making comparisons between them difficult.  Below is an outline the three main types of credit card processing pricing.
**Important** Each card type for each card company has it's own interchange rates. For example: Visa debit is lower transaction rate than Visa Credit and Visa Rewards Credit. Heres the kicker – Each card company actually have dozens of cards, each with their own rate.
Flat Rate – The easiest to understand, and the most costly (generally). Under this model the merchant pays the same rate for every card. This usually results in overpaying for debit and maybe underpaying a little for credit. Problem is debit cards are generally used for more transactions than credit cards and end up costing the merchant more. The selling point is it's east to understand the pricing model for the merchant, but usually overpays for services.
Tier Pricing – This model has three "tiers" (categories) of cards each with their own rate. With this model a merchant ends up with 3 different rates. These Tiers are usually called "Qualified", "Mid-qualified", and "Non-Qualified". In essence it's like having three categories of flat rates. As with true flat rate pricing, tier pricing is notorious for costing the merchant too much.
Interchange Plus (Cost Plus) Pricing – The least costly pricing of the three, interchange plus passes along the interchange rate with a small markup for credit card processing services. For example: the base transaction (set by the card companies) rate plus, for example, 0.3% and $0.09 per transaction. This model ensures that the merchant is only charged 0.3% and $0.09 above that cards interchange for any given card whether its debit, credit, rewards, etc. This is the pricing model Host Merchant Services uses.
Comparison Examples of Flat Rate vs Interchange Plus
This is why merchants should always go with interchange plus: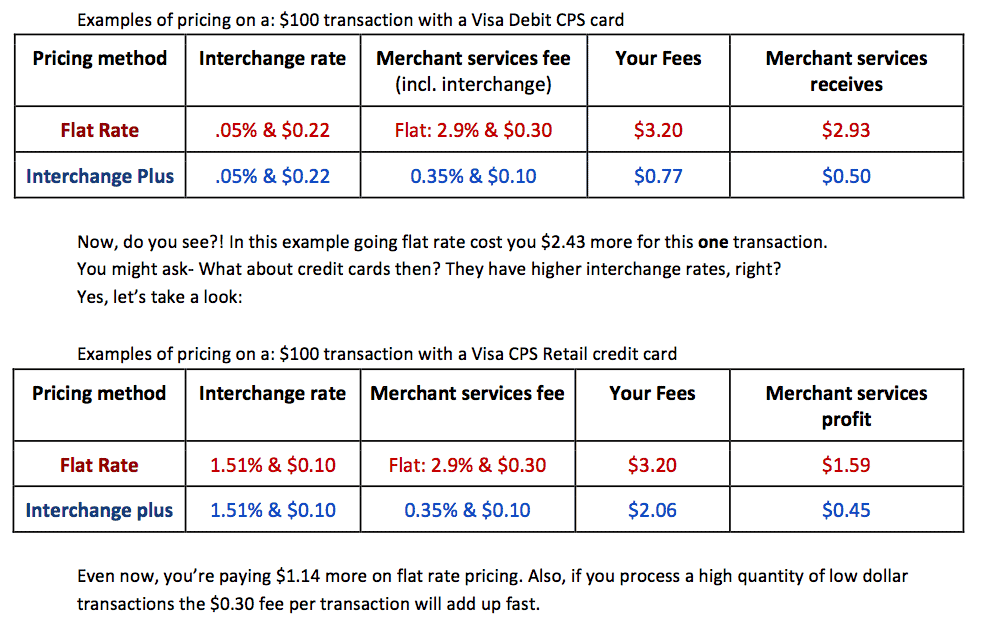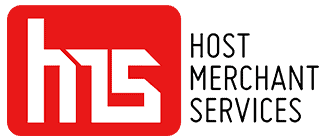 Experience a Higher Level of Service
Get started!
Fill out the fields below and a Host Merchant Services relationship manager will contact you. Your submitted information is private and secure.