Payment Gateways
A payment gateway is a system of technologies and processes that allow merchants to electronically submit payment transactions to various payment processing networks (i.e., the Credit Card Interchange and the ACH Network). Payment gateways may also provide merchants with transaction management, reporting, and billing services.
Payment Gateways essentially bridge the gap between web-based payment options and credit card processors.  To take payments in a store, you must have a merchant account, to take payments online you must have a payment gateway.
Get Started Now

Click the button above and get signed up for a merchant account with Host Merchant Services. We'll get your business connected to a payment gateway that is customized to your business and your specific needs. We guarantee it.
Why use a Payment Gateway?
Payment gateways are beneficial for several reasons:
E-commerce offers numerous revenue opportunities and a gateway enables you to tap into this by giving your customers a simple and secure way to make purchases.
Conducting business transactions over the internet can be less expensive and more convenient than using a dial-up, frame relay, or leased line.
A payment gateway gives you an easy-to-use, accessible interface that lests you review batches and exceptions and manage your merchant account whenever you want.
Which Payment Gateway is Good For You?
Host merchant Services recommends our  in house virtual terminal and gateway solution – HMSExpress.
Click the button here and download a PDF detailing information about the HMSExpress virtual terminal and all of the services it can provide for you.
Host Merchant Services can also set you up with another virtual terminal – Transaction Central. This terminal is designed for the lowest possible costs while fulfilling virtually all of our merchant's requirements.
Host Merchant Services also supports virtually all shopping carts and configurations through our partnership with Authorize.net. Once your merchant account is approved we will walk you through this process and set you up to process transactions online.
If you already process through a payment gateway, Here is an Extensive List of all payment gateways Host Merchant Services payment processing solutions can support.
How Do Payment Gateways Work?
A payment gateway facilitates the transfer of information between a payment portal (such as a website, mobile phone) and the Front End Processor or acquiring bank. Here is a step by step guide detailing how Payment Gateways work: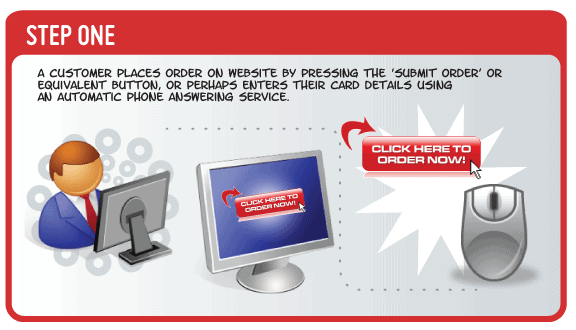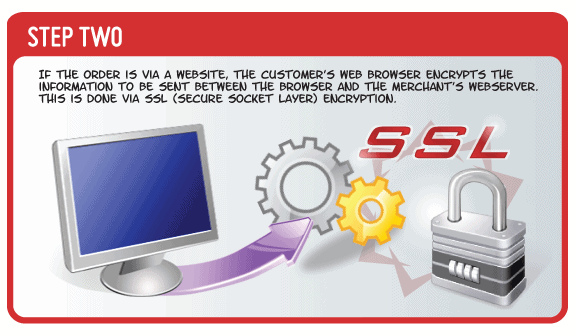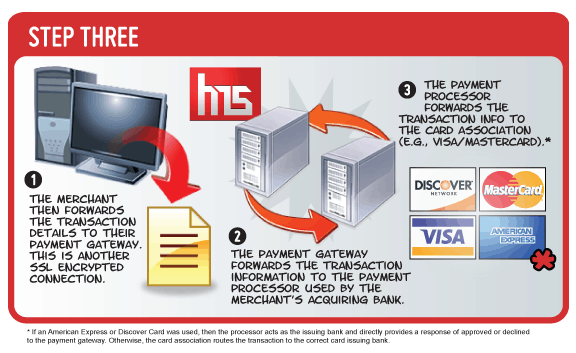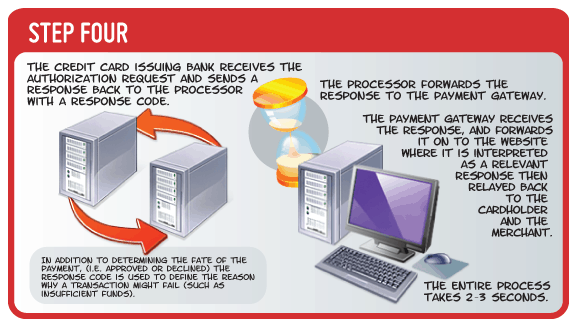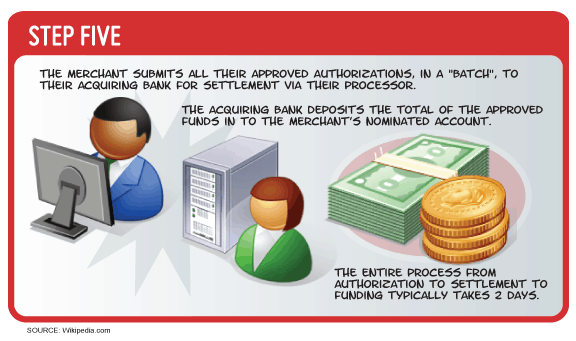 Keeping Transactions Secure
The security of payment processing is extremely important. Here is a list of some of the technical details that happen with payment gateways to ensure the process is secure:
Since the customer is usually required to enter personal details in the transaction process, the payment gateway is often carried out through HTTPS protocol.
To validate the request of the payment page result, signed request is often used – which is the result of the hash function in which the parameters of an application confirmed by a «secret word», known only to the merchant and payment gateway.
To validate the request of the payment page result, sometimes IP of the requesting server has to be verified.
There is a growing support by acquirers, issuers and subsequently by payment gateways for Virtual Payer Authentication (VPA), implemented as 3-D Secure protocol – branded as Verified by VISA, MasterCard SecureCode and J/Secure by JCB, which adds additional layer of security for online payments. 3-D Secure promises to alleviate some of the problems facing online merchants, like the inherent distance between the seller and the buyer, and the inability of the first to easily confirm the identity of the second.