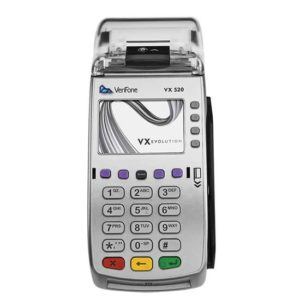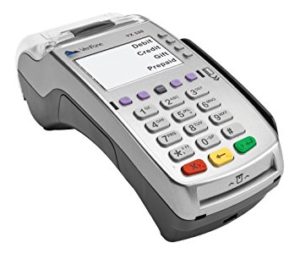 Verifone VX520 Credit Card Machine
Get everything you need in one power packed countertop unit. The Verifone VX520 is one of the most popular credit card machines on the market, for a reason. It packs a super fast processor and has a high speed ethernet port for running cards with speed. Customers love the simple and intuitive experience. Seamlessly integrate the VeriFone VX805 PIN pad for customer facing interface that allows customers to swipe their own card and enter their PIN for debit card transactions. Card slot allows to EMV transactions, NFC capabilities accept payments from smart devices, and side swiper takes care of the rest. Get everything you need in the Verifone VX520 credit card machine.
VeriFone VX520 Features:
EMV Enabled (chip cards)
NFC/CTLS Enabled (smart devices)
Works with Apple Pay, Android Pay, PayPal, Google Wallet
MSR Enabled (swiped cards)
Thermal Printer Built-In
Powerful

400MHz, ARM11 32-bit RISC Processor

160MB Memory
Verix OS
Ethernet, Dialup, USB Connections
Thermal Printer: 49mm Thermal Paper Roll
Security: PCI PTS 3.x Approved
Integrates with VeriFone VX805 PIN Pad
VX520 Reviews
Andrew Goodwin
December 6, 2017
Works well. Processes chip cards quickly which is nice. Screen is not color but that doesn't matter to me. Some of my customers have started using apple pay with it. Overall happy
Brenna Cane
December 1, 2017
HMS designed custom gift cards that work with our terminal just in time for the holidays. 🙂 Terminal works pretty fast. I give it an A.
Steve Fredricks
November 27, 2017
My only issue is that the terminal is a bit large for my counter, but my counter is very small. I got a stand and fixed my space issues. Terminal would be fine on a normal counter size counter.
Jamie Taylor
November 14, 2017
I'm so glad we got a new machine! You never know how bad the old one is until you switch! Takes chip cards and regular and apple pay.
Amy Bowers
October 28, 2017
We haven't had any issues with this machine. It's fast and accepts all payments we need. Takes chip cards too. HMS has great service. Setup was easy.