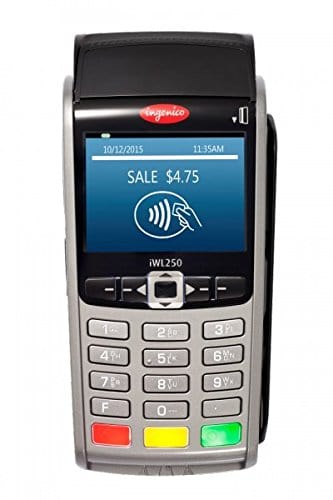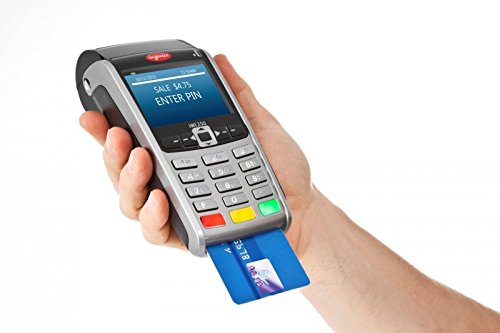 Ingenico iWL250 and iWL255 Wireless Credit Card Machines
Let's get a couple things straight. #1 – The iWL250 and iWL255 are exactly the same unit (we don't know why they changed model names). #2 – This is the ultimate mobile credit card machine.
The Ingenico iWL250 packs a load of features including vivid color display, amazingly small form feature, and the power to process every form of electronic payment. The anti-shock and water-resistant design make it a durable companion while out on the go. Fast printer and long battery life help you take care of business fast. The iWL250 can wirelessly connect through GPRS, Bluetooth, or Wifi and boasts high security for processing even in the most difficult environments.
Ingenico iWL250 and iWL255 Features:
EMV Enabled (chip cards)
Contactless (smart cards)
MSR Enabled (swiped cards)
Transmissive TFT LCD color QVGA display (320×240 pixels and 4,096 colors)
Backlit Keypad
Thermal Printer Built-In
ARM 7 / ARM 9 Processor
Up to 160MB Memory
Telium 2 Advanced Operating System
3G/GPRS, Wifi, Bluetooth
Security: PCI PTS 2.x and 3.x certified (online and offline)
Water-resistant
Shock-resistant
2200 mAh Li-Ion Battery
iWL250 Reviews
Rating of
Average of

4.67
on a total of3 Ratings
Jonathan Stone
November 24, 2017
Accepts all electronic payments including wireless apple pay. The terminal works well but is a little small counter. Good for traveling though.
Mary Wright
November 11, 2017
I like this terminal. It is fast and hasn't given me any problems. Color screen looks good.
Joseph Barnes
November 5, 2017
HMS sent me this machine so that I can process wirelessly. It works fast, looks nice, and makes our events easy. No problems so far.