Delaware Merchant Services
At Host Merchant Services, located in Newark, Delaware, we are here to enable your business to accept credit cards. Today, in 2020 more than ever, Delaware is moving towards a cashless society where accepting credit cards is vital to your business. We will work hard to provide you with outstanding service, the latest credit card processing equipment and software, and the lowest possible pricing. We do this to make sure your business is successful – because your business is our business and we fully support and embrace the Delaware business community. As a local Delaware merchant services provider, more small, medium, and large companies in the First State are switching to a local partner that takes the headaches out of accepting credit cards, debit cards, EBT, online payments, and more.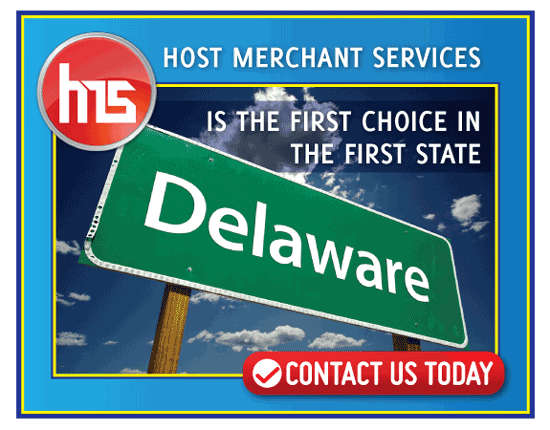 In order to accept credit cards as a payment method, you will need to set up a merchant account. If your business is based in or around Delaware, your best choice is Host Merchant Services and our Delaware merchant services programs. Having a local merchant provider offers many advantages over using a bank or other "national" or "global" merchant account provider. With Host Merchant Services you'll enjoy in-person services and same-day response times that other credit card processors just can't offer.

Delaware merchant services provided by Host Merchant Services include low per-transaction fees and locked-in pricing rates, which means that you'll be able to count on your profits, and you'll know that your merchant rate agreement won't change. And with no application fees, monthly minimum fees, or hidden charges worry about, you can focus on improving and growing your business, and staying in the green month after month.
One definite benefit to opting for Delaware merchant services through Host Merchant Services in place of a non-local merchant provider is having same-day service in the event of a terminal malfunctioning, being damaged, or even being stolen. Traditional merchant service providers require that you ship the defective device to them before they will replace it, or they make you wait several days until repairs can be made. With Delaware merchant services, you'll get same day support, service, repair, and replacement for your credit card processing equipment. With minimal downtime, you won't have to worry about a substantial loss in revenue. Even "local" banks that claim to have fast service actually have to ship your business a new terminal which can take days since they don't stock replacements at their branches.

Having a local Delaware merchant services provider such as Host Merchant Services offers nothing but benefits and advantages for your business' credit card processing needs. Call us today, or stop by and visit our corporate headquarters at 250 Corporate Blvd, Suite L in Newark, Delaware!