You can reduce your credit card merchant account processing fees by using a cash discount program. You can continue to accept credit cards, but you will also provide a discount to those who pay for their items with cash. The infrastructure you use for collecting payments must support these cash discount deals if you want them to work.
You can use the best terminals for cash discount merchant services programs to help you accept card payments and continue to offer cash discounts. A terminal will provide an accurate layout of what someone will spend on a transaction and include details on when a cash discount has been applied to an order.
PAX Countertop Terminal
The first terminal to see for your cash discount program is a PAX Countertop terminal. The set-top terminal will feature a small display screen that can highlight what the customer is spending on a card transaction. You can program the system to display the cash discount available on the transaction, giving the customer the option to pay with cash before going forward with the deal. It can also provide instructions for what a customer can do when handling a card payment. Your business can use whatever branding it wants with this feature.
PAX Countertop terminals can handle contactless NFC payments, plus you can expand their features with SD cards. The Countertop terminal also features an optional battery backup feature to protect your transactions if there are any power outages.
All PAX terminals come with an Android-based operating platform that is easy to navigate and customize. You can also use the PAXSTORE feature to download and install new apps and functions to suit whatever needs you have when processing card payments.
There are a few physical buttons on the bottom of the terminal. A small flexible hood appears over these buttons to allow the customer to enter in PIN data and other sensitive bits of info for payment security purposes.
PAX PayDroid A80
You may also require a terminal that you can bring anywhere. The PAX PayDroid A80 is one terminal that works well in this case. You can use the Android-based system to program your cash discount measures into the setup.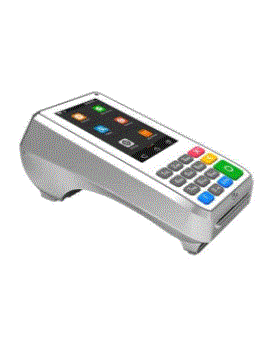 The A80 uses a four-inch touchscreen display and accepts all cards, including contactless models. It can link to a Wi-Fi, LAN, or Bluetooth connection as necessary. You can also use an optional battery pack at the back end if you need to transport the terminal anywhere.
The A80 also has a small keypad for PIN entries and other security measures. The thermal printer at the top can also print out paper receipts to those who want them. These receipts can include the cash discount details your business uses in each transaction, letting customers know about the benefits of paying for items with cash at your store.
Dejavoo Z8
The Dejavoo Z8 credit card terminal is one of the more popular choices for businesses looking for cash discount merchant accounts. Dejavoo has a cash discount system that assesses the discount for each sale. It automatically reviews the price and determines if a flat fee or a percentage charge will work in this situation.
The Z8 can handle EMV and NFC cards. You'll have the option to accept swiped, dipped, and key-entered deals with this terminal. The small display screen at the top will also detail what someone will pay with a card.
The Z8 is also a portable model, as you can use it anywhere where you have a proper online connection. It will also automatically link its data to a reporting dashboard with your account provider, giving you reports on how much you're collecting at a time and what batch payments you're getting from your work.
Valor Terminals
Valor also has a few terminals you can use for your credit card needs. Valor offers support for contactless payments in its terminals, including Apple Pay transactions. The design also displays the cash discount price before the customer completes the sale. You can program your cash discount terms into your Valor terminals to highlight what people can get out of a cash-based transaction.
Valor also supports digital signatures, bill splitting, on-screen tipping, and many other features on its 3.5-inch touchscreen display. You can program whatever you want with the Valor software platform, including how you will display the cash discount feature.
You'll also get digital copies of all your transactions through the Valor platform. Valor offers this feature for your convenience, plus you don't have to print out multiple copies of the same receipts when getting your data ready.
A Few Final Notes
Be sure when looking for terminals for your cash discount merchant services program that you know how each setup works and what you can expect out of a process. The terminals you use should be compliant with whatever cash discount plans you will operate. The choices you see listed above are all good options to have.
The timeframe to get the setup running will vary, but you can expect to spend about 24 to 48 hours to get your account ready. The cost for the equipment will also vary by option, although the savings you'll get from a cash discount system will more than offset what you are managing.
Don't forget about the certifications for each terminal. The options you saw in this article do support all the major credit card brands and various contactless payment methods. But the choice you choose should support whatever card-based payment methods people are more likely to use in your workplace, especially if you want to make everything more effective when handling your funds correctly.
Remember that cash discounts are useful for your customers, and they keep you from spending as much money on credit card processing fees. But your terminal will dictate what you will get out of a deal. Watch for how your terminal can work and that you have a solution for how something can fit in your business.