One of the best ways to save costs for business owners with a fleet of trucks, vans, or other vehicles is with a fuel (fleet) card. A significant advantage of using a fuel card is that businesses can save money on gas by earning rebates on gas purchased. Some fleet cards may also offer more benefits such as loyalty bonuses, real-time reporting and analytics, and fraud coverage.
However, as with all card types, it's essential to understand the plans and offerings available. There are specific matters that truck and fleet owners need to pay attention to before choosing a fleet. Below we highlight a few factors business owners should consider before obtaining a fuel card, and we also list some of the best fuel (fleet) cards available in 2022.
What is a fuel card?
Fuel cards, aka fleet cards, are a form of charge cards used explicitly for vehicle or fuel-related costs. Although fuel cards are used mainly for gas, they also have limited service for emergency repair expenses, tire changes, or regular vehicle maintenance.
Vehicle drivers are usually required to input odometer reading every time they fill up. As a result of the data collection, fuel cards usually can give a comprehensive real-time picture of critical data to business owners who can then use it for decision-making and planning.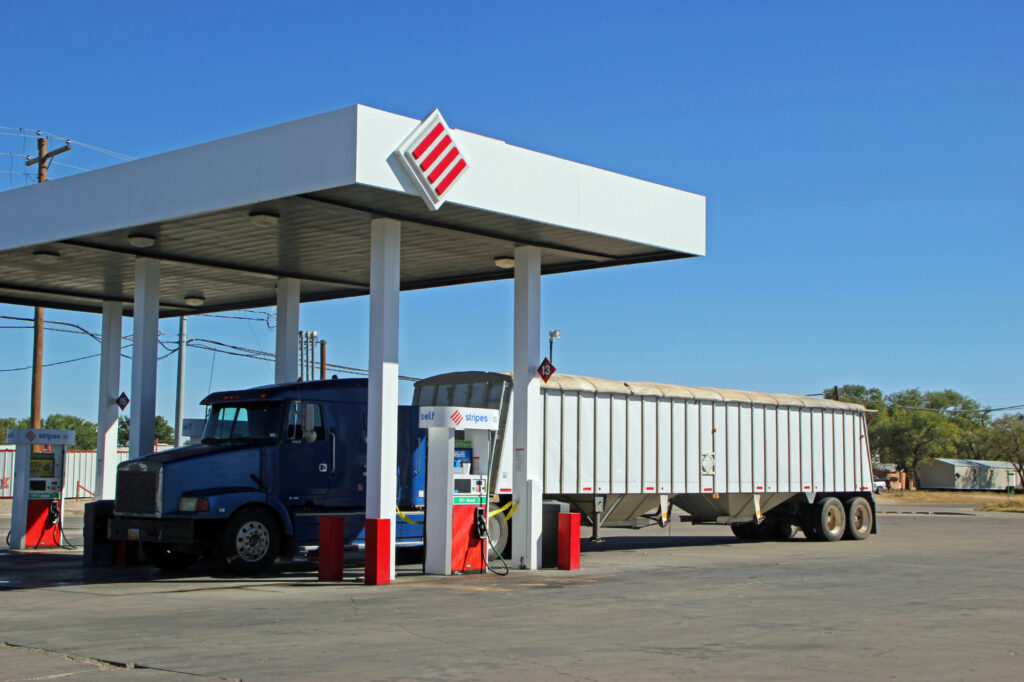 What are the benefits of a fuel card?
Fuel cards offer many benefits. The two main benefits are the savings on gas prices in rebates and readily available real-time data on driver's usage and driving patterns. Businesses can see the distance, time, and odometer reading between fill-ups and determine driving habits.
The rebates are available in the form of cents per gallon, ranging from seven cents to ten. The higher rates of rebates are based on the network size of gas stations. Some fleet card providers offer lower rebates because they have a relatively larger number of in-network gas stations. The idea is that drivers can get a discount at more locations instead of a higher discount at a smaller number of available stops, resulting in higher savings overall.
How do I choose the best fleet card for my business?
Which fuel card is best for you depends on your business needs. Some fuel cards can only be used at certain gas station brands, i.e., ExxonMobil, Sunoco, etc. Other card networks only cover specific regions or parts of the country. Thereby, fuel merchants would need to research the fuel card network around their traditional business routes to determine the best fit.
Also, the rebates offered can be tiered. ExxonMobil offers rebates ranging from one cent to up to six cents based on gallons of gas purchased per month. It's essential to determine your business's monthly fuel consumption to get an idea of what kind of savings to expect.
Then there are the fees. Many fleet cards charge a monthly fee, an annual fee, or fees per card issued. One method that businesses use to maximize their fuel card rebates, given they have sizable usage and network needs, is to have multiple fleet cards. They can use local network fuel cards based on specific routes earning a higher rebate on those trips while using more extensive networks for inter-state routes, albeit at lower rebate rates.
The Best Fleet Cards in 2021
The Shell Fleet Navigator Card – the card does carry some limited (although unclear) fees. The card also comes with a rebate of as much as 5 cents/gallon, dependent on a business's monthly fuel purchases. Another benefit is that this is not a charge card, so companies can maintain a balance month over month. The Shell Fleet Navigator Card is accepted by 95% of all gas stations in the US.
The ExxonMobil Business Fleet Card – the card does not carry any fees and is a charge card that is repaid in full every month. The rebates offered start at 1 cent and go as high as 6 cents/gallon, again dependent on a business's monthly fuel purchases. The ExxonMobil Business Fleet Card is also accepted by more than 95% of gas stations in the US.
The Comdata Fleet Card – This card has a much smaller gas station network, just over 8,000, and it offers a discount of 10 cents/gallon at Pilot and Flying J stations. There are a few differentiating features of the Comdata fuel card. It provides a tool called FleetAdvance, which displays the best fuel prices in a region. Although this can improve purchasing decisions, the onus is on the driver to make that decision in his/her route.
The card also carries a monthly fee of $5/card and a one-time account setup fee of $50. Another feature to help offset these fees is that Comdata Fleet Card participates in a national tire discount program, offering substantial savings. Drivers can save up to 65% on tires and retreads with more than 3,000 participating locations.
The Fuelman Simple Saver Fleet Card – This card carries a fee varying between $4-$12/card, based on the plan a business is enrolled in. However, the rebates are significant, 5-8 cents/gallon and as much as 10 cents/gallon at participating merchants. The card has a network of more than 40,000 gas stations in the US.
WEX FlexCard – Finally, there's the WEX FlexCard, a charge card that carries no fees. The card comes with a fixed rebate of 3 cents/gallon irrespective of monthly fuel purchases. Although this is a charge card, businesses are allowed to carry a balance on it as needed. The WEX FlexCard is accepted by 95% of all gas stations in the US.
Fuel (fleet) cards are a unique method of payment that can help companies with fleets of trucks, vans, or other vehicles save money on fuel cost while monitoring their personnel's spending habits. A business using fleet cars will give drivers the cards to use while driving business fleet vehicles. When drivers use the fuel cards, companies can earn rebates on every gallon of gas purchased.
Another benefit is that businesses can also quickly access usage and activity reports on each employee card in real-time. As a result of this versatility, companies can then set appropriate limits as they see fit. That can be based on each transaction or spending limits by day or week, depending on driver routes. There are significant benefits of using a fleet card, but which one a business uses needs to be carefully evaluated.