Verifone Vx 570 Credit Card Processing Terminal Features
Host Merchant Services is pleased to offer the Verifone Vx 570 payment processing terminal to our customers. This is one of several products in Verifone's line of Evolution terminals and is one of the top products among Verifone terminals. With the Vx 570, merchants will experience unbeatable speed combined with ease of use and functionality.
The Verifone Vx 570 has a powerful 200 MHz processor to ensure faster credit card processing, and it can be used with traditional dial-up connections or with a combination of dial-up and ethernet connections for merchants that have both available in their location. The ethernet connection is always ready and because it is faster than dial-up, it will further reduce processing times so that you can complete more transactions in less time.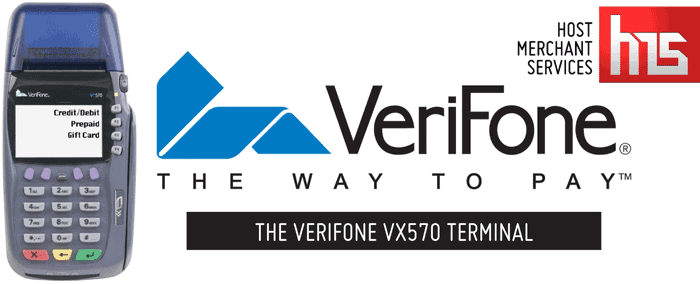 The Vx 570 terminal has a standard 6MB memory and optional 12MB memory for applications. Either option will provide plenty of room and flexibility for merchants that need to install multiple applications. The terminal uses a standard USB drive to allow for quick and easy installation of applications at anytime. The system is designed to allow merchants using multiple applications to install new applications without requiring them to re-install existing applications at the same time. This results in an important time savings over terminals without this feature.
When it comes to security and compliance, the Verifone Vx 570 meets all current standards and is an excellent option to bring merchants using older non-compliant terminals into compliance. This terminal features full PCI PED 2.0 approval, SSL v3.0, 3DES encryption, Master/Session and DUKPT key management and VeriShield file authentication. The terminal also complies with both asynchronous and synchronous protocols as necessary for flexibility in credit card processing communications.
In addition to the technical features of the Vx 570, the terminal was designed with end users in mind and offers superior form and functionality. The built-in thermal printer has capacity for a 40% larger than normal paper roll meaning operators spend less time changing paper and more time completing transactions. The large, clear ATM style keypad is intuitive for customers to use and supports PIN-based debit card transactions. Last but not least, the terminal boasts an anti-glare back-lit display so that customers can read it more easily.