Reliable Verifone VX 520 an excellent choice for merchant services
Host Merchant Services is proud to introduce a newly supported credit card processing terminal, the Verifone VX 520. The VX 520 is a new addition to the VX line of Verifone terminals. It retains the features that make the VX line great, but with all new technology for next-generation performance.
The Verifone VX 520 runs on the reliable and best-selling VX platform, famous for its consistency and ease of usability. The consistency of the platform allows for ease of use and low cost of ownership. The hardware itself features a backlit LCD display, Triple Track mag-stripe, an integrated thermal printer, and 160 MB of ram that can be upgraded to 500 MB as necessary.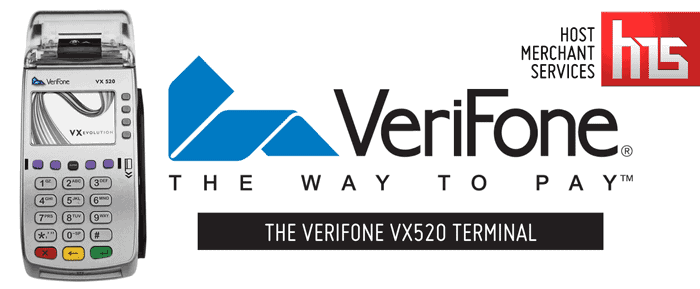 The VX 520 terminal expands merchant services with NFC software technology and myriad connectivity options within the unit, including Ethernet, dial, and GPRS. The unit has the ability to run other applications and process encryption at lightning speeds with its fast 400 MHz ARM11 processor. All of this power is contained within a small, ergonomic design that keeps cables out of the way for everyday use.
Verifone terminals use end-to-end encryption with SSL v3.0 and 3DES to maintain the highest levels of security. This encryption, coupled with Master/Session and DUKPT key management, provide maximum protection from fraud and misuse of the terminal. The VX 520 terminal is also certified with PCI PED 2.0 approval.
The VX 520 is built for a long life of credit card processing. The Verifone reputation for quality is evident in the VX 520 terminal, using superior components to ensure continued operation and minimize the need for repairs over its life. The landed card reader contained in the unit boasts five times the life of the friction readers of its competitors. An optional SAM card reader adds three security access modules. The unit's reliable metal dome keypad is a standout in the point of sale industry, and is built to withstand over one million key presses.
The Verifone VX 520 has everything that a retailer could want in a merchant services device. The quality, reliability, and security of the VX 520 makes it an excellent choice for point of sale credit care Processing.