Accept EBT At My Business
Around the United States, millions of people use electronic benefits transfer (EBT) to participate in the economy. This system allows for instantaneous transfer of government funds to pay for groceries, utilities and many other vital necessities. EBT is one of the most effective and widespread systems for providing relief to ordinary Americans with financial difficulties. Implemented in all states since 2004, this system ensures that people receive their benefits in a fast, secure manner. During economic downturns and protracted recoveries, benefits programs help families maintain basic standards of dignified living.
Over the decades, American public commitment to benefit programs has remained strong. Though disagreements surface about how to best administrate these programs, most Americans are glad to help at-risk groups. Looking at the broader historical picture, it is clear that recipients of government benefits will continue to play an important economic role for many years to come.
EBT is the modern extension of the Food Stamp Program, but has grown beyond what the old program once was. For most of its history, the Food Stamp Program used paper denominated stamps or coupons worth US$1 (brown), $5 (blue), and $10 (green). In the late 1990s, the food-stamp program was revamped, and stamps were phased out in favor of the specialized debit-card system known as Electronic Benefit Transfer (EBT). Many states merged the use of the EBT card for public-assistance welfare programs as well. The 2008 farm bill renamed the Food Stamp Program as the Supplemental Nutrition Assistance Program (as of October 2008), and replaced all references to "stamp" or "coupon" in federal law to "card" or "EBT."
Companies that accept EBT payment broaden their customer bases while demonstrating concern for community needs. In any industry, maintaining a good public image is vital for continual development. By facilitating consumers with increased payment options, companies can materially improve their public standing.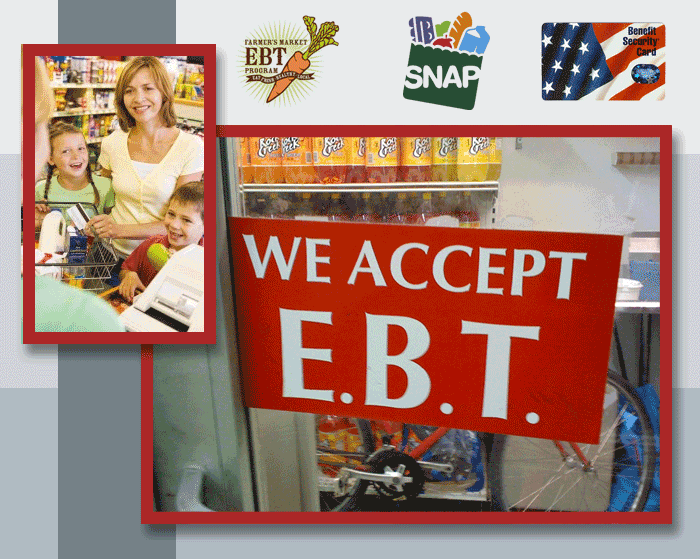 More than 40 million Americans now find EBT accepted in their communities and neighborhoods. Many associate electronic benefit cards with the SNAP food assistance program. While the grocery industry does deal with electronic benefits on a grand scale, many other industries are implementing EBT card acceptance. People can now use benefits to pay for clothing, laundry, transportation expenses and household goods.
Temporary Aid For Needy Families (TANF) is one federal program that has broadened choices for recipients of benefits. This program provides members with direct cash disbursements to help them get back on their feet. State-based general assistance programs also do much to alleviate need throughout the nation. Every year, program participants inject hundreds of millions of dollars into the economy. Companies that fail to adapt and accept EBT could cut themselves off from an important source of revenue.
At Host Merchant Services, we are the experts in helping your business accept EBT quickly and easily. We have experts standing by to help you incorporate EBT in your methods of payments accepted. If you are looking for ways to increase your profits while building goodwill with the public, accepting EBT can help you move forward. Here at HMS, we can expeditiously assess your situation and open your services up to new customers through EBT payments. This EBT acceptance application process is straightforward, transparent and focused on your complete satisfaction. Our trained staff members are ready and able to help you with any questions you may have about merchant services and accepting all forms of electronic payments to help you meet the needs of your customers. Host Merchant Services is a partner you can count on to help your business thrive.
EBT Acceptance can increase your profits and build good will among your customers. And it's easy to get started. Just contact us and we will walk you through the process and get you signed up. Click here to download a series of Frequently Asked Questions about EBT.