Your choice of payment provider will affect many aspects of your business. You can't simply evaluate providers based on the channels they service, you must also look at their pricing structure, the services they provide, and limitations.
For businesses focusing on online payments, Stripe has become a popular choice for payment processors. While their focus is on online payment, they do offer in-person alternatives. In order to determine whether Stripe fees are the right fit for you, you need to understand what they offer and how they charge for their services.
This article will provide you with a general overview of Stripe transaction fees and rates, the services they offer, and the benefits and downsides of choosing them as your payment processor.
Stripe Transaction Fees – Quick Overview
Transaction fees with Stripe are well defined, so there should be no unpleasant surprises. Monthly costs with Stripe are transparent.
The Stripe fees you are charged will depend on the method used to process payments, such as in-person or online. Your business will need to consider what optional payment and security features it wishes to use.
Stripe's integrated pricing structure for each payment method can be summarized as follows: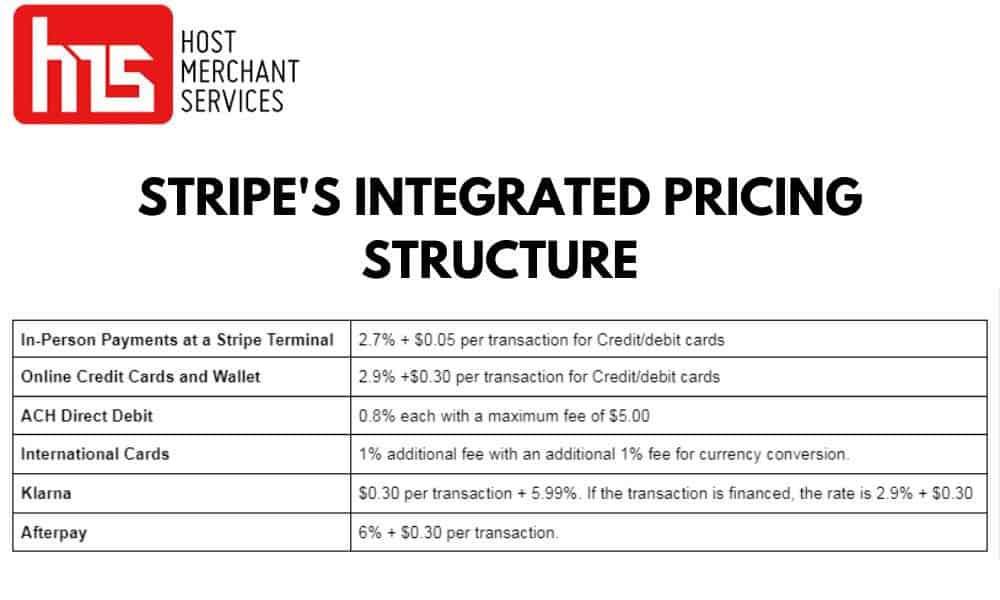 Stripe Processing Fees Explained
Stripe offers a simple flat-rate pricing scheme with no monthly or recurring fees, and it operates on a pay-as-you-go basis. The cost of an online transaction is 2.9% plus $0.30, whereas a card-present transaction is 2.7% plus $0.05 per transaction. Furthermore, there are alternative payment methods and specific Stripe services that add to the complexity.
Stripe mainly makes their money through transaction fees. They offer a range of payment options, and the pricing varies based on the payment used. There's a streamlined payment solution designed to simplify the payment process for businesses, and it can be a godsend for small businesses without the infrastructure to process payments.
With Stripe, businesses can accept more payment options, which enables them to reach more customers. There are several pricing options depending on the transaction:
For businesses accepting credit cards, Stripe fees are 2.9% plus $0.30 per completed charge (2.7% plus $0.05 if the transaction is in person). Visa, MasterCard, American Express, and other major credit cards are accepted by the system.
Stripe charges 0.8% per transaction for ACH direct deposits, with a maximum charge of $5. Stripe takes 0.8% for deposits per transaction. Therefore, any charge over $625 won't cost you any additional fees over $5.
Stripe's ACH credit charges you $1 per transaction, but you'll be hit with a $7 fee if Stripe can automatically reconcile an invoice payment.
International transactions cost an additional 1%, but you must pay another 1% to convert the currency.
The cost of failed deposits adds up quickly. A $4 charge is accrued for each direct deposit payment that fails as well as a $15 fee disputed direct debit payments. However, Stripe verifies customer bank accounts free of charge.
How Are Stripe Fees Calculated?
Payment processing costs at Stripe are based on the entire transaction value, including taxes and other relevant fees. The net transaction amount minus Stripe's processing fees is transferred to your merchant account after a transaction has been approved and processed by Stripe. When you use Stripe's flat-rate pricing, you will not see interchange or markup charges on your monthly statement. However, you only receive this information if you have a plan that includes interchange-plus.
A predetermined payment schedule is used to transfer funds from your merchant account to your business bank account. Payouts are made on a daily basis by default. However, your first payout will take between seven to fourteen days after you register with Stripe. The Stripe Dashboard offers several payout options. Funds usually reach your merchant account within two business days of a transaction. Additionally, instant payouts can also be arranged for an extra fee, but there are country-specific restrictions and fees.
Stripe Personalized Plans
Organizations with a high volume of payments or unique business models can customize Stripe fees, on top of Stripe's flat-rate plan. However, they do not specify the exact qualifications you must meet in order to qualify for either category.
With a customized price plan, you can typically obtain interchange-plus pricing that is substantially lower than Stripe fees with standard flat rates. Even if you do not use your account, you will be charged a monthly selection of standard recurring costs. In a customized plan, you will incur separate expenses for several items that are included at no additional cost in the integrated plan. Stripe does a good job of presenting these distinctions on its website, but you should carefully examine your proposed contract to avoid unpleasant surprises in the future. Since there is no minimum processing volume needed to qualify, this can be negotiated depending on other factors. To find out if a customized plan is available for your business, contact Stripe's sales team.
Stripe offers nonprofit organizations a reduced processing fee. However, in order to qualify, at least 80% of your payment volume must be tax-deductible contributions. Furthermore tuition, ticket sales, auction money, membership fees, and registration costs are not eligible.
For business models that support micropayments and alternative rate plans, you should contact sales for a quote and to learn whether the product is available on the market. As a workaround, Stripe recommends grouping many transactions from the same client into one, bigger fee if microtransaction rates do not exist in your market.
Additional Stripe Services and Their Fees
Stripe offers additional products that may be appropriate for your business. Each option will be examined along with its prices and associated Stripe fees:
Stripe Billing and Invoicing Fees
Stripe Billing and Invoicing are designed to help businesses increase recurring revenue. There are a number of basic and sophisticated plans available with Stripe Billing and Stripe Invoicing:
Stripe Billing
Stripe billing offers two plan options, starter and scale:
Starter
Recurrent expenses are charged an additional Stripe fee of 0.5%.
The ability to bill and collect automatically, including automatic email reminders and smart retries
Subscription portal for users
Scale
Recurrent billing charges are assessed an extra 0.8%.
The ability to bill and collect automatically, including automatic email reminders and smart retries
Subscription portal for users
NetSuite and Stripe integration, however this has an implementation fee.
Provide estimates to clients prior to the start of a subscription.
Stripe Invoicing
Like with Stripe Billing, Stripe invoicing offers two plan options, Starter and Plus:
Starter
Hosted invoice page with 25 complimentary invoices each month. After that, each invoice has a 0.4% fee.
Stripe Dashboard provides analytics and insight
Plus
The Stripe fees for each paid invoice is 0.5%
Web-based invoices
Stripe Dashboard provides analytics and insight
The ability to bill and collect automatically, including automatic email reminders and smart retries
Automated invoice reconciliation for ACH and wire transfers
Provide estimates to clients prior to the start of a subscription
Stripe Tax
Stripe Tax calculates, collects, and generates comprehensive tax filing information for your customers based on their location as an optional feature. Stripe Tax costs 0.5% for every transaction (0.4% for processing volume over $100,000 per month if you are registered to collect taxes).
Stripe Instant Payouts
By transferring funds directly to an approved debit card, this system eliminates the usual waiting period of 1-2 business days. The Stripe fees for this service equal 1%. There may be a daily transfer limit based on your industry and Stripe history. Currently, instant payments are available in the United States, the United Kingdom, Canada, and Singapore.
Stripe Auxiliary Services
Stripe is essentially a payment processing platform, but it also offers a variety of auxiliary services that can protect your account from chargebacks and fraudulent transactions. Here is a brief description of these services:
Stripe Atlas: Stripe Atlas can help you set up a C-Corporation in Delaware, whether you are based abroad or in the US. Stripe Atlas costs $500 to install and $100 per year to maintain. Delaware's corporate tax preparation packages start at $250, while filing a corporate tax return starts at $225.
Stripe Radar: With Stripe Radar, you can scan your transactions for potential fraud using powerful machine learning. The service is free to those with integrated plans, while those with customized pricing will be charged $0.05 per screening transaction. You have more control over how transactions are screened for $0.02 per transaction under the integrated plan and $0.07 per transaction under the customized plan with Radar for Fraud Teams.
Stripe Treasury: Stripe Treasury allows you to integrate financial services into your marketplace or platform. Your customers can store funds, pay bills, earn interest, and manage their cash flow with Stripe Treasury. Pricing information is not available at this time. This solution is intended for large enterprises.
Stripe Identity: Through verifying their identification documents and looking up their identification numbers, Stripe Identity helps you authenticate your customers' identities. The Stripe fees per verification and ID lookup will be $1.50 regardless of the price plan you choose. At the moment, the ID number lookup feature can only be used in the United States and only with social security numbers.
Fees and Pricing for Stripe Connect
Markets and platforms that accept payments from third parties can use Stripe Connect. Stripe Connect offers two main options for your business, Standard or Express, with a third custom option.
The following list summarizes the primary features and associated costs of these options:
Standard
No Stripe fees for account creation or maintenance
No additional fees for transactions
Can't set your own transaction rates
Allows you to collect additional fees on transactions
No Stripe fees for 1099-K reporting
No Stripe fees for sending payouts to the user's card or bank account
1% Stripe fees for instant payout transfers to the user's card or bank account
Express
$2 monthly per active user account
0.25% + $0.25 per transaction
Allows you to set your own transaction rates
Allows you to collect additional fees on transactions
1099-K reporting has a $2.99 fee per report whether it's filed online or mailed
$0.25 pay out fee for transfers to the user's bank or card.
1% of payout fee for instant payout transfers to the user's card or bank account
The custom option follows the same general costs as the Express one, while allowing you to change other elements.
Pros and Cons About Stripe's Pricing Structure
In order to determine whether Stripe and Stripe fees are the right solution for your business, you need to evaluate the different advantages and disadvantages that come with it. Here are the pros and cons of using Stripe:
Advantages
Stripe charges a single rate for in-person transactions and an additional fixed fee for online sales. You will always know in advance how much a particular transaction will cost.
Stripe does not charge you a confusing array of recurring and incidental fees, as opposed to some other merchant account providers.
Stripe does not enforce a minimum monthly usage requirement, so you will not be penalized if you do not use your account enough in a given month.
All Stripe accounts have a month-to-month agreement, which means you are free to cancel your account at any time – and for any reason.
Stripe's integrated service includes a wide range of free features and services, including PCI compliance, technical support, and access to the Stripe Dashboard.
Disadvantages
Flat-rate pricing plans intentionally charge high markups on top of interchange fees to cover the costs of offering all these freebies. In short, this is a reasonable trade-off for a small business, but at higher volumes, it will be more expensive than a typical interchange-plus plan with separate account fees.
Stripe offers no full-service merchant account with a unique merchant ID number for your business, like all other payment service providers (PSPs). You are more likely to have your account frozen or held if you make large or unexpected transactions.
Small businesses can use Stripe without incurring additional monthly Stripe fees for optional services; however, this will become increasingly challenging as the business grows. Despite being superior to many of its competitors in this field, Stripe fees are assessed for many features that would be standard for other providers such as invoicing, recurring billing, and fraud prevention.
Is Stripe the Right Choice for You?
Due to its flat-rate processing fees, Stripe is a cost-effective option for startups and small businesses. Stripe's supplementary services and Stripe-compatible terminals are optional. If you do not sign up for these services, you will simply pay for transaction processing.
Stripe's flat-rate pricing model is straightforward and predictable and is a great deal for low-volume businesses. Even so, at higher monthly processing volumes, flat-rate pricing may be more expensive than interchange-plus or membership pricing.
Stripe's fees for payments will save you money if you compare them to your existing processor or another you're considering. Stripe does not charge monthly fees or require you to sign a contract, and secure payment processing is included.
The real value in Stripe's fees lies in its robust developer tools, which let you tailor every aspect of the payment process and provide you with immediate feedback on it.
Businesses seeking a ready-to-scale, fully-branded solution will receive a full suite of tools and features. For eCommerce businesses, Stripe might be too much if they only need a secure, dependable payment processor. Unless you have technical expertise and engineers staffed, you may never fully realize Stripe's potential.
Stripe offers low costs for small businesses seeking a turnkey payment processing system that accepts all major credit cards. It would be difficult for them to accept payments without such a mechanism, and their customer base would be severely restricted. Payment security protects both suppliers and customers.
Conclusion
The structure of Stripe fees is a compelling choice for small scale businesses looking for a payment processing solution that doesn't have a lot of additional charges or fees. The fact that a contract isn't required to work with them is also a great plus as it allows you a trial period of sorts without the pressure of complete commitment. When looking to determine whether this solution is right for your business or not, consider how many of their additional services you may require. Due to their pricing structure, Stripe fees can quickly lose their cost appeal if you don't need more than just basic payment processing.