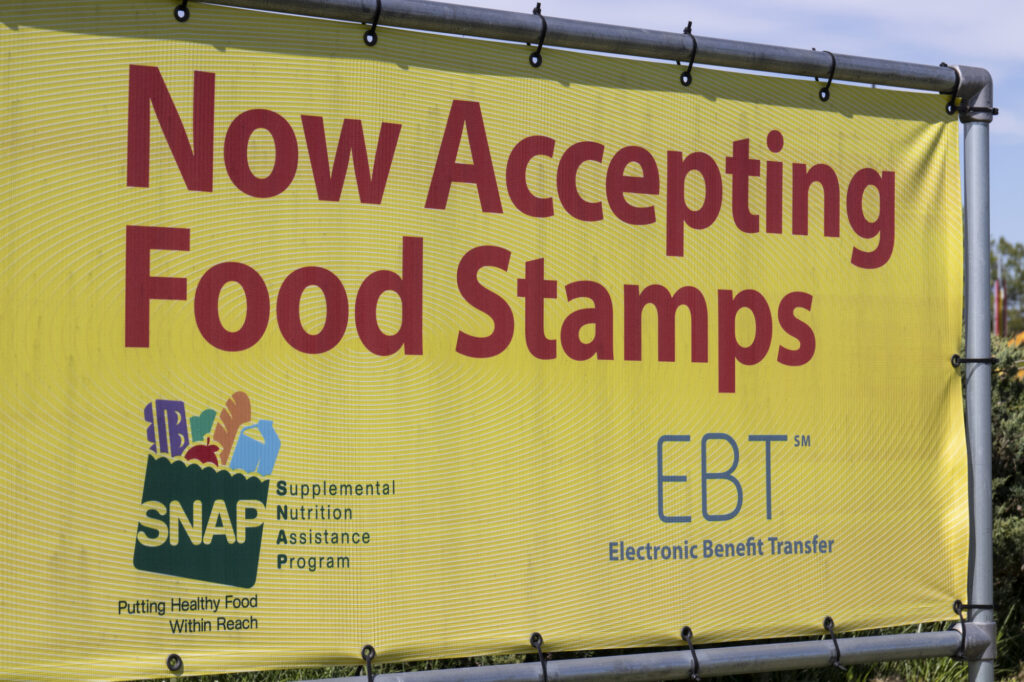 Who is eligible for SNAP?
For a family to qualify for SNAP benefits, their income must be below 130% of the federal poverty level. For a family of three, the poverty line is $1,810 a month in 2021. 130% of this amount is $2,343 per month or $28,000 a year. The poverty level increases as family size increases. A family's net income (income after taxes) is what must be below the poverty line. In addition, families must have less than $2,250 in assets unless they have an elderly or disabled family member, in which they can have $3,500 in assets and still qualify.
How much is the average SNAP benefit?
The maximum monthly benefit for 2021 is as follows:
$204 for a single household
$374 for a household of 2 people
$535 for a household of 3 people
$680 for a household of 4 people
$807 for a household of 5 people
How many people use SNAP?
In Fiscal Year 2019, SNAP helped a total of 38,000 Americans or 12 percent of the United States population.
How many people who are eligible, use SNAP?
84 percent of eligible families received SNAP benefits as of 2018, which is the most recent data the USDA released thus far.
What can eligible participants use SNAP to buy?
Eligible SNAP participants can use SNAP benefits to buy all food products. This doesn't include alcohol, beer, or wine. It also doesn't include cigarettes or tobacco or any non-food items including vitamins.
Where can participants use SNAP?
Most SNAP eligible stores are those who sell adequate food categories. Retailers must sell seven varieties of food in meat (including poultry and fish), bread, produce (fruits and vegetables, and dairy. The store must stock these items on a regular basis and sell perishable food in 3 of the four categories.
How long do participants have SNAP benefits?
Most SNAP benefits last for 6 months before renewal, unless you live in a household with no children, then the benefits last for 3 months and then renewal is required. On average, though, participants can be on SNAP for 1 month to as long as 3 years.
How does the Thrifty Food Plan affect benefits?
The Thrifty Food Plan is how the USDA determines the necessary benefits for families to obtain the right number of nutrients. They base benefits on the monthly cost of a varied and healthy diet according to the USDA guidelines. The USDA adjusts the cost of the 'baskets' every month to account for the changing food prices.
Are there issues with SNAP fraud?
Fortunately, the occurrence of fraud within the SNAP system is low. But there are always the cases of applicants using fraudulent information to get more benefits than they'd be allowed to get or participants exchanging benefits for cash.
Since SNAP introduced the EBT card, the fraud occurrence levels lowered significantly. Since there is an electronic trail of all data, it's easier to catch fraudulent occurrences.
Are SNAP benefits and food stamps the same thing?
Yes, SNAP benefits took over food stamps. Rather than paper payment or certificates, recipients now receive an EBT card that they can use at their local grocery store.
What income is used to determine SNAP benefits?
SNAP counts all earned income before taxes. It also considers unearned income, such as Social Security, unemployment, and child support. From the total income SNAP allows certain deductions including a standard deduction for basic costs, a 20% earnings deduction, a dependent care deduction if you have children, a medical expense deduction if anyone has monthly medical costs over $35, and a child support deduction if you pay child support.
How do retailers accept SNAP benefits?
All retailers must get approval from the USDA who will provide a permit. If you accept EBT SNAP benefits, you may stand out from competitors who don't. Retailers must follow the posted USDA guidelines and only accept SNAP for eligible food items.
Can you use SNAP EBT online?
As of April 28, 2020, some retailers accept SNAP EBT benefits online. The stores include Amazon, Walmart, and some Albertsons, Safeway stores, and Vons for buy online pickup in store options.
Can undocumented immigrants use SNAP?
No, undocumented immigrants are unable to use SNAP benefits.