Experts in Quickbooks merchant services and Intuit merchant services integration.
Using intuit quickbooks with Host Merchant Services payment processing is fast and easy!
Business owners who want to use QuickBooks merchant services don't have too many choices of payment gateways. Of the ones that are available, Transax is superior for a number of reasons, including its flexibility and ease of processing. Host Merchant Services has partnered with Nelix to provide their industry leading solution for Quickbooks/ Intuit Merchant Services to our customers. By using Transax, business owners can avoid using Intuit Merchant Services, resulting in lower operating costs and more payment possibilities. All of these features can be accessed in QuickBooks for free by business owners with a Transax Payment Gateway account.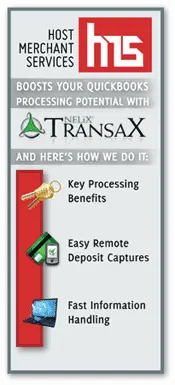 Key Processing Benefits
Businesses that opt for the convenience of QuickBooks merchant services through Transax enjoy a wide variety of perks. Because Transax is managed by leading payment processing experts, its module simplifies the process of using QuickBooks for this purpose. For example, account holders can make their own rules dictating how payments are applied on receipts and invoices. Information taken from shopping carts or other systems can be moved directly into QuickBooks. Messages that inform clients of failed transactions and providing alternative payment links can also be dispatched using this gateway. In addition, customers can easily update their payment information upon re-entry of the right data. Finally, the customization made possible by Transax can make many other preferences a reality for your business.
If you need to handle a larger number of payments at one time, you will appreciate the batch processing offered by QuickBooks merchant services through Transax. Customers can be selected easily before clicking a single button, prompting the system to execute the desired actions and automatically log the transactions. It is also possible to schedule automated tasks for convenience.
Easy Remote Deposit Captures
Transax has simplified the process of using QuickBooks merchant services for converting checks and capturing remote deposits. After loading a check reader and scanning, the transaction is turned into an electronic transaction. The electronic deposit is automatically performed, and QuickBooks is updated with the payment information. By practically automating the process of handling check payments, QuickBooks merchant services through Transax can boost your efficiency dramatically.
Fast Information Handling
The Data Management Utility included with the Transax QuickBooks module makes information handling a breeze. Based in Microsoft Access, this utility is extremely handy for business owners familiar with the program. Data can be transferred in, manipulated and automatically updated to QuickBooks. Customer records can be created and updated this way, invoices can be made and used for customer generation and payment records can be generated.
Transactions made by ACH or credit card can easily be synced to QuickBooks using Transax SynX. This feature makes it possible to take credit card payments from any source, including databases, smartphones or websites. After a single button click, QuickBooks is updated with the payment data. SynX handles everything from receipts for payments and refunds to deposit records and more, and account holders can switch between manual and automatic modes as necessary.
Payment processing can be streamlined in almost every aspect using QuickBooks merchant services through Transax. Not only is this gateway more cost-effective than alternatives, such as Intuit Payment Services, but it also offers unique benefits that boost efficiency. Finally, the level of services that accompanies this gateway ensures a smooth experience for modern business owners everywhere.