Discover On Us
Discover is updating
the Discover "On Us"
plan yet again, in an attempt to entice more merchants to accept Discover cards. Originally,
the Add Discover on Discover promotion
from 2011, the plan was based on the incentive that merchants begin accepting Discover cards for the first time and as a reward for this bold new move, those merchants would receive no transaction fees from Discover for an entire year.
Renaming the initiative to the Discover On Us plan, it once again was launched over the holidays a year later in 2012. The offer from Discover, through Host Merchant Services was bold and exciting. It essentially gave qualifying merchants a year of being able to process Discover payments 
at no cost
. 
Discover "On Us"
gave the merchants no fees when their customers swipe a Discover card. And they had this benefit for an entire year. The program lasted until December 31, 2012.
Then in July, 2013, Discover brought it all back. For many businesses the summer months are their "busy season" and as such this program is designed to add up to great savings all summer long. The
"On Us" program
offered from Discover is brought to merchants through
Host Merchant Services
. When a customer uses a Discover card at checkout, merchants will not be charged any fees or interchange rates, so all the revenue stays in the businesses pocket.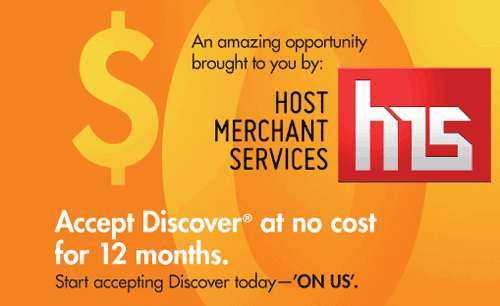 This time Discover is extending it through to June 30, 2014.
Download this PDF
for all the information on the program. Here's how you can take advantage of this amazing opportunity and start saving on transaction fees for an entire year:
The Details of the Plan
First, to qualify for the program, merchants must not have accepted Discover cards in the last six months or be entirely new to accepting the following cards: Discover, Diners Club International, BCcard, China Union Pay, JCB, and DinaCard. To enroll in the program there are just four simple steps merchants must do:
Apply before the deadline of June 30, 2013 (the sooner you apply the more you'll save)
Confirm your enrollment with a special test transaction
Update signage in your brick and mortal retail store and/or update your website for ecommerce merchants
Provide training on how to communicate the benefits of using Discover to pay for transactions
Voila. Once Discover has verified that your business qualifies you will receive written notice and within 10 business days a welcome packet with free signage and tips on how to increase sales by accepting Discover.
Test Transaction Instructions
You can use the following instructions to see if your terminal is currently set up to accept Discover cards.
Test your terminal using these simple steps:
Prompt your terminal or point-of-sale device for a manual sales transaction.
For BCcard, JCB, China UnionPay, DinaCard, and Rupay enter the following test card information:
Test card account: 6555 9000 0015 9720*
Expiration date: 09/14
Transaction amount: $1.00
CID: 458
Zip code (if necessary): 43054
For Discover and Diners Club International cards, enter the following test card information:
Test card account: 6011 2023 0029 5223**
Expiration date: 07/14
Transaction amount: $1.00
CID: 045
Zip code (if necessary): 43054
A "decline" status means the test was successful and your terminal is ready.
Benefits of the Program
While on the "On Us" program, every time you accept a Discover brand card, you will not have to pay the normal
interchange rates
and fees thus keeping more of the money from the sale in your pocket. Your customers also get the freedom of being able to choose their favorite card and possibly earning cash rewards or points. Host Merchant Services can even provide you with Discover signage to increase awareness that your business now
accept Discover cards
as payment.
Next Steps
This incredible offer only lasts until June 30, 2014. Pick up the phone right now and give us a call at 877-517-4678 to talk to one of our knowledgeable payment experts or fill out our quick sign up form and someone will be in touch with you shortly. The Discover "On Us" program, a quick easy way for your business to save more on credit card processing.