Host Merchant Services offers HMSPay – the most effective way to start accepting payments on your Android phone or tablet devices. When creating HMSPay for Android mobile devices, Host Merchant Services kept three critical things in mind – simplicity, security, and affordability. When you connect the mobile swiper device to your Android phone or table, you will experience a process designed to ensure you are easily processing transactions within minutes. Connect the device to your phone or tablet, download the app, and enter your merchant account details. It's that simple to start processing payments from just about anywhere!
Accept payments with confidence, knowing that you can take all the advantages of a terminal or POS on the go with HMSPay and your Android phone or tablet.
HMSPay is the most secure solution for accepting mobile payments. Take payments with the peace-of-mind and security you would get with a counter-top dial terminal but with the technology, speed, and sophistication of an Internet device. All transaction data is stored securely in the cloud, so you can setup recurring payments, issue refunds, and manage your business, all without the risks involved with handling credit card data. All transactions are fully encrypted for security and full PCI-DSS compliance (the security standards mandated by Visa and MasterCard). So process transactions on your Android device with confidence, knowing that Host Merchant Services has taken care of providing the most secure environment possible.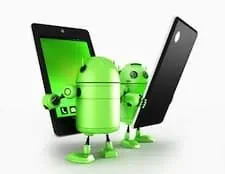 A great mobile solution can still come with great rates! Unlike most processors, you won't have costly fees, high "flat" rates, or other added overhead normally associated with mobile payments. In fact, with Host Merchant Services you can get the same great rates by swiping cards on your Android mobile payment solution that you can get in a retail store with a dial terminal or a restaurant with a fancy point-of-sale. We price everyone on the same, transparent "cost plus" model – also known as Interchange Plus Pricing. So every month you will know exactly how much you pay to us, and how much goes to the credit card associations. With our Best Price Guarantee, no hidden fees, and month-to-month service, you'll be completely at ease accepting payments on your Android phone or tablet whenever the need arises.