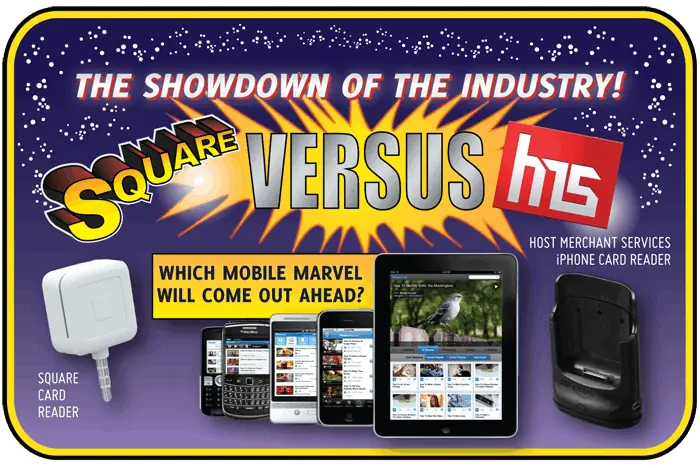 How does HMS Compare to Square?
Mobile Payment Processor Square has been pushing its brand heavily this past year. The startup lets merchants process credit and debit card transactions through their mobile devices, including iPhones, Android smart phones, and even the iPad. The company picked up a lot of attention in August 2012, when it announced a partnership with Starbucks to provide mobile payment ability to 7,000 locations nationwide.
Host Merchant Services has been reporting on the Mobile Payments market for the entire time Square has been making its splash in the industry. HMS has also been marketing its own mobile payment processing solutions — giving its customers the option of accepting credit and debit card payments through iPhone, iPad and Android as well.
So how does the suite of Host Merchant Services Mobile Payment solutions stack up against Square? Today we find out through an in-depth analysis of each platform and what they can do for merchants.

The first major difference between the two mobile payment processing providers is the most basic: The Merchant Account.
Square does not actually provide a merchant account to its customers. Square provides its customers with processing services, but not a traditional merchant account. Instead, Square acts more like a payment aggregator.
Typically, Merchant Aggregators or Payment Aggregators are service providers through which e-commerce merchants can process their payment transactions. Aggregators allow merchants to accept credit card and bank transfers without having to setup a merchant account with a bank or card association. The Aggregator provides the means for facilitating payment from the consumer via credit cards, stored value accounts or bank transfer to the merchant. The merchant is then paid by the Aggregator.
This is a pretty basic description for how PayPal began — and is also a really solid description for how Square works with its customer base.
Aggregation enables businesses that may be too small or risky to obtain a traditional merchant account to accept credit and debit card transactions anyway. The practice gets controversial among the more traditional sectors of the payment processing industry because it makes it harder for networks to monitor just who generates transactions and, most importantly, the attendant risk.
Some of the drawbacks of Square's aggregation, such as caps on transaction size and delayed fund dispersal, will be reviewed below. Host Merchant Services' traditional merchant accounts do not place caps on transactions or delay funds for any merchant.
Host Merchant Services offers a traditional merchant account to its customers. This is a noteworthy difference in practice for the merchant. The account is in the merchant's name, giving the merchant more rights as well as more responsibilities. The traditional merchant account also holds Host Merchant Services to the merchant with added oversight on the transaction process. This is bolstered by Host Merchant Services' customer service goals, creating a relationship where Host Merchant Services goes all-out for each merchant. The approval process through Host Merchant Services is more extensive upfront, however, the security and service provided give merchants more peace of mind and more value for their effort.
In conclusion, Square and Host Merchant Services offer two very different types of merchant accounts.  Although both companies allow merchants to accept credit cards, Square does not offer a true merchant account. Host Merchant Services creates a traditional merchant account, and the customer has actual control over aspects of the account.  HMS directly links the merchant and their account, without any type of aggregation. This practice allows easier tracking of authorizations and transactions, a streamlined chargeback process, and less risk overall.

Square offers a very well publicized pricing plan. It began with the flat rate of 2.75% on swipe transactions. They recently upgraded to the "simple pricing" plan of $275 per month flat fee, with 0% charge for swiped transactions.
That's easy enough to remember, right? Their advertising is really quite amazing because of how simple that plan is to promote.
But take a look at the fine print.
The Simple Pricing, or One Price Per Month, plan that Square announced has a limit. If you exceed $400 for a single transaction, or $250,000 in annual transactions, Square flips you over to the One Price per Swipe plan. That is Square's original plan, the 2.75% per transaction plan.
And then there's different pricing for card-not-present transactions, or transactions that you have to manually key into your device. Square heavily promotes the rates on swipe transactions, but merchants have to deal with the wide variety of consumer needs, which will sometimes include card-not-present transactions. There will be times where even the tiniest of micromerchants needs to key in a transaction.
When that happens, Square's pricing structure transforms to resemble the most expensive in the industry. Transactions that you have to manually key into your device cost you 3.5% + 15 cents per transaction.
Host Merchant Services offers its HMS Guarantee, combined with the Interchange Plus pricing model. It's individualized pricing system, which in practice is designed to save merchants the most money possible.
Host Merchant Services starts with the basics of Interchange Plus pricing. Interchange Plus pricing is based on the "interchange" tables published by both Visa and MasterCard. Because the credit card giants publish these tables, the pricing is extremely transparent. Anyone can access the tables and see what the basics of the pricing starts with. On the whole, this transparency keeps the total cost of this pricing plan lower than the tiered pricing plans that are used by other traditional merchant account providers.
Added to the interchange rate is the discount rate, or markup. This flat markup fee is the "plus" in Interchange Plus pricing, and for Host Merchant Services the discount rate eliminates the need for hidden fees that tiered pricing plans utilize.
You'll note that there hasn't been any mention of specific numbers. Unlike Square, which plays up its flat fees and specific 2.75% or $275 per month, Host Merchant Services utilizes a far more organic approach. HMS takes each merchant on a case-by-case basis. The company looks at what the merchant is currently paying, or would pay as the industry baseline if they were brand new, and then cuts savings into that pricing structure.
This is the HMS Guarantee. The company guarantees to offer each interested merchant a pricing plan that saves them money on their processing fees. The flexibility lets Host Merchant Services find savings for companies where none may exist for other merchant services providers. This creates an equally powerful marketing message for Host Merchant Services when compared to Square. In fact, it allows HMS to approach Square users and still offer those users savings over Square for virtually any card type.
By not locking themselves into a flat rate plan, Host Merchant Services can relentlessly seek out the best pricing plans for each and every merchant, guaranteeing those merchants savings and finding the service and peace of mind that merchants need from their payment processor.
Also, it's been widely publicized that Square's rates aren't the most competitive rates in the industry. Square is tailor made for e-commerce transactions because it is a mobile device credit card reader. The average interchange rate in 2011 for e-commerce was around 2.06%, which falls well below Square's highly publicized 2.75% per transaction rate. This underscores how much flexibility Host Merchant Services has to compete against Square. Host Merchant Services also offers many of the same added perks Square offers — including a free swiper.
In fact, even the free swiper can be an easier process through Host Merchant Services. Square charges $10 for the swiper if you buy it in a store and then offers those who do purchase it that way a $10 redemption code which will be linked to your bank account. Host Merchant Services just provides its merchant with a free swiper — which is an extension of its HMS Guarantee that provides traditional brick and mortar merchants a free processing terminal. No fussing around with redemption codes.
Continue Reading – HMS Versus Square, Part 2