Takeout and delivery food orders increased during the pandemic, and they are still in high demand today, thanks to Grubhub for restaurants and other similar apps. Customers want restaurants to provide the same experience they have gotten used to in the past two years. The figures demonstrate this: In comparison to the pre-pandemic time, 68% of individuals say they are more likely to get takeout or have food delivered. Because of this, restaurants are collaborating with restaurants Grubhub and other meal delivery services.
What is Restaurant Grubhub?
With the help of the delivery service Grubhub, customers can order meals from their preferred restaurant and have them delivered immediately. The company's network includes more than 300,000 restaurants spread over more than 3,200 American towns. The business has also expanded internationally, establishing its footsteps in London recently.
In 2004, Michael Evans and Matt Maloney established the restaurant Grubhub, with its headquarters in Chicago. Grubhub for restaurants surpassed $6 billion in gross food sales from local eateries in 2019. About 22 million individuals use Grubhub, and the business processes about 500,000 orders daily.
Although the restaurant's Grubhub app is the most well-known among its offerings, the Grubhub for restaurants business model also applies to other meal delivery services. Grubhub also owns the following:
MenuPages
LevelUp
Allmenus
Seamless interface
How Does Grubhub Work?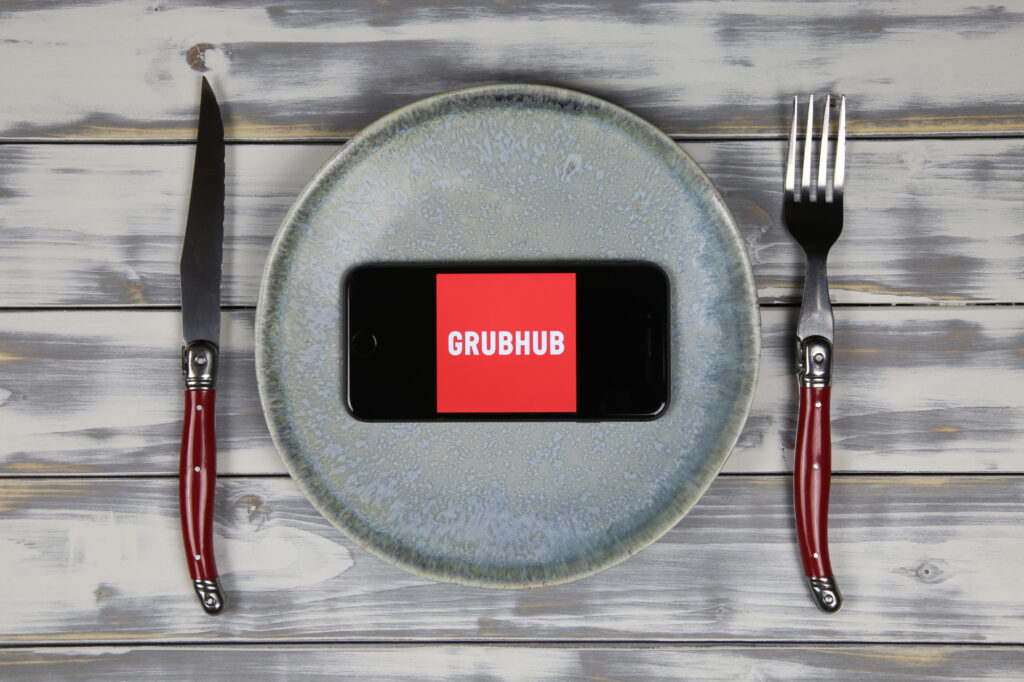 With Grub Hub merchant log-in for a meal delivery app, restaurant owners can instantly reach new customers eager to place takeout and delivery orders from nearby eateries. Over 33 million users access the Grubhub app to place their upcoming food orders. By adding a restaurant to Grubhub Marketplace, owners increase diners' awareness in the market.
· Grubhub for Customers
Customers are at the center of the Grubhub business strategy; they place orders and make payments using the Grubhub website or a mobile app (available for iOS or Android).
Customers can browse or search for restaurants in the region after using the website or app to create an account and submit payment information. They can then make an order by choosing goods and putting them in a basket after browsing or searching for restaurants in the area. They check out, choose a payment option, and monitor the order's progress until it is delivered. The delivery fee charged by restaurants on Grubhub is typically in addition to the restaurant's fee.
Ø Grubhub for Restaurants
Grubhub for restaurants is a platform perfect for restaurant owners as they can manage their orders. In turn, restaurants Grubhub increases the reach of restaurants by enabling them to provide delivery services even if they had previously only provided dine-in service. In addition, using Grubhub as a delivery service allows restaurants to refrain from employing and managing their fleet of delivery drivers. Unlike Grubhub for customers, they have a grub hub merchant login and registration section.
By submitting an application on the Grubhub for Restaurants page of the Grubhub website, restaurants can begin using the service. Once a restaurant is approved, Grubhub works with them to include their menu, price, and other information in the app and website.
When a consumer places an order, the Grubhub app for the restaurant displays it on a dashboard. The food is then ready for delivery after the restaurant confirms the order. The restaurant's part of the process is over when the driver comes and receives the food.
To make this workflow possible, Grubhub for restaurants gets a cut of the restaurant's sales in the form of a marketing and processing fee and a percentage of the order's price. Many restaurants have different rates for online delivery than dine-in since Grubhub orders cost the business more.
Ø Grubhub for Drivers
The Grubhub for restaurants app notifies the delivery driver closest to the restaurant after the eatery confirms the customer's order. The driver should be at the restaurant as soon as possible to pick up the food when they accept the delivery. The driver delivers the order to the customer as soon as it is finished at the restaurant. In the event of delays, the driver can speak with the client directly. When the delivery is complete, the customer can leave a gratuity, which the driver will collect.
Grubhub Cost for Restaurants
Participation in delivery apps is not inexpensive. Both are hiring a delivery driver, and handling deliveries internally are not, though. For restaurants, owners need to balance the advantages and disadvantages. Restaurants Grubhub fees for restaurants can include several different charges, including:
Phone order commission
Marketing commission
"Pay Me Now" fee
Delivery commission
Prepaid order commission
Order processing fee
The identical order placed using the Grubhub app will be subject to some of these fees. Overall, most restaurants may anticipate paying a commission on Grubhub for restaurant purchases of roughly 30%.
On the company's website, they give an illustration of how these expenses may work out for a restaurant that accepts orders via the app:
The restaurant has to pay a processing charge, delivery commission, and marketing commission to Grubhub for a $44.28 transaction. With these three charges totaling $13.95 each, the restaurant is left with $30.33.
Let's examine these fees in more detail and when they are applicable.
Ø Commission on Prepaid Orders
When a customer puts their order using Grubhub's app or website as opposed to the website or by phone, the "prepaid order" commission is applied. Unless the restaurant provides delivery, it is added to the cost of the food and beverages, and if so, it will be applied to the sum of the food, drink, and delivery charges restaurant bills to the clients.
Ø Commissions on Delivery
The delivery commission is the fee restaurants pay Grubhub to deliver food to clients. Although many restaurants like Grubhub's delivery service for its simplicity, it's not technically necessary. Restaurants can accept orders through Grubhub but prefer to deliver the food through their service. In other words, they can use Grubhub to expand their reach while managing the delivery in-house if they already have a delivery system and driver.
Also, Grubhub offers drivers upon request and adds the delivery commission fee to other applicable fees. Grubhub's delivery fee is 10% at the time of writing, and the commission is determined before taxes.
Restaurants cannot individually charge delivery fees to customers if they use Grubhub's delivery services. They may charge delivery costs if they use in-house delivery personnel.
Ø Commissions on Marketing
The marketing commission from restaurants on Grubhub is a tier-based percentage charge for advertising restaurants through Grubhub channels. The business claims that the restaurant's exposure on the Grubhub website directly correlates to the commission level restaurants select. Higher marketing commission rates are associated with increased exposure and client access.
Sadly, the company only releases a few details. The pricing example above shows that the marketing commission is 20%. There are several tiers, though, and whether 20% is a greater or a lower marketing commission option needs to be clarified. We've contacted Grubhub and will update this post with further information as it becomes available.
Ø Commissions on Phone Orders
Orders placed over the phone using the restaurant's routing number from the Grubhub website are subject to the phone order commission. This is distinct from the prepayment commission fee, which is charged for orders placed directly through restaurants Grubhub. (On the company's website or mobile application.)
We are still determining the exact pricing because Grubhub needs to disclose commission rates for phone orders (and it is not included in the sample receipt provided on the company's website either). We contacted Grubhub to get this information.
Ø "Pay Me Now" Fee
Grubhub charges a $1 fee for each transaction if restaurant owners ask for deposits to be released the same day. In any other case, restaurants will get their money soon.
Ø Order Processing Fee
The order processing fee is what Grubhub charges to complete an order, as the name suggests. It pays the fees related to taking credit cards as payment. The price is 3.05% plus 30 cents for every order.
That is a high credit card processing fee for most eateries. Restaurants offering in-house delivery and cheaper processing fees will need to determine if charging higher processing fees in addition to marketing and order commissions is cost-effective.
Things to Consider Before Registering with Grubhub for Restaurants
While working with restaurants, Grubhub has numerous advantages, but there are some disadvantages as well. Grubhub charges restaurants a premium fee to use the service, which may affect their profit margins. A non-sponsored listing would not significantly reduce sales, but it might convince clients that the service could be more worthwhile.
Additionally, restaurants are concerned that employing Grubhub for restaurants would reduce their sales. Although the service may attract new clients, many will only visit the physical stores. Sales of goods generally ordered on-site, such as drinks, may suffer as a result.
In Conclusion
Grubhub for restaurants and similar platforms provides restaurants with many capabilities such as data analytics and insights. Still, providing a general recommendation is tough because prices depend on location and sponsorship level.
Restaurant owners can receive many benefits from Grubhub by exploring its complete functions. They can undoubtedly make money utilizing the platform if they sign up at the lowest non-sponsored subscription level. The subscription will allow them to put an Order button on their website and then promote their cuisines and food items to take online orders.
Restaurant owners might be let down if they expect getting their restaurant on Grubhub to get out of a rut of the traditional system or adopt effective marketing and promotional channels. The best course of action is Grub hub merchant log in for the cheapest level of service, and advertising business, and then, after a few months, do a cost-benefit analysis.