If you're a business owner interested in claiming the Employee Retention Credit (ERC), you may have come across ERC Pros, a company that specializes in assisting businesses with this tax credit. While ERC Pros offers an analysis to determine eligibility and boasts a team of CPAs and lawyers, it's crucial to assess their services, fees, website, reviews, and other factors before deciding if they align with your business needs. In this ERC Pros review, we will cover all these aspects one by one .
Located in Orem, Utah, ERC Pros lacks transparency regarding its fees and resources when compared to its competitors. Therefore, it is important for you to conduct research before considering working with them.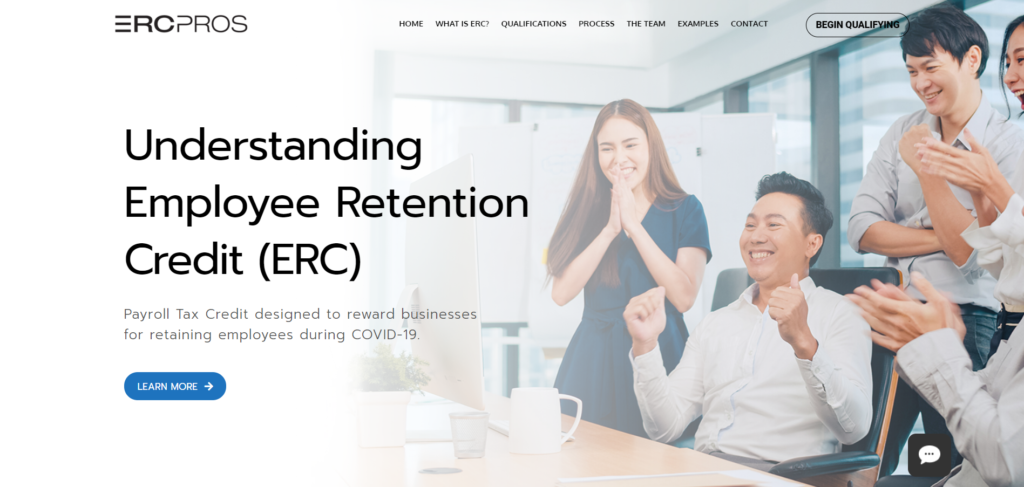 Image source
In this article, we will closely examine ERC Pros. Provide an evaluation of their services so that you can make an informed decision about whether they are the right partner for your business.
ERC Pros: A Quick Overview
ERC Pros specializes in assisting businesses of all sizes to claim the Employee Retention Tax Credit.
The team at ERC Pros comprises certified accountants (CPAs) and attorneys who prioritize tax compliance.
They provide an analysis to determine if a business qualifies for the ERC, along with a calculator for estimating the credit.
Overall customer support is satisfactory although some clients have expressed difficulty in reaching staff via phone.
When it comes to fees or their specific process, ERC Pros does not provide information.
Pros
– Team of CPAs and attorneys
– Emphasis on tax compliance
– Free analysis of potential eligibility
Cons
– Lack of transparency regarding pricing
– Limited information about the refund process
What is ERC Pros?
ERC Pros is a company based in Orem, Utah, that focuses on helping businesses claim the Employee Retention Credit (ERC). They provide an analysis to determine if your business is eligible for this credit. With their team of CPAs and attorneys, ERC Pros ensures compliance with tax law.

While there are companies that offer assistance with ERC claims, ERC Pros stands out due to its team and positive reputation. Their website, however, could benefit from information and resources like an FAQ section or knowledgebase. Nonetheless, they do provide an ERC calculator to help estimate refund amounts.
When considering whether to choose ERC Pros for your ERC claim needs, it's worth noting that they lack transparency compared to some competitors since they don't disclose their fees upfront.
In conclusion, exploring ERC Pros could be worthwhile if you prioritize working with a company dedicated to ERC claims and value their experienced team and reputation. However, if transparency regarding fees and accessible resources on a website is crucial, options may be better suited to your requirements.
ERC Pros Review Of Services
ERC Pros focus on assisting business owners with ERC claims. Our team of experts is well-versed in tax and legal matters, enabling us to help clients from industries calculate, file, and obtain their ERC refunds retroactively. We understand the complexities of tax codes. Ensure that our clients remain compliant while securing the funds they are rightfully owed.
ERC Pros Review Of Fees
The company does not provide information about their fees, making it difficult for potential clients to assess whether their services are affordable. Although ERC Pros may offer an analysis to determine eligibility for the Employee Retention Credit (ERC), the lack of transparency regarding cost can raise concerns for businesses seeking to claim the credit.
It is important to note that ERC Pros does not publicly disclose their fees, so contacting them directly is the way to obtain an estimate. This lack of transparency in fee disclosure may prompt some businesses to explore options when seeking assistance with filing their ERC claims.
However, it is worth considering that ERC Pros has a team of CPAs and attorneys specializing in tax compliance. They have received mostly positive reviews on Google, with a rating of 4.3 out of 5 stars. Despite the absence of fee information on their website, ERC Pros could still be a choice for businesses in need of assistance with retroactively claiming their ERC refunds.
While specializing in helping businesses claim the Employee Retention Credit (ERC), ERC Pros does not openly reveal their fees upfront, posing a challenge for potential clients to assess affordability or compare prices with competitors.
However, even though they don't provide information, ERC Pros has a team and a good reputation about their pricing. It might be worth considering them if you need assistance filing your business's ERC refund claim.
ERC Pros Review Of Features
ERC Pros stands out among the ERC filing companies that have emerged recently due to its features. These notable features include:
Experienced Team: At ERC Pros, you'll find a team of professionals comprising CPAs and attorneys who bring their expertise to the table.
Emphasis on Compliance: Navigating the lengthy tax code for claiming ERC can be challenging. Fortunately, ERC Pros knowledgeable team is well acquainted with tax laws, ensuring that their clients remain compliant while claiming their credits.
ERC Calculator: On their website, ERC Pros provides a to use calculator that gives you a rough estimation of the potential refund you might receive.
Free Analysis: To determine if you qualify for the ERC, ERC Pros offers a complimentary analysis without any obligation.
Experience the advantages offered by ERC Pros today and witness how they simplify the process of claiming your Employee Retention Credit.
Refund Process of ERC Pros
ERC Pros offers a five step process for claiming your ERC refund. Throughout the process, you'll have the support of ERC Pros in-house CPAs. It all begins with an analysis to determine if you qualify for the tax credit.
Once that's established, you'll receive an estimate of your ERC amount. The experts at ERC Pros will then assist you in providing the documentation to support your claim with the IRS. After performing all calculations, they will finalize the credit amount. Handle the preparation and filing of amended returns on your behalf. Rest assured that their team will continue to collaborate with the IRS until you receive your deserved tax credit.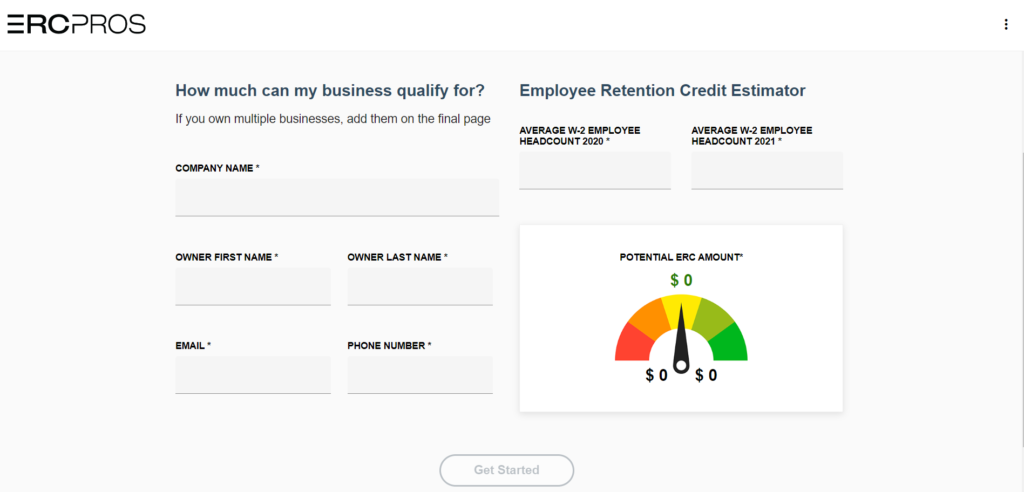 Getting started form for ERC Pros
Although ERC Pros doesn't publicly reveal information about specific timelines for calculating and filing returns as some competitors do, feedback from current and previous clients suggests that they are quite efficient when it comes to navigating the complex ERC refund process.
Based on timelines for services, it's reasonable to expect that from analysis to filing amended returns, this entire process may take a couple of weeks or more.
After you have submitted your forms, the IRS typically takes around 20 weeks to review and process your return before issuing a refund check.
ERC Pros Review Of Customer Service
ERC Pros provides avenues for customer support. These options include email assistance, a live chat feature on their website, and the option to contact them by phone. Overall, customers have praised the quality of their customer service, noting that the staff is friendly, knowledgeable, and readily available to address any inquiries.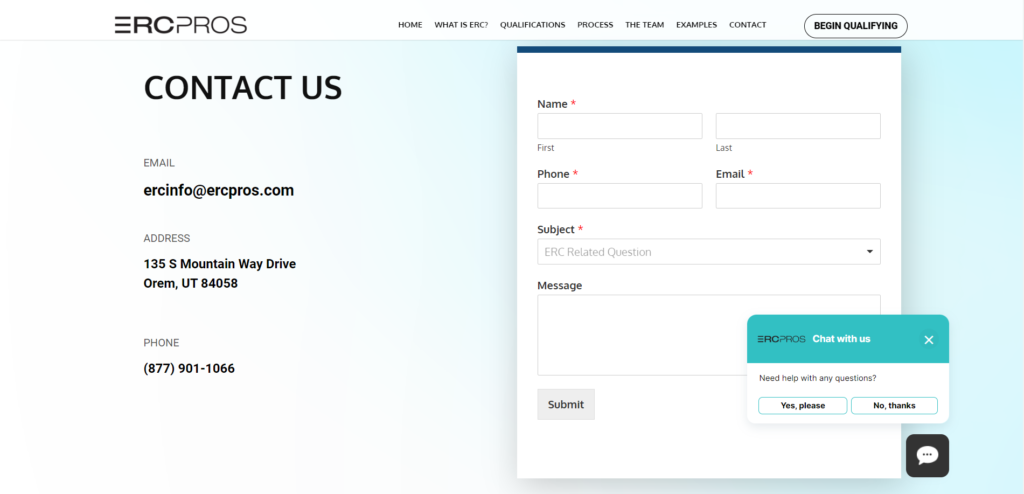 Customer support service ERC Pros
However, there have been concerns raised about their customer service. Specifically, some customers have found it challenging to reach a representative via phone. Additionally, the ERC Pros website lacks resources and information that would be beneficial to both potential clients. For instance, it does not have an FAQ section or a knowledge base for self-service support options.
ERC Pros BBB Rating
ERC Pros has achieved a rating from the Better Business Bureau, demonstrating a high level of reliability and customer happiness. This rating is based on factors including ERC Pros longevity in the industry, their responsiveness to customer concerns, and their adherence to BBB standards.
The A+ rating signifies that ERC Pros is a trustworthy company that prioritizes customer satisfaction. To maintain this rating, ERC Pros must meet standards established by the BBB. These standards encompass advertising and business practices, resolution of customer complaints, and sincere efforts to settle disputes.
Customers can rest assured that ERC Pros takes these standards seriously and will go above and beyond to ensure their contentment. Alongside their BBB rating, ERC Pros has also garnered feedback from satisfied customers. Many clients have commended the company's expertise in managing ERC claims while diligently complying with tax regulations.
Overall, if you are considering utilizing a service like ERC Pros for your business's employee retention credit claim requirements, their A+ BBB rating should instill confidence in their professionalism and unwavering commitment to customer satisfaction.
ERC Pros Reviews
I'm happy to inform you that many customers like yourself have shared their experiences with the ERC Pros team on Google. They have a rating of 4.3 out of 5 stars, with numerous reviewers praising the professionalism and expertise of the team. Customers appreciate how ERC Pros guided them through the process of claiming the Employee Retention Credit, resulting in refunds for their businesses.
One reviewer specifically commended ERC Pros for delivering service and support throughout the process. They mentioned that the team was readily available to answer questions and offer guidance, ensuring a stress-free experience overall.
Another customer highlighted how ERC Pros went above and beyond to ensure they received every penny they were entitled to under the ERC program. They valued the meticulousness and attention to detail displayed by the team when assessing their eligibility for tax credits.
In general, customers appear satisfied with ERC Pros services. However, a few reviews did mention difficulties in reaching out to them by phone or experiencing communication issues.
Despite these challenges, it's evident that ERC Pros is a good choice for businesses seeking efficient and accurate assistance in claiming their Employee Retention Credits.
ERC Pros Complaints
If you're considering using a service to assist you with claiming the Employee Retention Credit, it's important to be aware of some concerns raised by customers. Despite ERC Pros having a reputation, there are still areas where they have room for improvement based on customer feedback.
Here are three mentioned issues regarding ERC Pros:
Difficulty in contacting the company by phone: Some customers have experienced challenges getting in touch with ERC Pros over the phone. This can be frustrating for businesses seeking assistance with their ERC claim and desiring answers to their inquiries.
Communication shortcomings: Similar to the difficulty in reaching out, some customers have reported communication from ERC Pros overall. This may involve delays in response or insufficient follow-up on matters related to their claim.
Lack of transparency regarding fees: While it's not unique to ERC Pros, numerous customers have expressed frustration about not knowing the fees associated with working alongside them from the start. This lack of clarity can make it difficult for businesses to plan their budget accordingly and may result in surprises when payment is due for services provided.
Avoiding Spam
Don't waste your time and energy dealing with spam emails and calls while searching for a company to assist you with claiming your Employee Retention Credit (ERC). ERC Pros is a company that specializes in helping businesses with their ERC claims. However, it's important to be cautious of companies pretending to be ERC Pros or other reputable firms.
ERC Pros never initiate communication through emails or phone calls. If you ever receive a message from someone claiming to represent ERC Pros, it's likely a scam. Always take the steps to verify the sender's legitimacy before sharing any information.
Spam emails and calls aren't just annoying; they can also pose risks. They might contain malware or phishing attempts aimed at stealing your information.
To safeguard yourself, you should engage with trusted sources, like ERC Pros, for all your business requirements.
Why is someone from ERC Pros calling me?
If you're feeling confused about receiving a call from someone claiming to be from ERC Pros, there could be a couple of reasons why:
It's possible that you filled out a form or showed interest in the Employee Retention Credit (ERC) on their website. In that case, ERC Pros may be reaching out to offer their services and assistance with claiming the credit.
If this is the situation, it's crucial to verify the callers authenticity, as scammers sometimes pretend to be companies like ERC Pros. Always ask for their name, phone number, and email address. You can also cross-check if the phone number matches the one listed on the ERC Pros official website.
Another possibility is that your business has been identified as eligible for the ERC by the IRS or another third party. In such a scenario, ERC Pros might be contacting you to inform you about your eligibility and provide help in claiming the credit.
Again, it's essential to ensure that the caller is genuinely associated with ERC Pros. Additionally, before proceeding with their services, ensure your business meets all eligibility criteria.
Please be careful when receiving calls that offer tax related services. It's important to research and verify any company's legitimacy before sharing information over the phone. If you receive a call from someone claiming to be from ERC Pros, exercise caution. Make sure to check their credentials and your own eligibility for claiming an Employee Retention Credit before proceeding with any services they offer over the phone.
Final Words: Is ERC Pros Right for Your Business?
Overall, ERC Pros has a reputation. Can assist businesses in claiming the Employee Retention Credit. However, it's important to note that compared to their competitors, the company could improve its transparency by providing information about fees and resources.
If you're questioning the legitimacy of ERC Pros, rest assured that it is indeed a company. Based in Orem, Utah, they have a team of CPAs and attorneys specializing in tax compliance, specifically helping businesses with the Employee Retention Credit (ERC).
They offer an analysis to determine eligibility for the ERC. Can provide assistance with calculating, filing, and retroactively claiming refunds. However, it's worth mentioning that ERC Pros does not openly disclose their fees or make them readily available. This lack of transparency may concern clients who prefer to have this information upfront before committing to any services.
Despite some concerns about communication issues and difficulties reaching them by phone reported by some customers, it appears that ERC Pros is indeed a business with a team dedicated to assisting businesses with claiming Employee Retention Credit. In general, if you are considering using their services, it is advisable to conduct your investigation and directly communicate with them to address any queries or apprehensions before reaching a conclusion.
Frequently Asked Questions (FAQs)
Is ERC Pros a legitimate company?

Yes, ERC Pros is a company located in Orem, Utah.

What is the nature of the ERC Pros business?

ERC Pros is a company that assists businesses across the country in determining and securing the Employee Retention Tax Credit.

How much does ERC Pros charge for its services?

ERC Pros does not disclose their fees publicly. However, they offer an analysis to assess your eligibility for the ERC and provide an estimate of the potential amount you might qualify for.