What is the Actual Impact For Merchants?
While the law went into effect in October of 2011, there still is quite a lot of speculation on how these regulations will impact merchants, acquirers and credit card issuers.
The debate is currently keyed on the question of who is going to benefit from the forced savings that the cap on Interchange will bring. The law's intent is for the savings to be felt by the merchant directly. That's the overall goal of the entire act in terms of finance reform after all.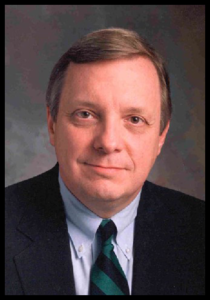 Senator Dick Durbin, D-Ill.
However, many sources speculate that the merchants will end up having to shoulder the burden of the extreme cuts in revenue that this cap brings. Those who predicted that merchants will end up worse off by the amendment suggest that the banks, not wanting to take a $9 to $10 billion dollar loss in revenues for the year, will simply add fees to other payment options or get rid of premiums and extras that they had been offering merchants prior to the cap being put in place.
Higher fees on checking accounts and the removal of debit card rewards programs were suggested as a response banks would have to the initial Interchange cap the Durbin Amendment started out with (a 12-cent cap instead of the revised 21-cent cap).
The amendment was strongly debated and lobbied against by banks and credit unions, which are against the amendment because all those debit card swipe fees profit the financial institution that issued the debit card­­ – namely banks and credit unions.
Card issuing banks typically take in about 1.3% of every dollar you spend on your debit card as a fee from the merchant. This amounts to billions of dollars a year of profit for those banks. And this amendment is designed to drastically cut that revenue.
Interchange fees are supposed to cover the risk of fraud, transactional costs, and other overhead for the banks. But due to a lack of negotiating power on the merchant side, the fee became a major source of profit margin at every bank that offers checking accounts, which is most every bank.
Subsequently, competition between banks has caused this profit center to be used in subsidizing free premium services, like free checking accounts and surcharge-free ATMs.
Cutting this fee and putting a cap on it is designed to create a large wealth transfer from debit card issuers to merchants, and will likely end many free premium services at banks.
On top of that, there is also speculation that the merchant won't see much of the savings in the first place. And this speculation is tied directly to the payment processing industry.
The basics of the industry are that merchants do not deal directly with large credit card issuers like Visa and MasterCard. Rather, they deal with acquirers, or middle men, who offer payment processing of credit cards and debit cards to merchants through their acquirer company's own goods and services.
The rampant speculation is that the acquirers will reap the large savings from the Durbin Amendment, since they are in line between the credit company and the merchant, and will shift high fees right back onto the merchant. This wiggle room in the middle, if it takes place as predicted, could see a large short term spike in profits for acquirers.
What is the Impact For HMS Merchants?
The HMS Guarantee was already in place before the Durbin Amendment was ever passed.
The HMS Guarantee is already saving merchants money by finding the lowest rates for you.
The HMS Guarantee is unsurpassed pricing, support and customer service. We design payment processing solutions that let you focus on running your company. We save you money by finding you the lowest rate. We give you free processing terminals and paper for your business. We promise no hidden fees, no application fee, the lowest PCI fee, and no monthly minimums. We offer a straightforward pricing plan and your rate with HMS will never increase. We do not lock you into a contract and do not charge early termination fees. The HMS Guarantee is designed around the core concept of you staying with us because you are happy with your service.
This means HMS merchants are already getting the benefits of savings on their transaction fees, are already not being penalized for seeking competitive transaction processing solutions and are already getting swipe fees that are reasonable and proportional to the actual cost.
Host Merchant Services is founded on the idea that we are going to find you the best rate possible for your processing needs. We were already in your corner before the Durbin Amendment was enacted and will continue to be in your corner finding you the best savings to help your business succeed.
In Conclusion
As with most government laws that seek to regulate and reform things, the Durbin Amendment seems complicated at first but ends up being extremely simple to break down.
At its core it lines up with the business philosophy of Host Merchant Services, in that it is seeking to make things more competitive and more lucrative for merchants.
HMS is already the middle-man that is looking to do for its merchants what the Durbin Amendment seeks to do. And HMS is already the acquirer that sheds light on hidden fees, and finds savings for its customers in that wiggle room that other payment processing companies are using to over-burden their merchants.
We are already saving you money on your transaction fees. We are already cutting away the added and hidden fees from your statements that other companies were able to tuck away into the gray areas of pre-Durbin processing. To find out how much your business can save with HMS, contact us now.
Sources: Practical Ecommerce, Wikipedia, usnews.com, forbes.com