First impressions are everything in life. That's as true for personal relationships as it is for businesses, which makes it twice as relevant for the hospitality industry. A proper welcome can make or break the stay of a guest, as it can work as a reference for the rest of their stay. This is very important for the hotel industry. So here are the 10 best ways to welcome guests to your hotel to stay ahead of the competitors.
As such, making your guests feel welcome right as they arrive is so crucial.
That's why in this article, we'll share the best ways to greet guests at your hotel and explain why it's so crucial that your guests feel welcomed.
Best ways to welcome guests to your hotel?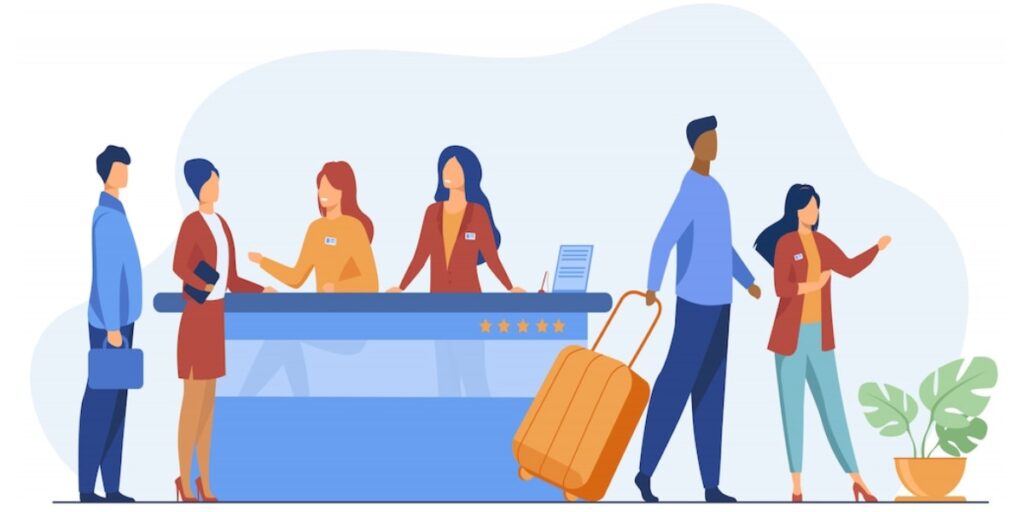 The first five seconds are crucial when making a great first impression. A relationship will be forged and shaped in this period of time. People feel appreciated and cared for when they are given a warm and sincere welcome, as well as knowing they made the right choice by choosing one business over another.
In order to make the best of that short timeframe, follow these 10 tips:
Dress to impress
In order to make a great first impression, make sure your staff is dressed appropriately. This is also the top tip out of all the best ways to welcome guests to your hotel. A way to accomplish this is by providing uniforms for employees so that customers know who to contact for help. The uniform also provides a sense of professionalism that cannot be portrayed when everyone wears a different outfit.
Your staff will feel more confident when they feel good about what they're wearing or how they look, and this will reflect in their performance. Having a sense of pride in themselves can also help them provide top-notch service and do their work more smoothly, as they want to represent the hotel's brand appropriately. You can use a clear, visible name tag or something else to identify staff if the style and brand of your property are very informal and a traditional uniform makes no sense.
Smile with your whole being
When you think about the best ways to welcome guests then the first thing you will notice in hotel industry is the smile. Your welcome greeting should reflect the saying "when I smile, the world smiles back at me." It's always nice to be greeted by someone who genuinely cares about your well-being. You want your guests to feel a welcoming vibe coming from you, not just from your expression but also from your body language.
And plus, smiles are also great icebreakers.
Get to know your guests
You can quickly connect with guests by asking them questions. People love talking about themselves, so giving them the chance to do so will make them feel at home immediately. Asking questions about their journey and plans while they're visiting can make the process more enjoyable since there's typically a lot of paperwork to be done. This will also provide you with opportunities for upselling. By asking guests questions, you are essentially conducting market research.
Find common ground with your guest
A sincere compliment goes a long way, so if you like someone's earrings or the sweatshirt they're wearing, tell them. The best way to start a conversation and establish a connection is to compliment someone. Additionally, it makes them feel good. Once you make that initial connection, it will be much easier to build rapport with them. This is one of the best ways to welcome guests that require consistent training by the management.
Find ways to help
Even if your offer is politely declined many times, offering to help someone can go a long way. Ask if they need assistance with their baggage or if they want a tour of the facility. You can leave a lasting impression by offering to help your guests, even if they decline the offer. They will know that their needs are considered, and that assistance is always readily available. Helping anyone is not only one of the best ways to welcome guests but this can help in each and every part of your business.
Always be polite, even if you are busy.
Due to the fast-paced nature of the hospitality industry, it's easy to get overwhelmed. However, you shouldn't let stress get the best of you, and most importantly, you can't let it reflect on your guests. Make sure to be cordial to the guests, even if you're busy, and let them know that you'll try to get to them as soon as possible. By doing so, they will feel reassured and are less likely to mind the wait.
Let the guests know about places of interest
Inform your guests about your hotel's restaurants, bars, pools, and other services and amenities when they check-in. This information can easily be conveyed without feeling like an upsell, but at the same time, it informs guests of the different services you offer. If you have any information about the guest's preferences, you can tailor the information you give them so it feels more personal, such as giving them the locations and times for activities you know they'll enjoy.
Be accurate with your information
In spite of your busy schedule, you should always let customers know how long it will take to attend to their needs. If guests know exactly how long they will have to wait, they won't feel frustrated and can even get a more realistic picture if they have time to obtain information from the concierge or use the bathroom while they wait. You need to communicate with your clients to reassure them and show them that you care about them.
If you really want to implement the best ways to welcome guests then never speak a lie. Misinformation can make the guest uncomfortable.
Make guests feel special
Make your guests feel special by taking the time to make them feel at home. Check the booking to see if they celebrate a birthday or special occasion. If so, acknowledge the event at check-in, and during their stay. This will make a big difference. Perhaps you could greet them with a bottle of champagne or flowers in their room?
Anticipate your guests' questions
When you welcome new arrivals, make sure to answer their most common questions and doubts. People will feel wonderful if they feel like you are on the same wavelength. Providing a virtual concierge is a great way to ensure your customers' needs are met every time they contact you.
If you know your guest has special interests or is celebrating a special occasion, you can let them know beforehand about which facilities or locations will fit their needs best. Anticipating their needs will go a long way toward making them feel valued.
The Importance of a Proper Welcome
You need time, commitment, and enthusiasm to nurture the type of positive relationships that help a business grow. However, social media makes it all too easy for customers to share bad experiences with hundreds or even thousands of people. This means that the importance of creating a memorable, friendly and welcoming experience for a potential customer has never been greater.
This is supported by a number of statistics:
Customers who experienced poor customer service switched to a competitor 89% of the time
60% of consumers say they often or always pay more for a better customer experience despite a negative economy
Welcome emails have an average open rate of 50%
People are much more likely to return to a place where they feel welcome.
The best way to begin is with a warm welcome, which is more than just a smile. Whenever someone speaks to you, you should give your full attention to them. Your ability to remember their personal details shows that you are genuinely interested in having them as a customer and getting to know them better will help you anticipate their needs. You can also demonstrate your keen interest in developing a mutually rewarding business relationship if you have spent some time researching the background of a potential customer.
Guests feel they have made a good choice when they are greeted with a sincere welcome that reaches out and pulls them into a hospitality environment. Even though guests choose to come to a hotel on their own, they will feel welcome and invited by a cordial and courteous greeting. A warm welcome affirms the guest made the right decision and encourages them to enjoy (and spend) every aspect of the property.
Within and beyond property borders, hoteliers can leverage the power of welcome across every aspect of the guest experience. Different guest profiles and arrival times can be taken into consideration when developing welcoming strategies. After the stress and fatigue of travel, something comfortable waiting in the room can be just what travelers need to feel welcome.
However, it can also be very easy to create an unwelcome feeling. It is impossible to create a welcoming atmosphere if you look down while speaking, don't introduce yourself or use your name, gesture in a robotic manner, and provide efficient yet discourteous service. Guests feel uncomfortable when they do not feel welcome at lodging or business establishment. As a result, guests are less likely to spend more, come back again, or refer others. And why would they?
Welcomes express gratitude for a particular action, which is why we say "you're welcome" in response to thanks. In these simple words, appreciation is shown and value is placed on the event that just took place.
The power of welcome is key to exceptional service delivery and a business strategy. Consider these tips when developing the welcome process:
Ensure guests are welcomed before they arrive and beyond the property's borders. Prepare strategies for reaching out to guests and welcoming them before they arrive.
Know how to make guests feel welcome. Positive emotional responses are generated by direct eye contact, a smile, and sincere words.
Observe your guests and determine whether they seem comfortable or if they seem uptight.
Get to know each other. Giving your name also signals your welcome and allows guests to feel more relaxed and comfortable.
You can continue to build on the welcome feeling with special touches, such as small gifts in the guest's room. Discuss creative welcome ideas with managers and their teams. Make sure they are involved in the process.
You should also provide employees with a welcoming workspace and environment and welcome them to work every day. Remember that they are an essential part of the customer experience.
Final Thoughts
Making your guests feel welcome is more than just looking good or smiling. It's about making them feel heard and acknowledged. If you can anticipate the needs and questions of your guests, and form relationships with them through simple conversations, you will form a bond that will affect their entire stay. Guests that feel welcomed are much more likely to recommend your hotel to family and friends, not to mention a return to it. As such, adopting the tips and strategies shared in this article is a great way to improve your relationships with your guests.