A point of sale with a full-fledged integrated system where numerous other POS terminals, cash registers, along with terminals throughout a facility to offer seamless workflows and communication are an option in abundance. There are also numerous options for mobile POS devices offering business durability, an intuitive design, and seamless functionalities.
However, the Clover Flex Point of Sale is a great option for businesses that are starting out or those that are mobile in nature. The Flex POS is a simple device with mobile capabilities and an integrated receipt printer and a card reader. Below is a comprehensive review of the Clover Flex POS on crucial benchmarks such as design functionality, device specifications, software capabilities, and add-ons such as inventory management and payment processing, among others.
Design
The Clover Flex has some design flaws but above all else, it is still a very functional device. Although it feels clunky, top-heavy, and may be hard to manage with one hand, it comes with a crisp 5-inch Gorilla Glass screen.
The POS device has a smooth plastic finish, which coupled with its large size, may make it a bit slippery. However, the contoured base of the device can easily assist users with holding it steadily.
What gives the Flex device its functionality is the included receipt printer, a built-in card swiper, front-facing camera, and a charging dock which comes with a 3-feet charging cable.
Flex specs
Merchants finally have a device that can accept cards via a magstripe reader, an EMV chip, or contactless NFC, and print receipts all in one. Although this technology isn't some great ingenuity from Clover as it is commonplace in Europe and Asia for years, it is relatively new and a welcomed respite for businesses in the US.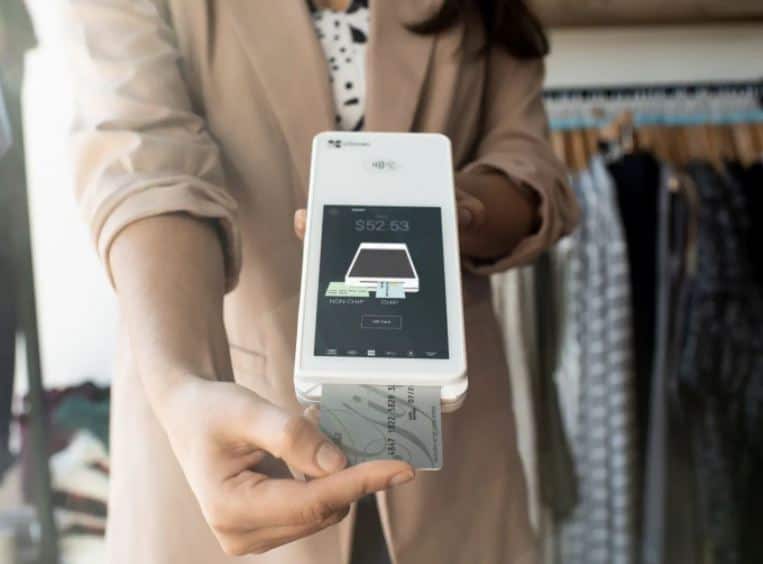 Users can also easily load the Flex with receipt paper into its printer. The built-in printer is great for functionality but terrible for the device's form as it adds a disproportionate amount of weight at the top of an already large device, causing users to deliberately focus on balancing the device.
The Flex POS includes a 21000 mAh battery, which is average, possibly insufficient, depending on the usage of the device. If merchants intend to use the device for just the counter for payments in a standard shift, it has an adequate amount of juice to power through the day. However, it may need constant charging depending on how busy a shop is and if it is used for more than payments, or order placement, etc.
Software
The software is Clover's biggest draw. Clover POS systems have access to a tremendous library of apps that merchants can easily download and set up. The ingenuity of the company's app store has established an entire ecosystem of services and functionalities that merchants can easily choose from depending on their business. It's another reason that helps justify Clover's premium pricing as the company builds stickiness around its product.
Users of the Clover Flex are no exception. The device can easily access the company's app store and is compatible with Clover's other POS systems, such as Clover Station or Clover Mini. The slew of apps are for everyday business apps, such as a CRM for customers, employee management tools and inventory management.
Additional capabilities
The built-in real-time payment processing integrated into Clover Flex is a great functionality where merchants don't need to process any additional steps to integrate payment processing into their POS since payment processing is a part of Clover's offering.
Clover offers its own proprietary payment processing service through its parent Fiserv, so merchants are locked into their service with any Clover POS devices. Clover does offer merchants competitive rates and deals with all types of customers, industry or clients, regardless of the risk profile. One drawback to this offering is that Fiserv is one of the largest payment processors in the US but the company has a less than stellar record for customer service.
Other features include a customer database, employee management tools, and in-app reporting functionality. The employee management tool is one of the most robust for a handheld mobile device, allowing merchants to manage time tracking, employee authorizations, rewards, and payroll directly from the Flex POS.
Similarly, for the in-app reporting functionality, it is surprising how robust the reports are that merchants can access directly from Flex. The reports can be customized by various time ranges and run them specified based on totals or by specific Clover devices. 
The Clover Flex POS system is a strong and affordable choice for merchants of a retail outlet, a restaurant, a professional service firm, or any business with mobility needs. The Flex POS has easy-to-use features and high-quality and durable hardware. There are some drawbacks as the Flex comes with proprietary payment processing service of Clover's parent company Fiserv. Although it's not the cheapest option available, there is tremendous versatility offered by the Clover ecosystem for merchants to want to pay a premium price.